"Pay together - Deeper offers" with payment account on Sacombank Pay 4/7/2023
07/04/2023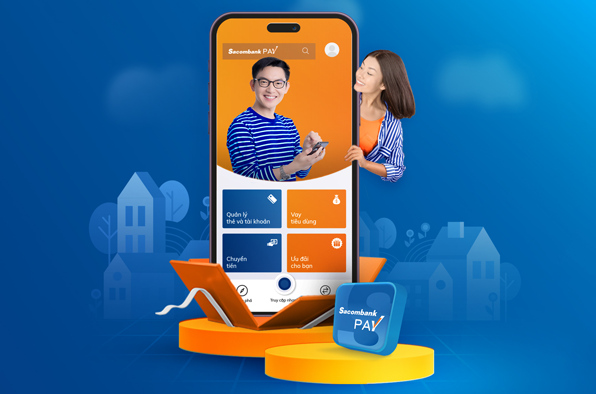 Particularly, customers who are using Sacombank Pay when referring friends and relatives to successfully register, eKYC, open a payment account and enter the referral code on Sacombank Pay will be rewarded VND20,000 each time. Referral code is the customer's phone number registered for Sacombank Pay and displayed in the "Refer a friend" section on the application. The number of referrals is not limited, the more successful referrals, the more bonus you will receive.
In addition, the person who is referred and successfully opens a payment account is also given VND50,000 and can customize the account number as, for example, phone number, date of birth or the last 4 digits of their choice for convenience in daily transactions.
Since October 2020, Sacombank has applied various leading advanced technologies to successfully deploy the eKYC feature on Sacombank Pay. Instead of going to Sacombank's transaction points, customers can easily register personal information, authenticate online 24/7, open accounts and debit cards right on the application.
Sacombank Pay is a multi-utility financial management application on mobile devices, ensuring information security according to PCI DSS standard - the highest certification for security and confidentiality in the field of issuing and accepting credit cards in the global scale.  With just a few taps on the device, customers can easily register, authenticate online, open a payment account, link with accounts/cards/loans/savings at Sacombank and diversify consumer finance transactions according to the trend of one stop bank anytime, anywhere. The features are regularly upgraded and updated to meet the needs of customers such as money transfer (to Sacombank's and other banks' accounts, to card numbers, phone numbers, via QR codes), cash withdrawals at ATMs via QR code, make payments (credit cards, bills, shopping, top-up.., etc.) with modern methods such as QR/contactless, higher interest savings in comparison with at the counter, quickly approved consumer loans, card and other utilities such as lookup/statement account, register for 0% installment payment, buy insurance, send lucky money, accumulate points, etc. Especially, in the upcoming travel season, customers can book air tickets, train tickets and hotels right on the app, manage card lock/unlock function to control card usage as well as catch-up Sacombank's promotions.