Get bursting refund and gold when making payment withSacombank debit card
03/04/2023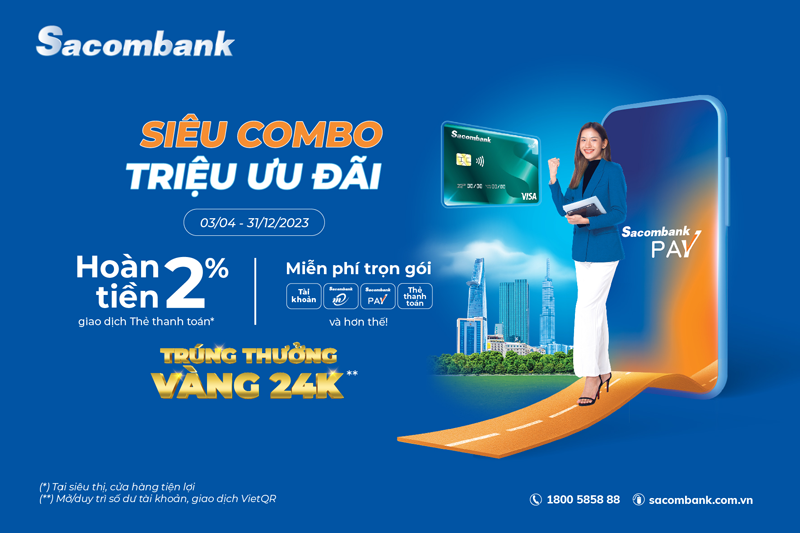 Specifically, Sacombank debit cardholders (including physical and virtual cards) making payment at supermarkets and convenience stores with a total transaction value from VND1 million/month will get a 2% refund. The maximum refund amount per month is VND300,000/customer. Thus, after 9 months from the program start date, customers can be refunded up to VND2.7 million.
At the same time, Sacombank is going to organize 3 lucky draws with a total number of prizes up to 297 maces of SJC gold. Customers only need to meet one of the following conditions to participate in the lucky draw: Open a new Combo package, the account balance reaches a minimum of VND3 million at the time of data closing of each drawing period or make payment via VietQR.
Sacombank debit card provides customers a variety of services and utilities such as: Payment at millions of POS worldwide; Safe and fast online payment with OTP security code; Deposit cash into Sacombank card/account at Sacombank's counters, ATMs or receive transfers inside and outside the system; The account balanceenjoys competitive interest rate; etc.
For more information, please contact Hotline 1800 5858 88 or visit website sacombank.com.vn. Online register card at website https://card.sacombank.com.vn/.