Sacombank receives the Sao Khue Award for the 3rd consecutive year
28/04/2023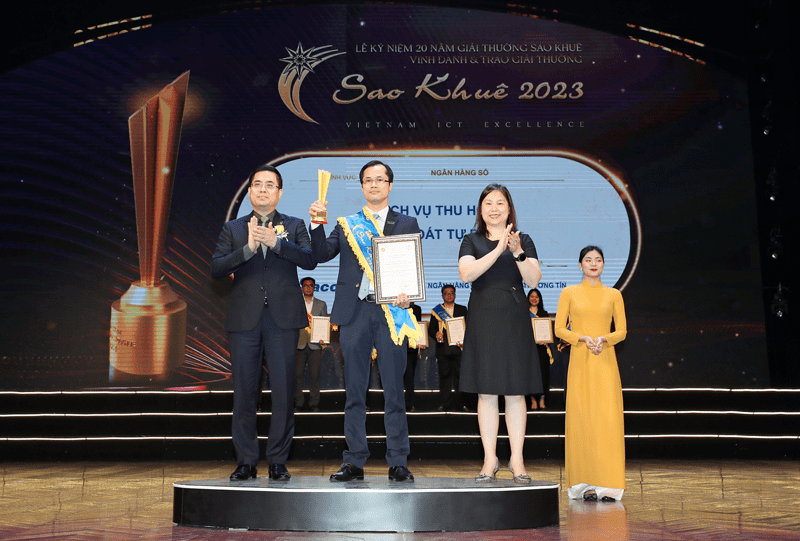 Sao Khue Award is the most reliable and prestigious professional evaluation of Vietnam's software and IT service industry to praise products and services that have outstanding quality and efficiency, trusted by customers and have competitive advantage in the market.
Sacombank's collection service with automatic control is a combination of multi-channel collection service and automatic control function, helping businesses (especially those in regular and constant cash flow industries such as securities, animal feed, education, insurance...) automate the debt management process, reduce system management costs and still ensure transparency, accuracy and on time. It promotes the digitization process, qualifies the cashless payment orientation and optimizes payment for the enterprise's ecosystem. This service is deployed not only on Sacombank payment channels but also on other banks and the third parties in the market to maximize benefits for businesses. 

With the strength of the leading diversified payment channel infrastructure in the market combined with a modern technology platform, Sacombank is capable of setting up matching tools to suit the needs of each business. By deploying the collection service with automatic control, Sacombank is one of the first banks in Vietnam to launch a complete revenue management solution with a closed, automatic and online process from the moment of payment to the successful debt settlement on the internal system of the enterprise.

Along with Sacombank Pay and Tap to Phone technology which have been voted for Sao Khue award in 2021 and 2022, Sacombank continues to affirm its comprehensive digitalization strategy, especially developing digital banking to bring to a superior experience with the most practical benefits for all customers.