SACOMBANK IS THE FIRST BANK IN VIET NAM IN LOAN AGREEMENT AND COOPERATION DEAL WITH CATHAY UNITED BANK
24/07/2015
​On the same day, CUB and Sacombank also signed MOU to establish long-term cooperative relations, to sustainably developed the principle of equality; enhance benefits, support both customers systems through the providing utility services and products in Vietnam, Taiwan, Cambodia and Laos.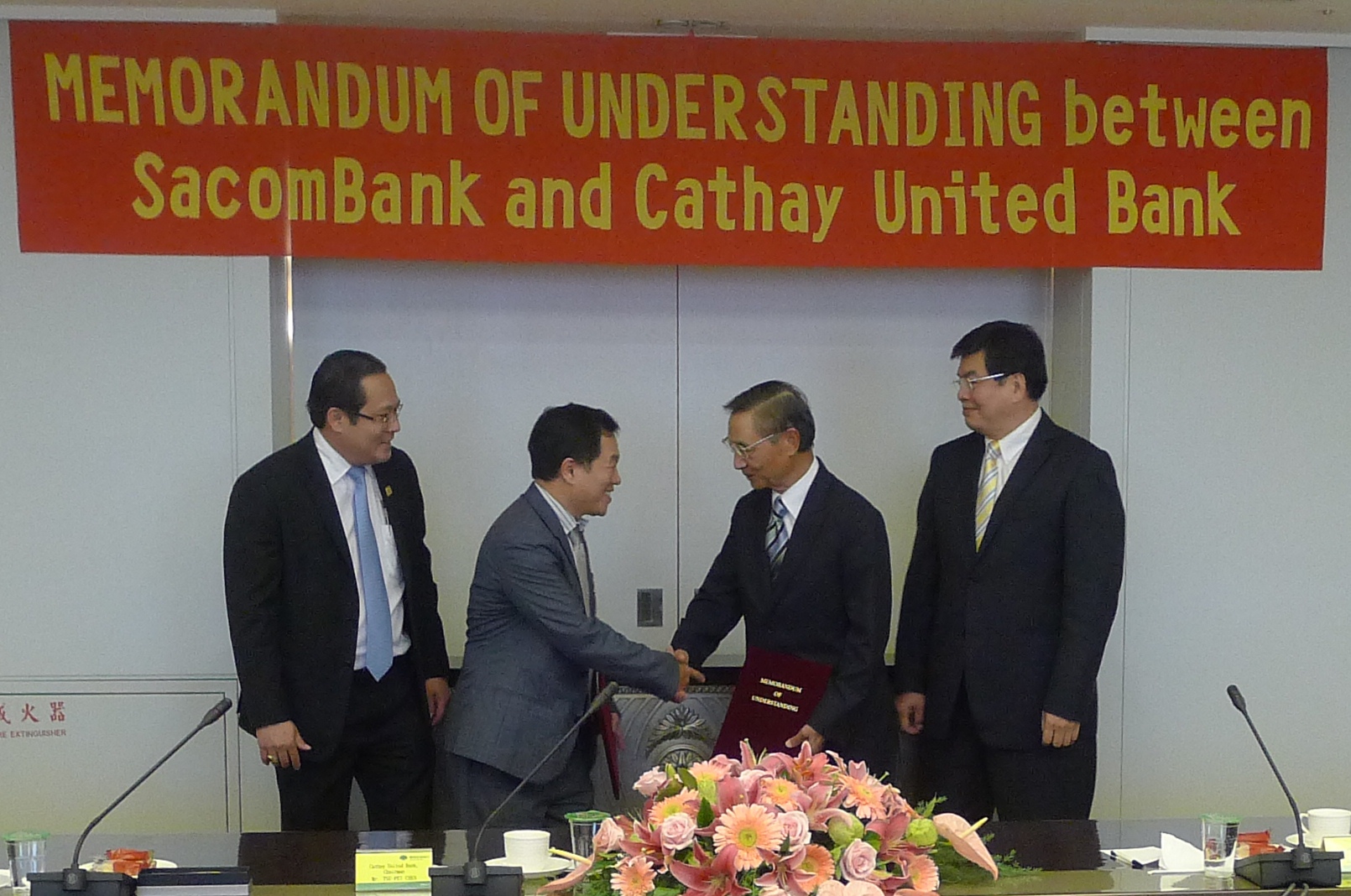 (At the comprehensive MOU signing ceremony between Sacombank and CUB
)
Accordingly, CUB and Sacombank is going to support each other in understanding the market, exchanging of information and promoting investment and trade; exchanging information relating to foreign investment environment, regulations applied in Vietnam, Taiwan, Cambodia, Laos of customers in Vietnam and Taiwan. Sacombank will cooperate with CUB to provide utility banking services. In addition, the two parties are also going to organize seminars, conference in sharing experiences in human resource management, recruitment and taxation, etc....
((from left) Mr. Phan Huy Khang – Sacombank's Vice Chairman cum CEO , Mr. Kieu Huu Dung – Sacombank's Chairman, Mr. Tsu-Pei Chen - Chairman of CUB and Mr. Chang-Ken Lee – CEO of CUB)

Saying at the ceremony, Mr. Tsu-Pei Chen - Chairman of CUB has stated: ''We understand that Sacombank is one the largest bank in Vietnam, especially in the retail segment. Last year Sacombank has issued credit card in Laos and deployed modern mPOS payment services to  bring more conveniences to customers, this show a highly experience in retailing. Beside,  Sacombank's e-banking system seems to be up-to-date to world standard. In business strategy, Sacombank is always being visionary, as the Bank is in a merging plan with Southern Bank to expand in terms of total assets, network and operational efficiency in a rapid and sustainable development way. Meanwhile, CUB's goal is to become the best bank in Asia, we are constantly expanding our operations in Southeast Asia, especially in Vietnam, Cambodia and Laos. We think as the two banks both have similar markets so we hope this cooperation would bring us to further development'.
(Mr. Phan Huy Khang – Sacombank's Vice Chairman cum CEO received trophy from Mr. Chang-Ken Lee - CEO of CUB)

( Mr. Phan Huy Khang – Sacombank's Vice Chairman cum CEO (left) and Mr. Chang-Ken Lee - CEO of CUB inked a loan contract )

According to Mr. Phan Huy Khang – Sacombank's Vice Chairman cum CEO : ''With a solid and experienced background in Vietnam and Indochina market, we are honored to be the first commercial bank in Vietnam taking out the US$ 50 million loan from CUB - a Taiwanese reputated bank, which marked the very first successful collaboration between the two parties. Along with the MOU, we expect our relationship will be increasingly strong and would bring valuable benefits to both parties.''
Also, Mr. Chang-Ken Lee – General Director of CUB admitted: ''Sacombank is a pioneering financial institution with great achievement in many ways. Sacombank's development strategies has enable the bank to become one of the best banks in Vietnam. With the vision to become a leading Asian regional bank, we continue expanding our presences in the Greater China and South East Asia. Now CUB has presences in 9 out 10 ASEAN member nations. Especially in Vietnam, we have served our customers since 2000. With the reinforcement of our flatform recent years, we are confident that we can deliver better and better services to our customers'
CUB, formerly known as the United World Chinese Comercial Bank (UWCCB), was founded in 1975. In 2003, UWCCB was merged with Cathay Comercial Bank, owned by Cathay Financial Holding, and then renamed CUB. CUB is headquartered in Taipei (Taiwan) with more than 100 branches across Taiwan, 10 branches and representative offices in China, Malaysia, Singapore, USA, and Vietnam. CUB provides a full range of products and services to individual customers and large enterprises; play a connecting role in providing banking, insurance, trust and securities services through the Head Company and its affiliates. CUB is one of the outstanding financial institutions in Taiwan which achieved several awards including "Bank of 2014 in Taiwan", "The most powerful bank in Taiwan in 2014", and " Best Commercial Bank in Taiwan ".
(Leadership of Sacombank and CUB and others at the ceremony)


Sacombank was founded in 1991, is one of the best joint-stock commercial banks in Vietnam with 428 transaction point locating over 48/63 cities in Vietnam as well as Laos and Cambodia. Sacombank supply of high quality banking products and services for diversity customers including large business, SMEs and retail customers. Sacombank achieved many international awards such as: "Bank of the year 2014" The Banker organized voted "Best Domestic Bank Vietnam Nam 2014 "by The Asset voted "Best Emerging Markets Bank in 2014 "by Global Finance," Best Retail Bank in Vietnam 2014 "by Finance Magazine Internation voted Silver Award" Annual Report 2014 - Vision Awards "by the LACP (League of American Communications Professionals - USA) voted "Foreign exchange Bank in Vietnam " Global Finance 2015 votes.