SOUTHERN BANK TO BE MERGED INTO SACOMBANK FROM 1ST OCT 2015
01/10/2015
Sacombank is a large scale commercial joint stock bank with well-trained professional staffs; strong corporate culture; well regulation, process system and a tight risk management system. On the other hand, Southern Bank also had a relative scale and a well operational network. These are the main factors ensuring the merger results as expected.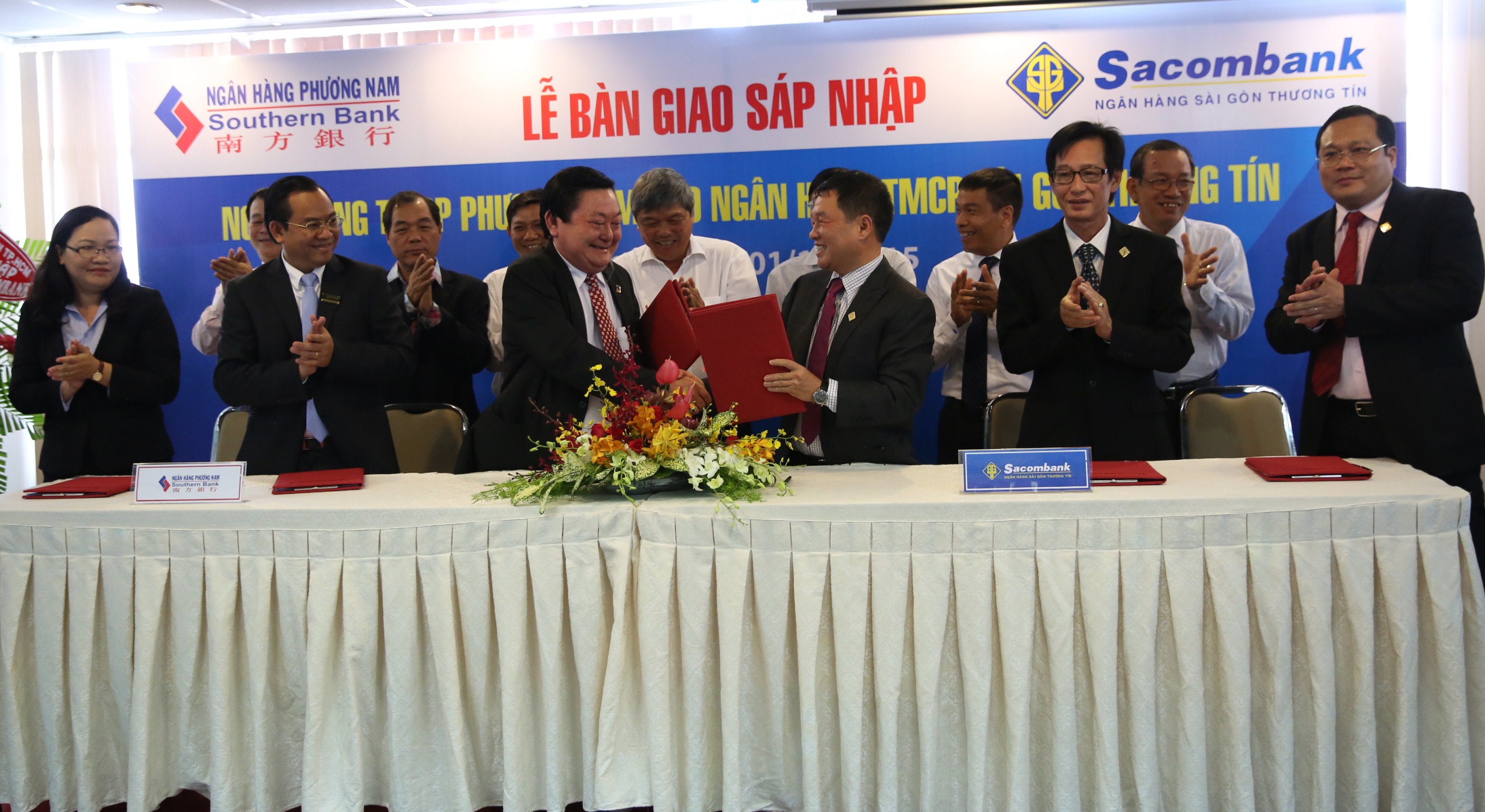 The merger signing ceremony Southern Bank into Sacombank: Sacombank's representatives (from right) Mr. Phan Huy Khang – Vice Chairman cum CEO, Mr. Nguyen Van Ly – Head of the Board of Supervisors, Mr. Kieu Huu Dung – Chairman signing the merger documents with Southern Bank' representatives (from left) Ms. Nguyen Thi Ngoc Thu – Head of the Board of Supervisors, Mr. Nguyen Van Nhan – CEO, Mr. Mach Thieu Duc – Chairman under the witness of (from left) Mr. Tran Dac Sinh – Chairman of HOSE, Mr. Tram Be – Standing Vice Chairman of Sacombank, Mr. Vo Van Thuan – Deputy Director of the Bureau of Banking Inspection & Supervision HCMC, Mr. Nguyen Phuoc Thanh – Deputy Governor of SBV, Mr. Nguyen Quoc Hung – Chairman of VAMC, Mr. Cao Xuan Ninh – Director, Head of the Representative Office of SBV in HCMC and Mr. Nguyen Hoang Minh – Deputy Director of SBV Branch in HCMC.
Post-merger Sacombank will be listed among the top five largest banks in Vietnam with a total asset of VND 297.184 trillion (approx. US$13.2 billion) and equity of nearly VND 24.5 trillion (approx. US$10.9 billion), including chartered capital of VND18.853 trillion (approx. US$838.2 million); branch networks expand to 563 transaction points across Vietnam, Laos and Cambodia; and has a total number of 15,510 employees. With better resources, Sacombank is expected to further improve its scale, service quality and to increase capital supply capacity to the market.
Earlier at the Sacombank's extraordinary general meeting on 11th July 2015, the swap ratio was approved at 1:0.75, meaning one Southern Bank share will be exchanged for 0.75 of a Sacombank share. Besides, 1 share of Sacombank's shareholder at the date of closing shareholder list for the share swap once merging will be added 0.3875 merged bank's share, which includes: 0.0875 shares is from conversion rates of Southern Bank's shares; 0.080 share is 8% dividend in form of shares withdrawing from profit after tax in 2013; 0.120 shares is 12% dividend in form of shares from the profit after tax in 2014; 0.0875 shares is bonus shares from treasury stock; and 0.0125 shares is from surplus share capital. On September 21st 2015, SBV released official letter No. 7168/NHNN-TTGSNH approved the proposal to increase chartered capital of Sacombank from VND 12.425 trillion to VND 18.853 trillion.
"The voluntary merger of Southern Bank into Sacombank is consistent with the banking system restructuring policy of Government and SBV to create a new strong, healthy bank in order to well serve economy system and capable of reaching international markets. After the merger, Sacombank became the largest bank in the commercial bank sector which stands after 4 state-owned banks. This merger is not a physical addition but to bring greater benefits to customers, shareholders and in adapting to the trend of integration. In addition, I highly rated the preparation of merger process from the two banks." said Mr. Nguyen Phuoc Thanh – SBV's Deputy Governor
​
Leade​r​s from various organizations joining with the Board of Management of Sacombank and Southern Bank at the signing ceremony​
Mr. Kieu Huu Dung – Chairman of Sacombank giving speech at the signing ceremony

"Usually, the first step of banks merger process would surely face challenges such as: reconciling business culture, intergrating accounting and information technology systems, effectively solving human resources. However, those are short term issues which are not difficult to handle; therefore, they are not considered as barriers for the long-term vision of banking industry. Consider long-term benefits, M&A between banks brings great value relating to resonance for the post- merger bank, shareholders, customers, society and the Government. Firstly, tangible benefits is to increase post-merger bank scale, since banks have the ability to increase revenue and reduce operating costs. Larger size means increased market share through expanded network, better brand awareness thus could lead to operation effectiveness. The next advantage is to increase the competitive advantage of the bank in the market after the merger because of inherited technology, human resources and other strengths of both banks. Besides, through merger, the decreased number of players in the banking industry would create capable for players to firmly develop over time." said Mr. Kieu Huu Dung – Sacombank's Chairman.
This merger is consistent with the general orientation of the Government and SBV in restructuring the banking system in order to create stronger, more reliable and professional financial institutions.