Sacombank to achieve the certificate of merit by ministry of People's public security
19/04/2016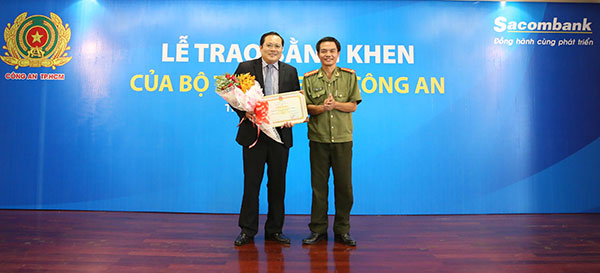 Senior Lt. Col. Pham Dac Truong – Deputy Head of PV28 HCMC People's Republic Security gives the Certificated of merit to Sacombank's Representative, Vice Chairman cum CEO Phan Huy Khang
Senior Lt. Col. Vo Son Ha – Deputy Head of PA84 HCMC People's Republic Security give the HCMC People's Committee Decision to Sacombank's representative, Mr Phan Dinh Tue – Party Committee Secretary, Deputy CEO cum Chairman Union Local
CEO Phan Huy Khang speeches at the ceremony.
Sacombank have coordinated with local authorities, people in protection securities countries where Sacombank located; without theft, information–revealing; ensuring labor safety; preventing fire …during the year. Besides, Sacombank have propagandized, trained crime preventing activities to staff in their whole system.
"Mass movement of homeland security" means to be a movement attracting a vast of people, promoting the people's mastery in crime prevention, local security and enterprises as well; holding the initiative in crime fighting.