Sacombank to donate about VND 1 Billion to Central nations
21/10/2016
In Quang Binh and Ha Tinh Province, Sacombank supports VND 60 million to schools suffered heavy losses on facilities, presents 650 gifts valued VND 800,000 to poor families, presents 28 gifts valued VND 3 million to families that have members killed by flood, donated VND 100 million to Flood Victims Relief Fund of Vietnam Fatherland Front in Quang Tri Province.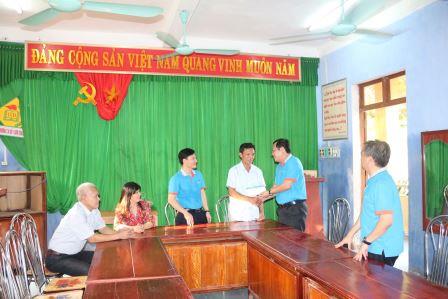 Sacombank's CEO, Mr. Phan Huy Khang (second from right), presents gifts No.1 Primary School, Nhon Trach, Quang Binh Province 
Besides, the relief team visits and supports Sacombank's staff suffered by floods in Nghe An and Quang Tri.
 Apart from these subservience , Sacombank also organizes many meaningful activities such as:  annual "Spring Festival charity day" for more than 6,000 lonely elderly and children; "Sacombank - Dream incubation" scholarship for more than 3,000 poor excellent students, pupils every year; "Potential Sacombank's interns" to give employment opportunities for thousands of senior students; signing MOU to approve and educate new staff from Universities; the marathon "Run with Sacombank for a heathy life". Moreover, Sacombank also invest in setting up benches in park, hospital, school, airport…; building free restroom, charitable house ; donating in charity fund such as "Bien dao To quoc", "Quy mai am" etc.