963 Winners of ''Happy Summer''- Sacombank Promotion Round 5
05/07/2017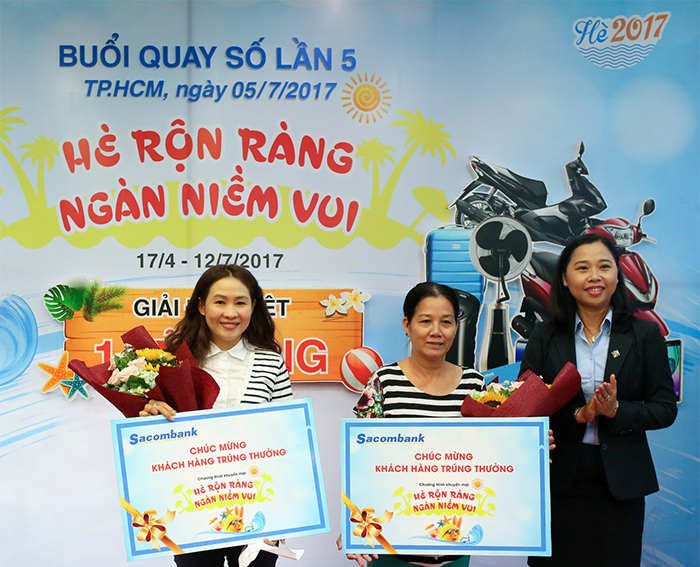 This promotion is for individual customer who savings, uses services at transaction points of Sacombank nationally and Sacombank eBanking service with the total prize value is up to nearly 12 billion VND. The event took place with the presence of representative of Vietnam Trade Promotion Agency, representative of Sacombank's Board of Management, customer representatives, media reporters and journalists. Accordingly, the dial sessions have identified 963 prizes including: 18 first prizes, each prize is worth of 40 million VND savings book; 25 second prizes, each prize is the Samsung Galaxy A7 2017 which is worth of 10 million VND; 40 third prizes, each prize is the Canon Ixus Camera which is worth of 4 million VND; 80 fourth prize, each prize is the Panasonic vacuum cleaner which is worth of 2 million VND; 800 consolation prizes, each prize is the Omron which is worth of 550 thousand VND. The winner list has been published on Sacombank's website at
www.sacombank.com.vn
. 
The last round of promotion program is expected to be held on July 19th 2017 and find out the luckiest customer who wins the Special prize which is the saving book worth 1 billion VND and nearly 1000 other value prizes.
Previously, at the dial sessions of first, second, third, fourth rounds held on on May 9th, May 24th, June 7th and June 21st, 2017 Sacombank had indentified 3.852 customers who won prizes including: 72 first prizes, comprising of 36 saving books, 18 Lead Honda motorbikes, and 18 Airblade motorbikes, each prize worth 40 million VND; 100 second prizes, including 50 saving books and 50 Samsung Galaxy A7 2017 mobile phone, each prize worth 10 million VND; 160 third prizes, comprise of 80 saving books, 40 Canon Ixus cameras and 40 Sharp air purifier, each prize worth 4 million VND; 320 fourth prizes, include 160 Panasonic steam irons, 80 Panasonic vacuum cleaner and 80 Kangaroo steam fan, each prize worth 2 million VND; 3.200 consolidation prizes, comprise of 1.600 Korea travel suitcases, 800 Omron sphygmomanometer and 800 Xphone set of phone accessories, each prize worth 550 thousand VND.
For more information, please kindly contact us at our transaction offices nationally, or by 
•
hotline 1900 5555 88; 
•
Email:
ask@sacombank.com
; 
•
Website:
www.sacombank.com.vn
.