Additional capital for Offshore Fishing
11/08/2017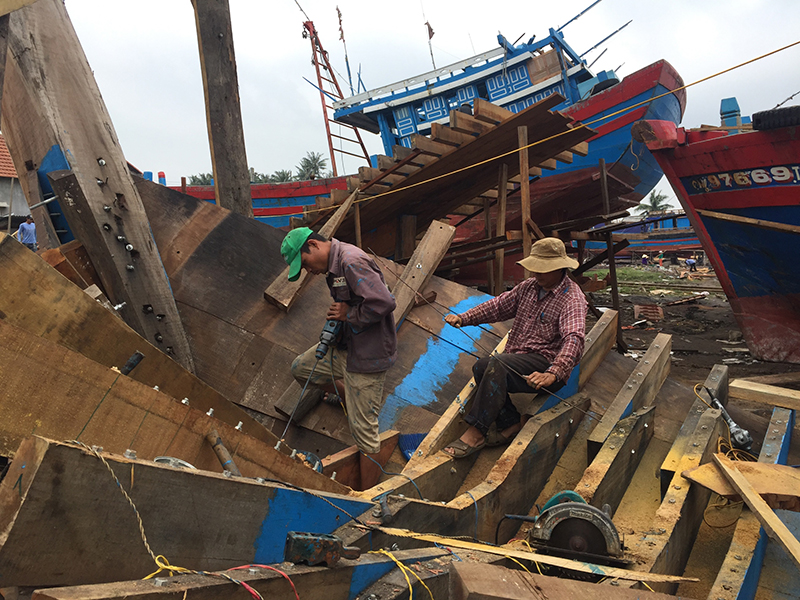 In the first 6 months of 2017, Vietnam's GDP is estimated to increase by 5.7% over the same period last year. Of which agriculture, forestry and fishery increased by 2.65% and fishery recorded the highest increase.
Total marine capture fishery production reached over 1.6 million tons, increased by 4.9% over the same period last year. As the result of this, the export surplus value reached more than USD 60 million. Fishing activities in four provinces in the central of Vietnam affected by marine environmental problems have also recovered and continously grown.
With the potential of marine fishery sector and the implementation of the marine economic development strategy, the Government and ministries of economic sectors have issued many policies to assist fishermen in their production development. Fisheries exploitation, aquaculture and processing will be stabilized, step by step improving living standard of fishermen, eradicating hunger and reducing poverty in coastal and island areas. Accordingly, businesses and credit organizations also have practical supportive policies for fishermen.
Sacombank can be counted as one of the most active organization in this campaign. The bank is currently deploying the capital resource of VND300 billion for fishermen working in the offshore fishing sector in the North Central region that needs additional capital to trade or repair their machine, converted boats. The term of this loan can be up to 7 years, with the preferential interest rate mechanism, loan amount up to 70% of the investment value of boats. This is a practical capital to help increase the quantity and quality of boats, as well as to improve the ability of offshore fishing. Accordingly, fishermen can extend longer day of fishing, yielding more and at the same time eliminating the habitat of destructive fishing near the shore.
According to Mr. Tran Minh Khoa, Deputy General Director of Sacombank, the loan was launched in late 2016, starting in Quang Ngai province and quickly attracted many fishermen. Only 6 months of pilot implementation in Quang Ngai province, Sacombank has processed more than 50 applied loan documents and granted credit to people for repairing, building or converting boats, timely onboard to preserve and develop the fishing industry, contributing to the stabilization of fishermen and local economic development. Recognizing the urgent need for capital of fishermen, Sacombank quickly expanded the application of this product to other central coastal provinces such as Da Nang, Quang Binh, Ha Tinh, or Thua Thien Hue...
According to Mr. Lam, a fisherman with family traditions in offshore fishery in Quang Ngai province, said: "Initially, the family only had a boat of 40 HP for trawl fishing, striving for many year to have ability to upgrade to 300-400 HP boat. Thanks to the loan from Sacombank, my family decided to convert both pairs of boats and to buy new marine engines, increasing the capacity up to 750 HP/boat. As a result, we can fish for a longer timer, catching up to the Northern Bay Area of Vietnam, as well as providing jobs for many people". Lam also said that the average income per crew is about 30 million per launching. He personally earned several hundred million VND after each launching. After paying back to the bank debt, he can still save quite a lot of money. 
Mr. Khoa - Sacombank's deputy general director added that since July 10, 2017, Sacombank has implemented a credit package of VND 1,000 billion with a maximum short-term VND lending rate of 6.5% per annum throughout the borrowing period in order to support adding capital resource for producing and manufacturing in five priority areas including agriculture - rural; Supporting industry; Export business; Small and medium enterprises; High tech applied corporations; in response to the policy of promoting the socio-economic development in the last 6 months of 2017 by the Government and the SBV (according to Decision No. 1425 / QD-NHNN dated 7/7/2017 of the State Bank of Vietnam). The reduction of interest rates will contribute to the supply of capital to individuals and enterprises in five priority areas faster and timely, thereby accompanying businesses to reduce interest cost, expand market share and increase economic efficiency. It is expected that by the end of 2017, total outstanding loans of Sacombank in 5 priority areas will double than that of the first 6 months.