New momentum at Sacombank's preliminary conference in the first 6 months of 2017
21/07/2017
As of the first 6 months of 2017, Sacombank's business activities have seen positive changes. Total assets reached VND352,683 billion, up 7.1% compared with the start of the year. Consumer loans and capital mobilized from economic organizations and individuals reached nearly VND212,538 billion and VND317,491 billion, up 10.1% and 9.7% respectively, compared with the beginning of the year. Profits before tax obtained VND428 billion, an increase of 70.4% year-on-year (yoy). The number of customers reached nearly 4 million, a rise of about 10% compared with the start of the year. Notably, services revenue showed outstanding growth of VND727 billion, up 27.3% yoy, and attributable to 23.4% of total revenues. Revenues from cards services, e-banking services, etc. were high and remain sustainable growth.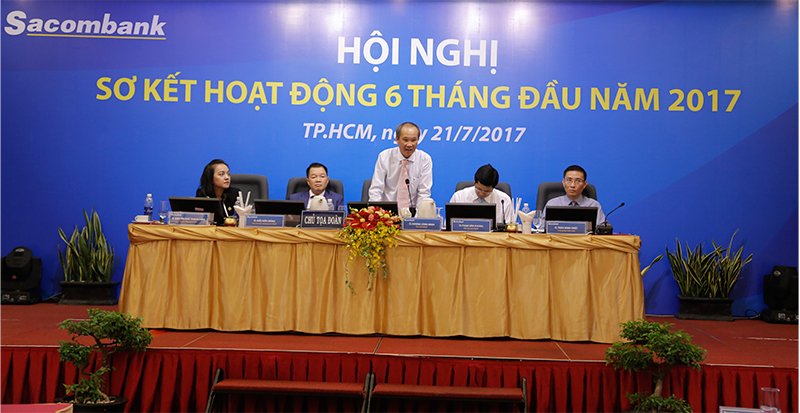 Along with continuously conducting promotion programs, sales campaigns, growing deposits to support demands for lending, increasing revenue from services as planned, diversifying loans, Sacombank has focused on credit quality control, dealing with bad debts, bad debts sold to VAMC (Vietnam Asset Management Company) and remaining collateral based on transparency and in accordance with laws and regulations. In the first half of 2017, Sacombank handled bad debts worth VND845 billion, bought back VND247 billions of bad debts sold to VAMC. Regarding collateral, Sacombank also handled and recouped VND1,039 billion, hence, decreased 4.5% of its receivables compared with the year start.       
In regard with recognition and appreciation for the action schemes that brings positive business result to Sacombank in H1/2017, Mr. Duong Cong Minh, Chairman of the BOD shared the Bank's orientations in the implementation of its restructuring, including organizational restructuring and human resource restructuring with stability regarded as the main aim; focusing on boosting business activities based on Sacombank's strengths in network, people, brands, products and business strategies; and re-arranging the operations of the transaction offices and subsidiaries in line with the strategy of rural growth to support urban areas, etc. with nearly 350 senior managers of the Bank (from both its domestic and overseas offices). Besides, given positive views on real estate market, the National Assembly's legal provisions for bad debts and the Bank's restructuring project, Mr. Chairman Duong Cong Minh determined the target for the Bank to tackle VND20,000 billion of bad debts at the end of 2017. Notably, in order to appreciate employees' contributions to the Bank's business result as well as motivate employees to achieve the target, Mr. Chairman Duong Cong Minh and the BOD approved the business reward scheme based on good performance, "rewarded immediately" a basic month salary and improved salary policy, welfare for over 17,000 employees of the Bank starting from July 2017.  
Besides the strategic orientation of the BOD, Ms. Nguyen Duc Thach Diem, Acting CEO of Sacombank indicated the BOM's solutions, schemes, policies, etc. that are going to be executed to support business activities of branches/transaction offices and subsidiaries at the conference. The schemes were discussed relating to targets, solutions and timeline for implementation so that every department, branch, transaction office people must clearly get the mission and targets allocated for the last 6 months of the year. Each business unit is supposed to work together and support each other to complete or surpass the 2017 business plan set by the BOD.    

Simultaneously, in order to ensure safety, effectiveness, sustainability development of Sacombank at present and in years to come, Mr. Tran Minh Triet – Sacombank's Head of Supervisory Board shared with the business units' representatives the key action programs of the Supervisory Board and the internal control department. These schemes will be conducted to support the Bank's restructuring plan to be completed at the soonest, boost its business activities, ensure its liquidity, bad debts to be handled in accordance with laws and regulations, as well as maintain, promote the strength of Sacombank's culture in all activities.    
In addition, along with the determined policies of Mr. Chairman Duong Cong Minh, the development strategy for Sacombank in the coming time was also formed based on highlighted management experience from Vietcombank's managers. Hence, it is said that the new directions, new policies, new messages from the new BOM have given new momentum to employees working at nearly 600 transaction offices and subsidiaries nationwide and in Laos and Cambodia. With a very strong spirit, the Bank's restructuring project will be completed at the soonest and the Bank will be back to its position as a pioneer commercial bank in terms of effectiveness, safety in operation and receive trust of a thousands of shareholders as well as loyalty of millions of its customers nationwide.