Sacombank Annual General Meeting Of Shareholders for the fiscal year ended 2015-2016
30/06/2017
At the meeting, members of the Board of Director and Supervisory Board have been elected for the term of 2016 – 2020. Beside this, business activities' outcomes and the strategy for maximizing profitability of the bank in 2015 -2016 was mentioned. Based on this, members have planned for business activities, equity capital usage, and establishment of a new subsidiary or a Joint-Venture corporation of Sacombank in 2017. During the meeting, leading and managing the bank has been discussed as a crucial important factor.
The members of Board of Director for the term of 2017 – 2021 are comprised of seven members, at the moment, six members have been chosen, Mr. Duong Cong Minh – as the Chairman, and other elected members include Mr. Nguyen Mien Tuan, Mr. Pham Van Phong, Mr. Kieu Huu Dung, Mr. Nguyen Xuan Vu, and Ms. Le Thi Hoa as an independent member. Regarding to the Supervisory Board, Mr. Nguyen Minh Triet – as the Head of the Board, and his team consists of Mr. Ha Ton Trung Hanh, Ms. Nguyen Thanh Mai, and Mr. Le Van Tong.
In the fiscal year ended 2016 of Sacombank, total assets were more than VND 320,000 billion, the charter capital was at VND 18,852 billion, total deposits were VND 305,000 billion, total loans were VND 238,000 billion, the ratio of credit losses was 6.81%, and provision for credit losses of VND 5,297 billion. Even there have been many challenges after merged with the Southern Bank, Sacombank has achieved profit before tax year by year, such as VND 878 billion of 2015 and VND 156 billion of 2016.

As planned in 2017, Sacombank will increased total assets up to VND 384,000 billion, total deposits are expected at VND 356,100 billion, total loans are reduced at VND 277,000 billion, profit before tax would be risen up at VND 585 billion. The bank assures to control all the financial ratios at the required level according to the bank's policy.

Sacombank has planned to establish a new financial company at the charter capital of VND 500 billion, which is in term of one-member-limited-liability-company belonging to Sacombank; or changes/merges with Sacomleasing (Sacombank-SBL). Not only about setting a financial firm, the bank also invests in an insurance company by partnership with foreigners, the charter capital is about VND 500 billion; or buy/ establish an insurance company with the charter capital is about VND 300 billion.

At the meeting, the new Chairman – Mr. Duong Cong Minh said that even though the merger has brought some disadvantages, but there are some benefits for Sacombank in the long term. On behalf of the Board of Director, he was thankful to the shareholders, customers for putting the truth in the bank. As strategized, restructuring Sacombank is in 10 years, but they will try their best to shorten the restructuring progress, perhaps it might take from 3 to 5 years. To do this, the four priority duties are defined, consist of operating restructure, business activities push-up, well debt-solving solution, and cost management. All are aimed to make Sacombank keep it stay at one of the most prestige brands in the market.

Mr. Nguyen Phuoc Thank – as the SBV Deputy Head, said that on behalf of the Board of Director of State Bank of Vietnam, he has commanded Sacombank must seriously act as four following requirements: firstly, the bank has to successfully follow as planned for restructuring the bank after the merger, and apply in all various business activities. Secondly, it has to assure that developing the bank based on complying with the law, transparent management. Thirdly, it should strengthen retail sales. Fourly, the bank's operating should be quickly stable that helps to overcome this difficult time, make it more sustainable development.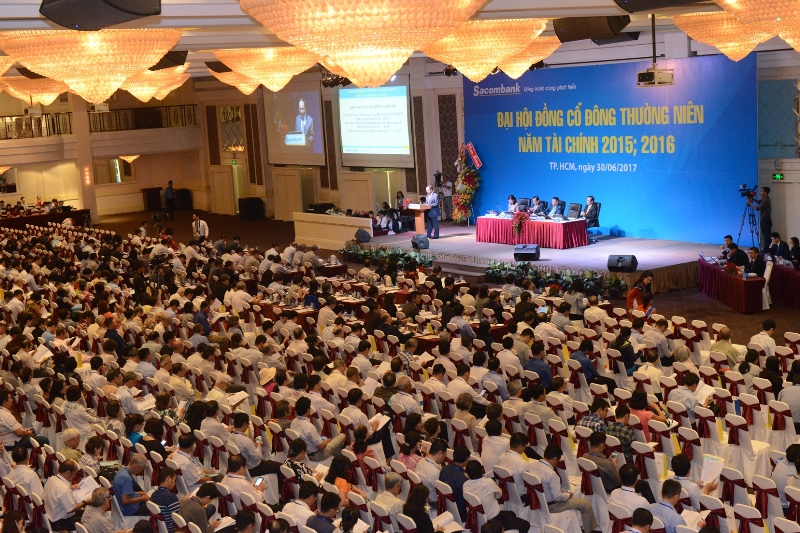 The whole scene of Meeting of Shareholders for the fiscal year ended 2015 – 2016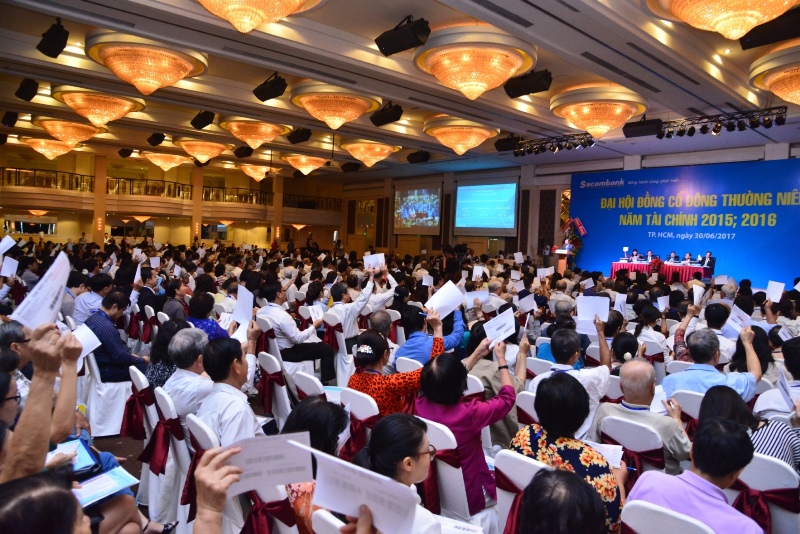 Shareholders voted through their voting cards/ ballots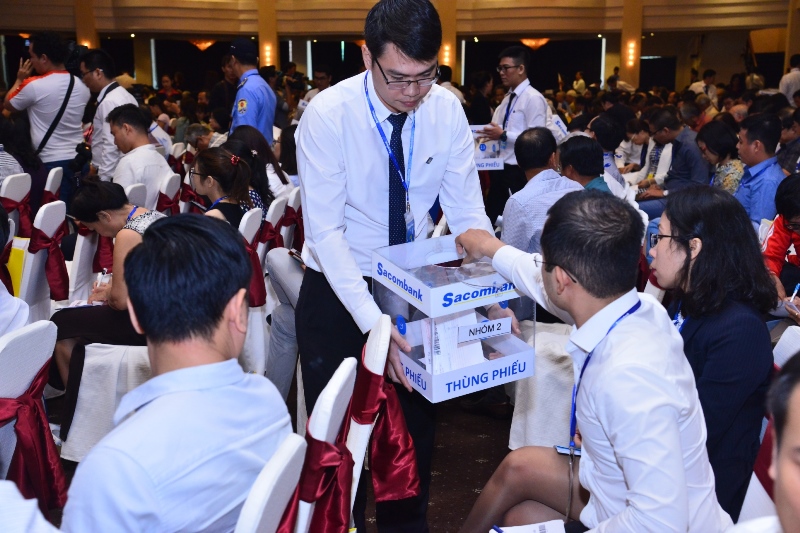 Shareholders voted for members of Board of Director and the Supervisory Board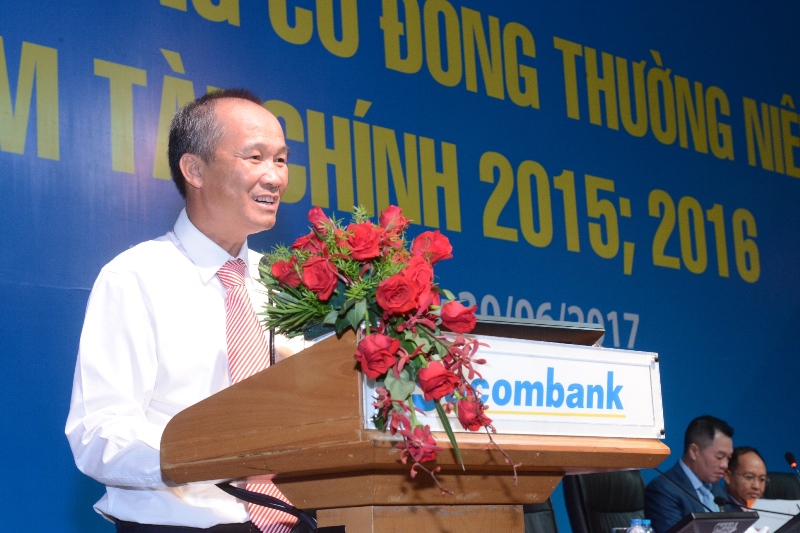 Mr. Duong Cong Minh as the new Chairman of Sacombank spoken up the Meeting
With more than 17,000 devoted and professional staff, more than 63,000 loyalty shareholders and customers, diversified and modern products and services, high-tech banking services, network widening all of the country… Sacombank has truly trusted in successfully applying the restructuring project sustainably and effectively.