Sacombank card owners get up to 30% cash back when using quick payment with QR
22/11/2017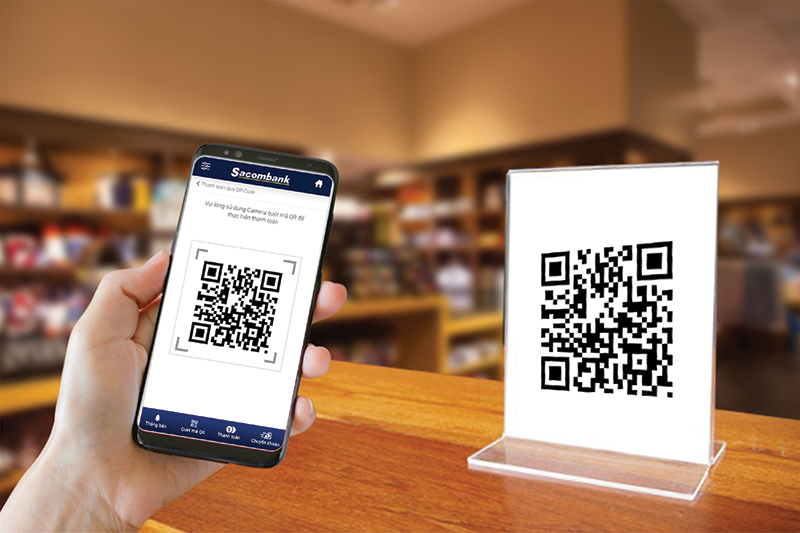 Along with using cards directly for payments via POS machine, now with Sacombank QR Pay, cardholders only need to use mobile devices (cell phones, laptops) to scan QR at merchant acceptance worldwide for payment immediately. Launched since October, 2017 and applicable for Sacombank's Visa cards, up till now this payment method is officially also available for Sacombank's Mastercard cards (aka Masterpass QR) that enable its card owners to make transactions around the globe. Sacombank JCB and UnionPay card owners can also make payments via Sacombank QR Pay at local merchants co-operated with Sacombank such as the Blue Exchange fashion shops, Fresh Flowers 38 Degrees, Mytour.vn, OZ Coffee House, OneZo milk tea, etc. The list of QR Pay merchants co-operated with Sacombank has been updating on khuyenmai.sacombank.com.
As the Mastercard card owners can officially enjoy Sacombank QR Pay globally, Mr. Am Vogels, Head of Mastercard's representative office in Vietnam said: "Sacombank is the first bank in Vietnam that can officially launch the Masterpass QR service, applicable for both paying and accepting card transactions. This is the solution enabling customers to actively and easily make transactions via mobile devices, as well as reducing service fee for merchants. This solution is appropriate with the direction of State Bank of Vietnam in developing the non-cash payment system due to its efficiency in deployment, safety and confidentiality in accordance with the EMV international standards.
 Instructions for Quick QR Pay with Sacombank's cards:
Customers using mobile devices accessing Google Play or App Store to download the mCard app and input information to connect with the card account and create a passcode (mPass). When making payment at merchants, customers open the mCard app and follow the steps:
Step 1: Press "Scan QR code"
Step 2: Point the device toward the QR code for scanning process
Step 3: After scanning,

If the "total amount" tab is empty, customers will input the payment amount
If the "total amount" tab has already been inputted, proceed to step 4.

Step 4: Select a card and press "Continue"
Step 5: Provide mPass to complete the payment.
For more information, please contact: