Sacombank signed a comprehensive cooperation agreement with DCRD and SOCENCOOP
06/01/2017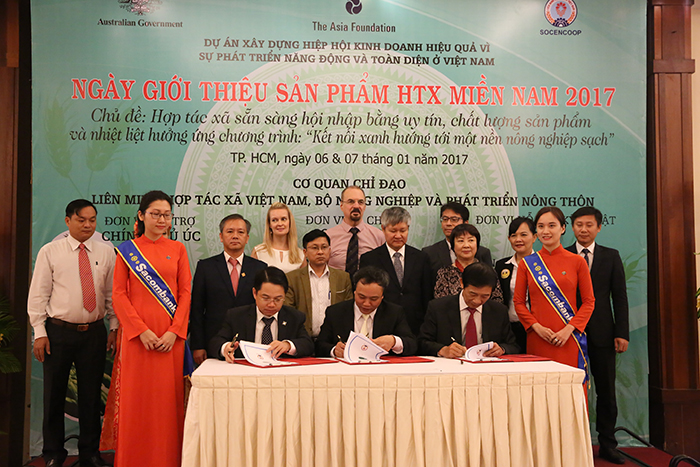 In particular, Sacombank will offer products, services, banking facilities for cooperatives alliances, cooperatives, small and medium enterprises operating in the agriculture sector and other stakeholders introduced by DCRD and Socencoop. In addition, all parties will support cooperatives in financial accounting, planning for short, medium and long term business operation, market development ...; Connecting to agricultural facility suppliers, agricultural wholesale consumers, food processing enterprises for the cooperatives; Inputting goods from cooperatives to supermarkets/exporters, by doing this it can also support value chain subsidizing; Coordinating and cooperating with government departments, local authorities and other relevant partners to provide technical guidance for cultivation, processing, storage and introducing concessional resources ... for cooperatives who are managing transactions with Sacombank.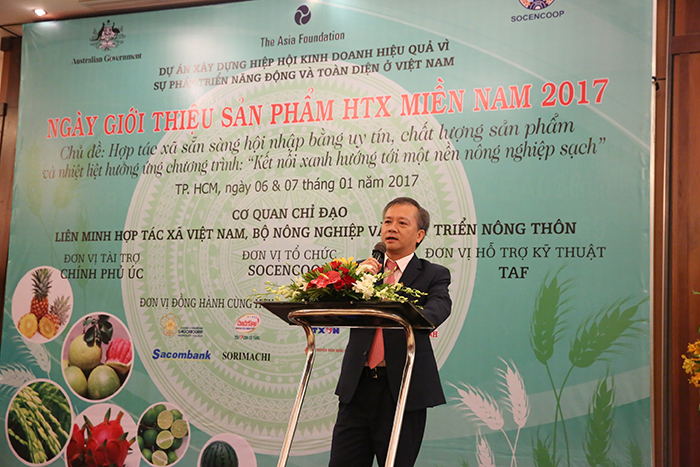 Representative of Sacombank, Mr. Phan Dinh Tue - Deputy General Director giving speech at the signing ceremony.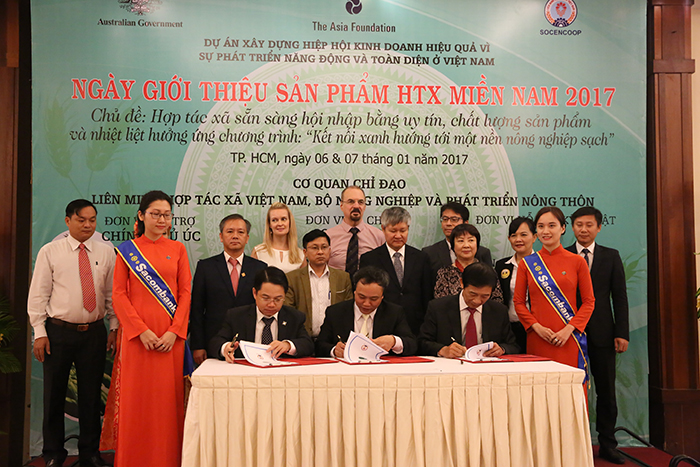 (From left to right) Mr. Huynh Thien Phu - Director of Sacombank's SMEs Department,
Mr. Le Duc Thinh - Deputy General Director of DCRC,Mr. Le Binh Hung - Director of Socencoop
signed a cooperation agreement in the presence of the Australian Consulate, leaders of the Asia Fund in Vietnam,
the Vietnam Chamber of Commerce and Industry, Vietnam retailers Association, Con Co Vang Group, Saigon Tourist Hospitality College.
DCRD is a department under the Ministry of Agriculture and Rural Development, performing the function of advising for the Minister of State in specialized management sector and enforcing the State management tasks in economic cooperation, population distribution, resettlement immigration and rural development under the State management of the Ministry.

The participants cut the ribbon opening the ceremony.
Socencoop is an agency belonging to Vietnam Cooperative Alliance which functioning all consulting activities, services, supporting cooperatives, small and medium enterprises' development; Organizing all programs and economic development projects of the Cooperatives Union in southern of Vietnam; Organizing programs and projects on vocational training, human resources development and social - economic projects which are related to employment solutions in cooperatives, small and medium enterprises and labor export; Organizing trainings class to propagandize collective economic development; Introducing products, promoting trade and investment; Organizing local and international visiting tours to do market research; Deploying international cooperation activities.