SMS to enroll for 0% interest installment plan at any merchant
26/09/2017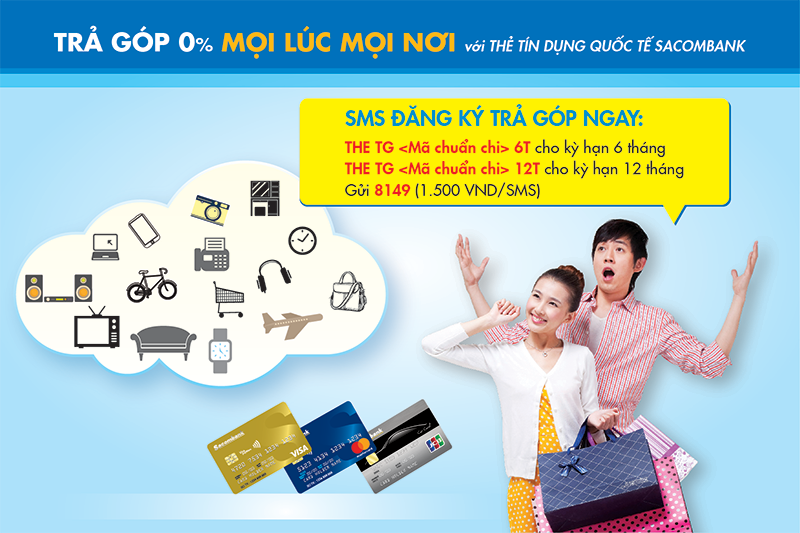 In detail, after making purchase, Cardholder will enroll by sending an SMS to 8149 (VND 1,500/SMS) with the syntax as below:
• THE TG <App Code> 6T for 6-month period plan
• THE TG <App Code> 12T for 12-month period plan

App Code consists of 6 numbers and is available on the receipts of purchases made at offline merchants. For online purchases, Cardholder will enquire the App Code via the Customer Service Hotline. Upon SMS enrollment, Cardholder will immediately receive an SMS from Sacombank to confirm whether the enrollment is successful or not.
In addition, Cardholder enrolling for 6-month payment plan will be offered a lower fee of only 4% total payment and also accumulate points to redeem for gifts of the Sacombank Loyalty program.
Sacombank international credit card is a modern payment method that allowed cardholders to buy first, pay later with up to 55 days free interest rate without secured assets. Cardholder can make purchase and withdraw cash all over the world; do online shopping safely thanks to PCI-DSS global certification; accumulate points to redeem for gifts; apply for 0% interest installment plan; get special discounts of up to 50% at hundreds of merchant etc. To apply for Sacombank credit cards, please visit dangkythe.sacombank.com.