The Bank participates in stabilizing market price
03/04/2017
Change to be more effective
From 2013, the People's Committee of Ho Chi Minh City has made a breakthrough in renovating the program by calling on Banks and local credit institutions to participate in mobilizing incentive loans for corporates who joining the stabilizing market price campaign. In the previous time, the capital for enterprises to stock goods, manufacture and invest for the whole year is taken from the State's budget at 0% interest rates. And now, the enterprises and corporates can borrow from banks with preferential interest rate to increase productivity, produce higher quality products at affordable prices, help the market to get more stable. This innovation has created positive results. Look at the outcome at the end of the year, we can recognize that the preferential capital has encouraged enterprises to produce higher quality goods at a reasonable price as well as to meet better demand and assure better life quality for residents. Understanding the importance of the program, Sacombank has actively participated in this campaign for the last five years with a total capital of VND 5,500 billion.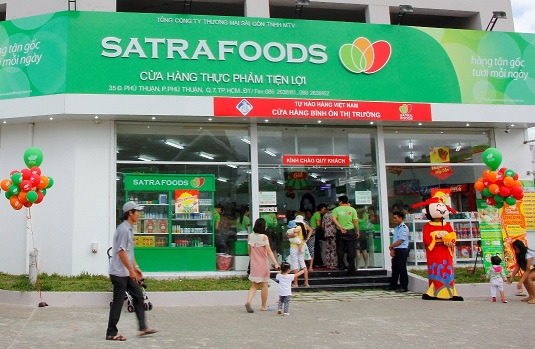 Sacombank implements full-range financial source solutions from suppliers chain - producers of stabilizing price products - distributors for stablizing goods - consumers
In 2017, Sacombank spends VND1 trillion to join the Market Price Stabilization Program with a short-term interest rate of 6.9% per annum and medium and long-term interest rates of 9% per annum. Simultaneously, Sacombank also implemented a full range financial source solutions from Suppliers Chain - Producers of stabilizing price products - Distributors for stabilizing goods - Consumers. Consequently, the distributors can access to Sacombank's capital quickly and timely at the lowest interest rate compared to other Sacombank's preferential loans. In particular, the short term loan interest rate is reduced by 3% to 4% and medium and long term interest rates are reduced by 2% to 3% compared to market lending rates. Through this, businesses can actively planning their capital, save on costs and transaction time, increase sales at lower cost, take initiative in financial planning, reduce the cost of managing receivables. And above all, sharing the payment risk with the Bank.

Sacombank has accompanied some corporates and enterprises to sponsor this campaign such as: Ba Huan Co. Ltd., Saigon Trading Group (SATRA), TP II Foodstuffs Joint Stock Company, Hung Viet Manufacturing Co. Ltd., Nutifood Nutrition Food Joint Stock Company…

Besides the obvious outcome is maitaining the supply sources for 9 necessary consumer goods groups to stabilize the prices of these products which is at lower 5 to 10% than that of the market. The program is also a bridge to help the Banks find more prestigious customers. On the other hand, businesses feel more secure in terms of capital. In particular, the enterprises/corporates and banks are supported by the SBV and Department of Industry and Trade to increase the prestige of the market.

Companion to Businesses
In addition to the Market Price Stabilization Program, Sacombank has also actively participated in many other programs to provide preferential loans for businesses. Typically, the Bank-to-Business connection program follows the policy of the State Bank of Vietnam (SBV).

During the past 5 years, Sacombank has been entrusted by the State Bank of Vietnam as the focal point representative of commercial banks to organize the program of concessional loan financing for enterprises in Ho Chi Minh City. Sacombank has signed with thousands of businesses / individuals / business households / cooperatives in 24 districts in Ho Chi Minh City and started expanding to other provinces. In particular, Sacombank has signed up capital support up to VND 15,300 billion with maximum preferential interest rate of 7% per annum to accompany and share difficulties with businesses, support low interest capital sources for businesses to scale their business operation.

Thus, in 2017, Sacombank is planning to spent a total of VND12,000 billion to provide preferential loans to enterprises in many different fields across the country. Including VND3,000 billion of the Bank-to-Business connection program with interest rate of 6.9% / year for short-term loans and 9% / year for medium and long-term loans which applying for small and medium enterprises operating in supporting industries, importing, exporting, applying high technology and rural agriculture in 24 districts of Ho Chi Minh City.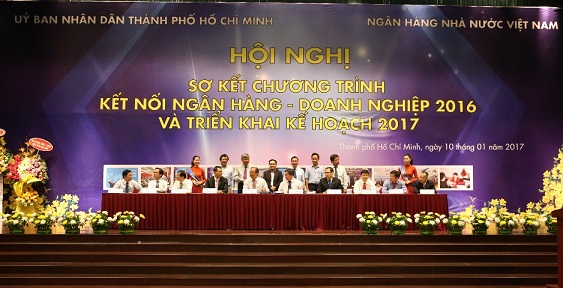 Sacombank signed an MOU with the State Bank of Vietnam and Ho Chi Minh City Department of Industry and Trade to implement a credit package worth VND3 trillion with preferential interest rates in 2017.
It can be said that, with concrete actions and positive support to the enterprises, the Banks have contributed to the growth of the Vietnamese economy by creating stable capital source which is resulted in stabilizing market, market price, curbing inflation, and ensuring social security. This is one of the most effective activities that need to pay more attention and support from the authorities in order to create better relationship between Banks and the enterprises.
Source Vietstock