5 best of Sacombank cards
18/11/2018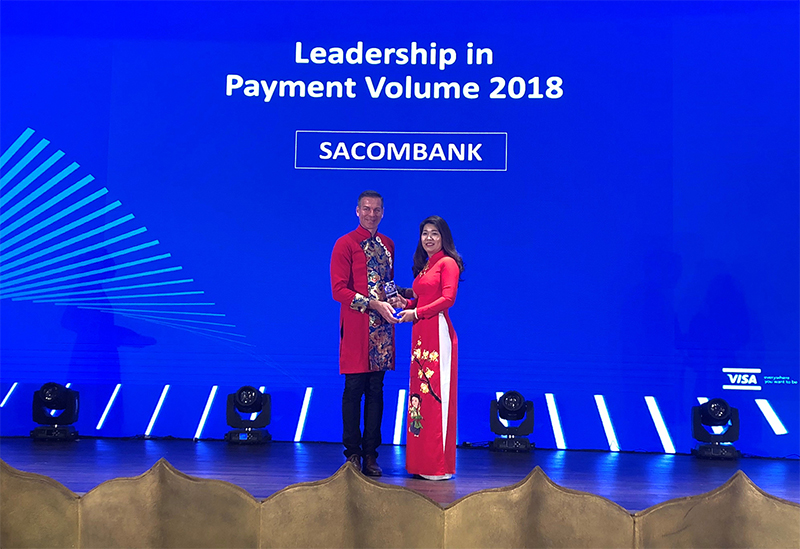 Firstly, Sacombank is the bank with the highest trading volume by QR code in 2018 (Leadership in Scan to Pay Payment Volume 2018): After more than 1 year of pioneering in implementing quick payment service by QR, Sacombank has been fast leading the way in trading turnover. Sacombank's cardholders simply need to download the mCard application to their phone and scan QR codes at any transaction point instead of using the card to pay via POS as the traditional way. Especially, Sacombank is the first bank in Vietnam to meet the conditions to apply international standard EMV payment method from 2017. Sacombank cardholders can use QR codes for making payment not only in Vietnam but also in the global market. 
Secondly, Sacombank is the bank with the highest transaction volume in terms of tapping payment in 2018 (Leadership in Visa Tap to Pay Payment Volume 2018): From July 2017, Sacombank was once again a pioneer in deploying contactless payment technology "Sacombank Contactless: Simply touch" in accordance with international standards aimed at optimizing utilities, increasing security and shortening payment time for cardholders when only needed to tap the card lightly on the POS machine to complete the transaction. This payment method requires POS system (which banks provide to the point of sale for buyers to use cards for payment instead of cash) must be equipped with touch technology. Sacombank has a special advantage in this segment when it has equipped POS system at thousands of outlets in all 63 provinces and cities nationwide, of which 60% of Sacombank's POS machines have applied touch technology. This rate will be raised to 80% in 2019.
Thirdly, Sacombank is the bank with the highest card transaction volume in 2018 (Leadership in Debit Payment Volume 2018): At present, Sacombank has linked with Visa international card organization to launch 4 payment card lines: Visa Imperial Signature, Visa Platinum Cashback, Sacombank Visa Debit and International Corporate Payment Card. Sacombank is a joint stock commercial bank with an extensive network of 566 transaction points in 48/63 provinces and cities in Vietnam and the two countries of Laos and Cambodia, and has a dominant client and small and medium customer system; hence card development activity is taking advantage when the card is linked to a customer's account opened at a large network like Sacombank. In addition, because of the investment and superior information technology platform, it has brought the pioneering, modern and practical utilities to cardholders, making individuals and businesses often choose to open Sacombank cards for themselves or their employees to pay salaries via Sacombank instead of other banks. Sacombank also has the most modern ATM system which located in almost everywhere and Sacombank is also the first bank in Vietnam to allow customers to make withdrawals by QR code instead of using card that has brought very new exciting experiences for cardholders. The amount of each withdrawal transaction and every day withdrawal amount at Sacombank ATM is larger than that of other banks. Sacombank's ATM system also rarely runs out of money or has problems. In addition, Sacombank card acceptance points have covered in 63 provinces with modern payment methods such as touch payment, QR payment are accepted in both Vietnam and abroad... are also key factors that Sacombank has invested heavily to ensure customers secure transactions at anytime, anywhere, thereby promoting the significant growth that hard to catch up in terms of card operations in the current Vietnamese market.
The fourth title, Sacombank is a bank with the highest sales volume growth at card acceptance points in 2018 (Leadership in Merchant Sales Volume Growth 2018): With a growth rate of 91% compared to 2017 for Visa card only. In addition, with the total average current revenue of all cards in each Sacombank's card acceptance point is around VND 200 million per month, it is expected that until end of 2018, sales revenue from Sacombank's POS system will reach VND 18,000 billion, up 54% compared to 2017. Sacombank continues to maintain its business strategy for developing card acceptance services by improving technology; ensuring financial safety and strengthening care services for card acceptance units to bring the highest financial efficiency in business. In addition, Sacombank continues to promote its strengths in caring and supporting card acceptance units 24/7. Sacombank's equipment provided to card acceptance units is regularly maintained to ensure stable service. Therefore, card acceptance units are always supported promptly to develop business activities.
The 5th title, Sacombank is in the Top 3 banks with the highest payment volume in 2018 (Leadership in Payment Volume 2018): To date, Sacombank continues to maintain and develop a strategy to enhance customer acquisition development as well as focusing on taking care and retaining existing customers. Specifically, Sacombank regularly implements promotions to attract new customers and implement discounted incentive programs to attract existing customers. With the advantage of a diversified card products, customers come to Sacombank always have many choices with different card utilities and frequent promotions which are great motivations to motivate customers to choose the Sacombank card for their spending activities.
The above five titles reflect comprehensively the level of investment and efforts of Sacombank in bringing customers many convenient, diversified and different value added products and services.
For more information, please contact Hotline 1900 5555 88 or 028 3526 6060; access website sacombank.com.vn and register online at website card.sacombank.com.vn.