Congratulations on a successful year of cooperation betweek Sacombank and Dai-ichi life Vietnam
07/09/2018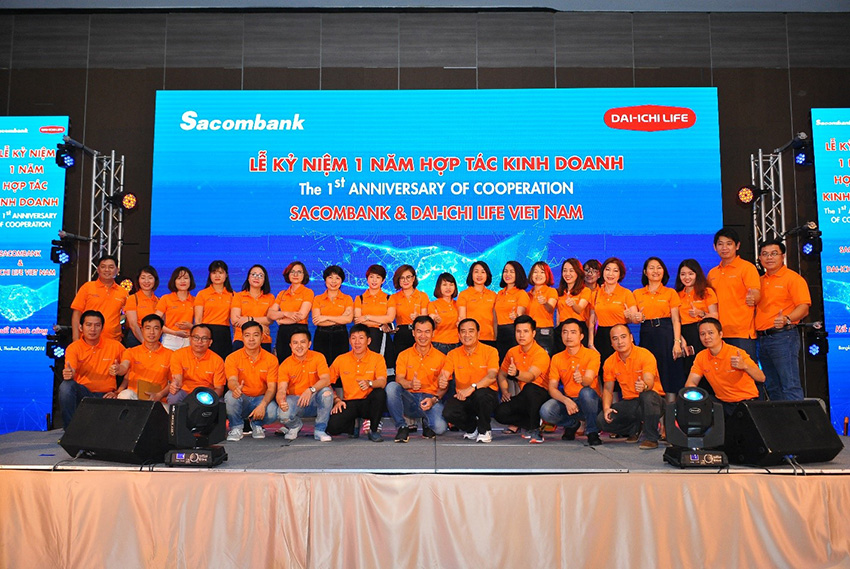 On September 6, 2018, in Bangkok - Thailand, a country with friendly smiles and a symbol of cultural and religious features, the 1st anniversary of business cooperation between Sacombank & Dai-ichi Life Vietnam was happened to honors 22 excellent units and 37 excellent individuals in the first year of cooperation and the program "Bancassurance - Hello Summer" with exciting and interesting activities.

Tossing for a successful year of cooperation together!
Mr. Nguyen Mien Tuan, Vice Chairman of the Board of Directors shared at the Celebration: "Based on the foundation of a retail bank with a large number of customers base, a large and convenient network with extensive experience of a leading insurance company in Vietnam, the deployment team of both sides has been constantly striving, proactive and creative in all activities: from human resource preparation, professional training to POS level to sale insurance, which was a little bit hesitate at the beginning, after only a short time, 100% of the transaction points had contracts; to the insurance festivals held vividly and professionally across the country, attracting a lot of attention and response from the customers. "
Congratulations to the most excellent individuals and collectives in the year of cooperation and the program "Bancassurance - Hello Summer":