Customers receive special offers to open Sacombank JCB cards
24/10/2018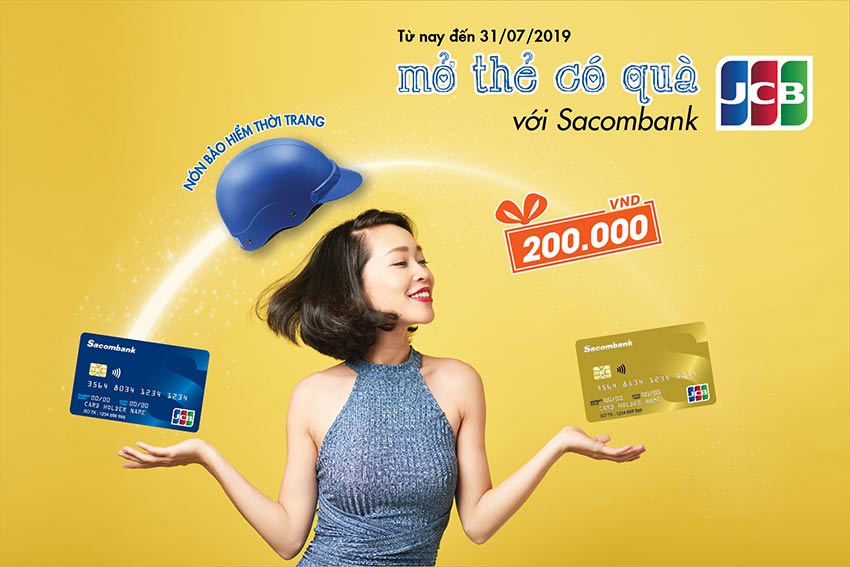 Sacombank JCB international credit card, the payment brand based in Japan, offers a modern payment solution with many special promotions at JCB international and domestic card accepting merchants including a 50% discount at The Pizza Company every Monday, a 30% discount of Sharetea milk tea every Tuesday from now until December 31, 2018, buy 1 get 1 free of 2D movie ticket at Galaxy Cinema on Wednesday, a 30% discount (a maximum of VND2 million) for domestic hotel reservations on www.vntrip.vn every Thursday, a 30% discount of buffet ticket (a maximum of VND500,000) at Sumo BBQ restaurant every Friday, a 25% discount (a maximum of VND300,000) for shopping on www.tiki.vn every Saturday, a gift voucher worth VND100,000 for every spend at least VND700,000 at Aeon Citimart supermarket system every Sunday from now until January 31, 2019, etc. The newest promotions for JCB cardholders are updated on www.vn.jcb/vi/.
Furthermore, Sacombank JCB cardholders get credit limit up to VND200 million, shop and pay later with no interest fee up to 55 days, no collaterals to open a card, pay at million of card accepting points around the world and on internet, get cash up to 80% of credit limit at any ATM with JCB logo locally and worldwide and free of charge at Sacombank ATMs/POS machines, especially pay by tapping a card against a POS machine or scanning QR code at global card acceptance points and get cash without a plastic card by scanning QR code at Sacombank ATMs nationwide, get up to 50% discount on dining, shopping, services at hundreds of merchants collaborating with Sacombank, enjoy a 0% interest installment payment plan anywhere, at any time, and more. To qualify for a credit card, customers based in Ha Noi and Ho Chi Minh City need to have a monthly income from VND5 million and from VND3 million for customers based in other provinces.
For more information, please call our hotline at 1900 5555 88 or 028 3526 6060, visit the website www.khuyenmai.sacombank.com and apply for a card online at https://card.sacombank.com.vn.