Experience advanced payment and receive special offers with Sacombank cards
12/07/2018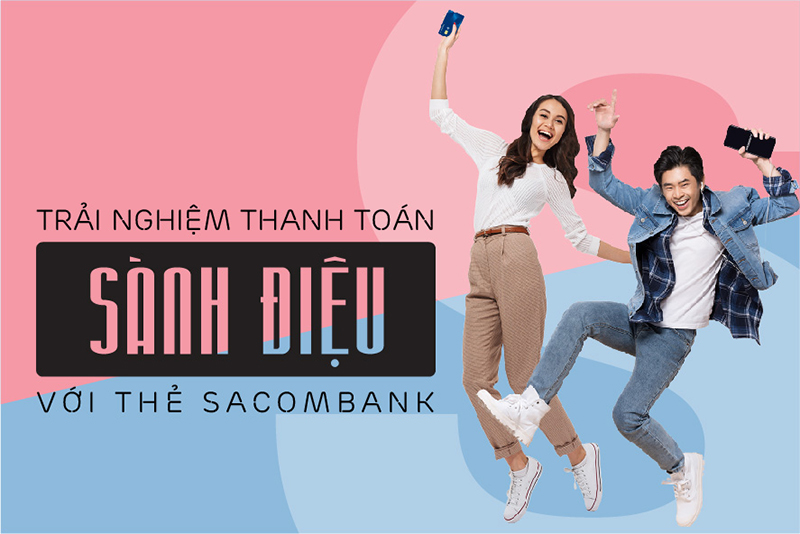 Specifically, from December 7, 2018 to January 3, 2019, with each transaction from VND 200,000 at different payment accepting units, each customer will receive a 10% refund applied for the first transaction, 15% refund for the second transaction and 30% refund for the third transaction with a total amount of up to VND500,000. Each week, the first 50 customers have at least 2 transactions (from VND 200,000 / transaction) with at least 1 contactless or QR transaction at 2 different locations and reach a total transaction value of VND 10 million or more will receive a Misfit RAY watch. In particular, customers are entitled to purchase a pair of 2D movie tickets for only VND 100,000 at many CGV cinemas when making payment by contactless or QR transactions method. Customers can also enjoy free issuing fee when buying non-physical cards on mCard application and paying by cards issued by any bank in Vietnam. By using the non-physical card purchased, customers can register for a mCard account to pay with QR code anytime and anywhere as well as participate in all privileges of the program.
In addition, in January 2019, customers will be entitled to purchase a combo package which including 1 2D movie ticket and 1 pop corn at many BHD cinemas for only VND 50,000. Each card is applied once a day at CGV and BHD during the program. The list of CGV and BHD cinemas elligibeled for promotion is updated at website khuyenmai.sacombank.com.
Since 2017, Sacombank has pioneered the implementation of many fast, convenient and safe payment methods, accepted not only in Vietnam but also around the world to meet the growing consumption demands from customers. With contactless payment, customers simply touch the contactless card of Sacombank on POS which integrated NFC technology within few seconds to complete the payment transaction and do not need to sign off the bill value under VND 400,000. With Samsung Pay, customers pay by using Samsung smartphones (with Samsung Pay application installed and linked with Sacombank card) to touch on the POS machine. With QR payment, customers download free mCard application from Google Play or App Store to mobile devices, integrate existing Sacombank card information into mCard and use mobile devices to scan QR codes at accepting card locations without carrying a plastic card. In addition, mCard also helps customers withdraw money by scanning QR codes at any Sacombank ATMs nationwide and actively manage Sacombank cards with the following features: lookup information (balance, statement, credit limit...), mobile phone top up, credit card payment...
For more information, please contact: Hotline 1900 5555 88 or 028 3526 6060; accessing website: khuyenmai.sacombank.com and registering online at website card.sacombank.com.vn.