Sacombank co-operates with Becamex Binh Phuoc
20/08/2018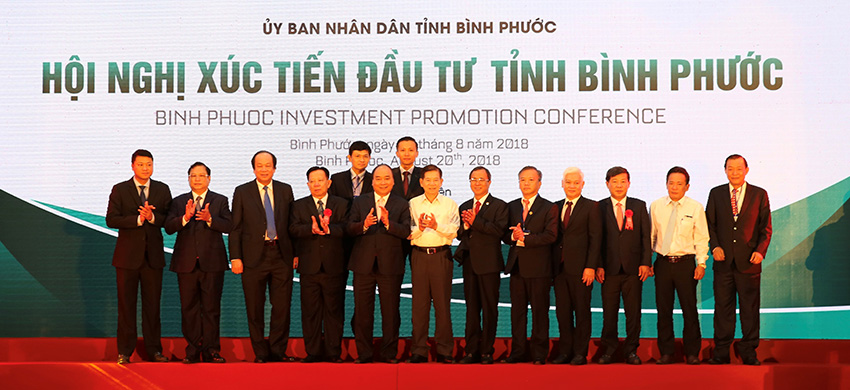 Becamex Binh Phuoc, operates in the real estate business, has experience in implementing and investing in industrial parks and large urban areas across the country, mainly in Ho Chi Minh City and the Southeast which is the leading region of the country in terms of potential to attract FDI enterprises.

Mr. Phan Dinh Tue (3rd from right), Sacombank's Deputy CEO, signs a comprehensive co-operation agreement with Becamex Binh Phuoc.
Sacombank will offer Becamex Binh Phuoc a loan to constructing the residential-industrial complex, provide the corporation with financial services such as deposits and payment accounts, cards and ATMs, as well as funds and full package services for businesses in the industrial park, and funds for customers buying houses in the project's urban area. The bank will also provide funds for members of the Becamex IDC Corporation.
The Becamex Binh Phuoc residential-industrial complex, one of the province's key projects targeting FDI, covers over 4,600 ha in Chon Thanh town and three communes in Chon Thanh district, Binh Phuoc province. With its strategic location adjacent to National Highway 13 and Highway 14, the project will help spur industrial development, and transportation and circulation of goods. The project is expected to speed up the province's economic growth, create a sustainable source of revenue, and attract domestic and foreign investment, while creating stable jobs for about 200,000 people and improving the living conditions of local residents.

Mr. Phan Dinh Tue, Deputy CEO of Sacombank (2nd from right)
At the signing ceremony, Mr. Phan Dinh Tue - Deputy CEO of Sacombank said, "We believe that the role as well as the financial and banking services needs of FDI enterprises doing business in Vietnam is very important. Therefore, Sacombank has launched many products and services tailored to the needs of each of those customers. Specifically, there is the package of preferential fees for Japanese businesses - Resona Bank. We together with our partners have established a Japanese customers business development team with native staff to promptly consult procedures and policies for the group of Japanese enterprises to invest in the Vietnamese market. For satellite businesses of large corporations such as Samsung, LG, etc. or FDI enterprises cooperating with Sacombank for the first time, we have also considered to offer exemption or reduction of fees for transferring, opening and maintaining accounts, and increased preference to best support customers. In addition, we have also developed a team with staff speaking many languages to facilitate communication with FDI enterprises, to contribute to promoting the strong development of the domestic economy from the foreign investment."