Sacombank PAY – a multi-financial solutions mobile application
21/12/2018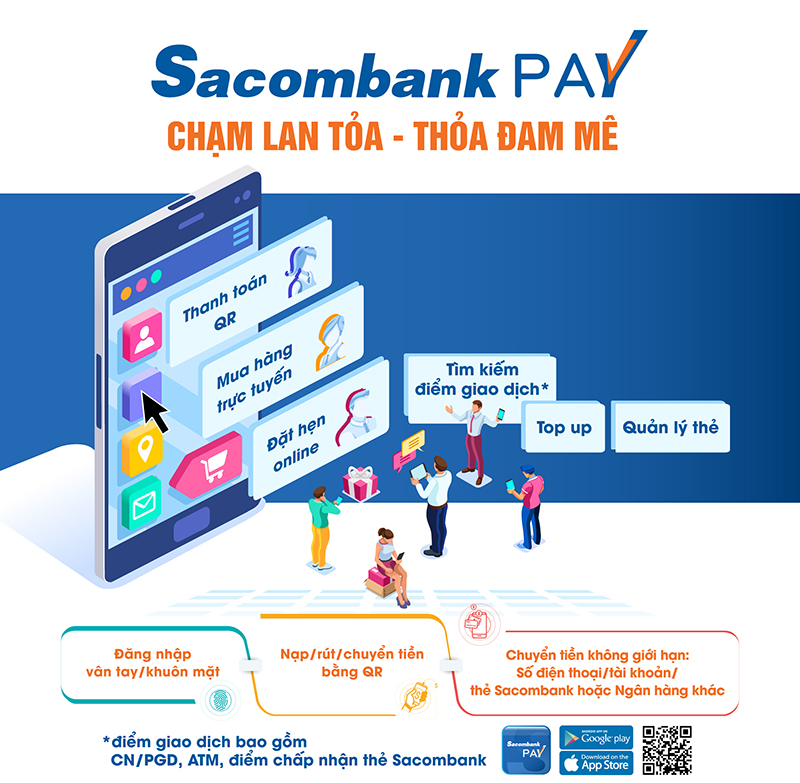 It is not necessary to be a Sacombank customer to experience product, customers who are trading at other banks or who have never used banking services can also use Sacombank Pay by downloading the mobile app from the App Store or Google Play for free. After successfully downloading the application, customers only need to register by phone number, then processing on personal identification information or fill in card information right on the application to use all app features and utilities from Sacombank Pay.
Easy to top-up/ transfer money to the app.
Customers can top-up / transfer money into Sacombank Pay application to spend by Sacombank account / card or other banks. Customers only need to declare the phone number, using it to log into the application, or using personal QR code downloaded from the application to top-up / transfer money into Sacombank Pay account.
Withdrawing money without physical cards
Customers can use fast QR withdrawal function in the application to quickly withdraw money at any Sacombank ATM while ensuring safety and security.
Experience modern payment technology
With QR payment function, customers can make fast payment at any accepting units, quickly transfer to relatives / friends immediately on the application. Especially, Sacombank Pay integrates with EMV cards - a global standard of security and interactive payment so customers can feel secure using Sacombank Pay to purchase and pay online at all websites or using QR payment to make payment at all QR acceptance points of Visa, Master, JCB, Union Pay International worldwide.
Enjoy the convenience
Customers can quickly find restaurants, fashion, shopping stores that accept payment, Branch/ Transaction Office, Sacombank ATM nearby customer's location or the expected area through the "Discover" function of Sacombank Pay App. Customers can also view and search for Sacombank's incentive programs with this function.
It is expected that in 2019, Sacombank will develop more features according to personalization trends for users such as proposing preferential financial solutions according to customer behavior, combining with international card organizations to add features to offer outstanding incentives in Vietnam and abroad according to customer location...
Actively manage cards and accounts
On Sacombank Pay application, customers can use the "My Card / Account" function to activate, create or change PIN, lock or unlock their Sacombank card any time customers want instead of having to call hotline number, sending message or going to Sacombank transaction points. Besides this feature, the application also helps customers to comprehensively manage Sacombank card information in the most modern way such as searching balance information, statements, credit limits, credit card payment .... 
Absolutely protected
Sacombank is one of the first banks in Vietnam to obtain the PCI DSS international security certificate and is highly appreciate in terms of IT system security by big auditing organizations (BIG 4, currently PwC is Sacocmbank's auditing company). Customers' cards when stored in Sacombank Pay are encrypted, ensuring customer information is absolutely confidential. Sacombank Pay also allows customers to log in by fingerprint (Touch ID) or face recognition (Face ID) to log in conveniently and safely.
In addition, new features will be constantly updated to add more functionality to the app and make it more responsive to the daily financial needs of customers.
FURTHER INFORMATION: 
On the occasion of launching the application, Sacombank offers a lot of incentives for customers as follows:
On December 21, 2018 (the launching date of application and Sacombank's birthday), the first 1,000 customers download and use Sacombank Pay to make any payment transaction (bill payment, phone recharge, online payment or QR payment) with at least VND200,000 will be given VND100,000 VND to Sacombank Pay account.
From December 21, 2018 to January 3, 2019, when using the QR payment function at different payment accepting units, for each transaction of VND 200,000, customers will be refunded 10% for the first transaction, 15% for the second transaction and 30% for the third transaction, the total refund amount is up to VND500,000 / customer. Each week, the first 50 customers have a minimum of 2 transactions (from VND 200,000 / transaction) at 2 different units with a minimum of 1 contactless transaction or QR transaction and reach a total turnover of VND 10 million VND or more will receive Misfit RAY watch. In particular, with QR payment, customers will enjoy the purchase for a pair of 2D movie tickets at CGV for only VND 100,000.
Particularly from January 1, 2019 to January 31, 2019, customers who pay QR to buy a combo package including one 2D movie ticket and 1 popcorn at BHD will pay discount price at only VND 50,000.
From January 4, 2019 to February 28, 2019, the first 1,300 customers with any payment transactions from VND 300,000 via Sacombank Pay will receive 1 pair of CGV tickets; Each week, customers with the highest number of payment transactions via Sacombank Pay will receive VND 2 million.
In particular, during the two Christmas days 24 and 25/12/2018, the first 1,000 customers paying bills via Sacombank Pay will receive 20% of the bill value (maximum VND 100,000). On New Year's Day, January 1, 2019, the first 1,000 customers who deposit money on Sacombank Pay will be refunded 50% of the value (maximum VND 100,000). From the 1st to the 6th day of the Lunar New Year and the Fortune Day (the 10th date of the Lunar New Year), the first 1,000 customers with any payment transactions from VND 100,000 via Sacombank Pay will receive VND 68,000 and VND 79,000 respectively.
For more information, please contact: Hotline 1900 5555 88 or 028 3526 6060; access website sacombank.com.vn and registering online cards at website card.sacombank.com.vn