Sacombank possess a typical e-banking service and an efficient POS network 2018
30/11/2018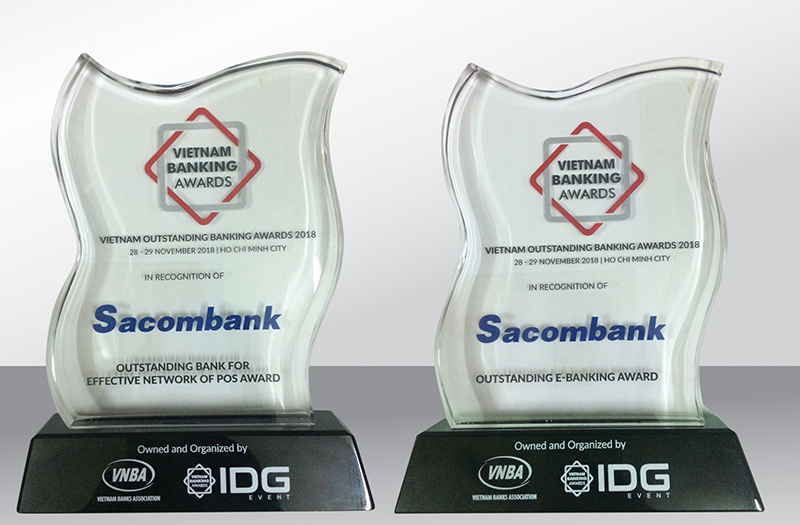 The title "Typical e-banking 2018" for Sacombank is evaluated based on investment level and the efficiency of information technology infrastructure, growth rate on customers' base. E-banking including Internet Banking and Mobile Banking, the number of transaction and transaction volume together with quality of customer service... Sacombank is one of the pioneering banks to deploy e-banking system in 2005 and launched eBanking service with international standards in 2013. Sacombank's e-banking system is developed on multi-channels basic with many outstanding, modern utilities which suitable with different customers' needs (both individuals and enterprises customers) to maximizing customer experience. In 2018, Sacombank continued to upgrade the new e-banking system in both Internet Banking and Mobile Banking platforms with many outstanding features based on extreme security technologies. In particular, Mobile Banking version is designed in the form of streamlined homepage, displaying transactions in groups and by icons to facilitate customers to choose their options, reducing transaction steps, adding more payment functions with QR code and updating attractive promotion information right on this new Mobile Banking app. To date, Sacombank's e-banking system has more than 1.3 million users using Internet banking service and more than 1.1 million users using Mobile Banking with monthly transactions of nearly VND 110,000 billion.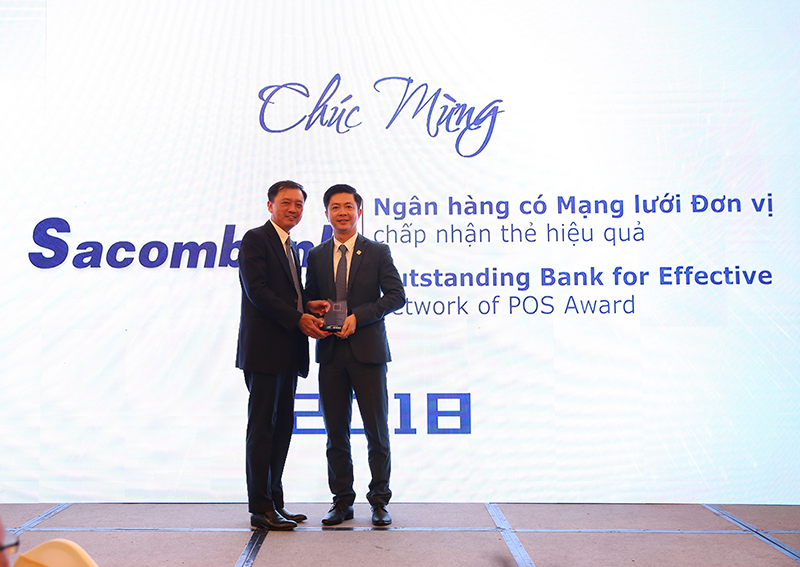 In addition, the title "The bank with an effective POS network 2018" recognizes Sacombank's superiority in meeting all requirements in terms of total revenue from each POS, the number of POS, the total average transaction turnover of 1 POS every month... Sacombank has an effective POS network in 63 provinces and cities nationwide. Currently, 60% of POS systems have been equipped with touch payment technology to ensure customers secure transactions anytime, anywhere, this rate will be raised to 80% in 2019. With average sales at each POS is currently around VND200 million per month, expected to end of 2018, revenue of Sacombank's POS system will reach VND18,000 billion, up 54% compared to 2017. Sacombank continues to maintain its business strategy for expanding POS system which is technical focus; ensuring financial safety and strengthening care services for POS to bring the highest financial efficiency for the business. In addition, Sacombank continues to promote its strengths in caring and supporting 24/7 for POS. The provided equipment for POS is regularly maintained to ensure stable service. Therefore, the POS is always supported promptly to develop business activities.
Also in November this year, Sacombank was the only bank in Vietnam to achieve 5 titles in card activities due to its pioneering contributions and practical benefits for cardholders in particular and for the market share of Visa card in Vietnam in general, which including: The bank has the highest turnover of QR transactions in the year; The bank had the highest sales volume by touch payment in 2018; The bank has the highest transaction amount via card payment in 2018; The bank has the highest sales growth at POS; Top 3 banks with the highest card transaction revenue in 2018.
These achievements reflect Sacombank's strong transformation in improving, enhancing digital banking technology, strongly promoting retail business and becoming one of the leading universal banks in Vietnam and regionally.
For more information, please contact Hotline 1900 5555 88 or 028 3526 6060; accessing website sacombank.com.vn and registering online at website card.sacombank.com.vn.