Sacombank received the Vietnam Gold Star Award 2018
23/12/2018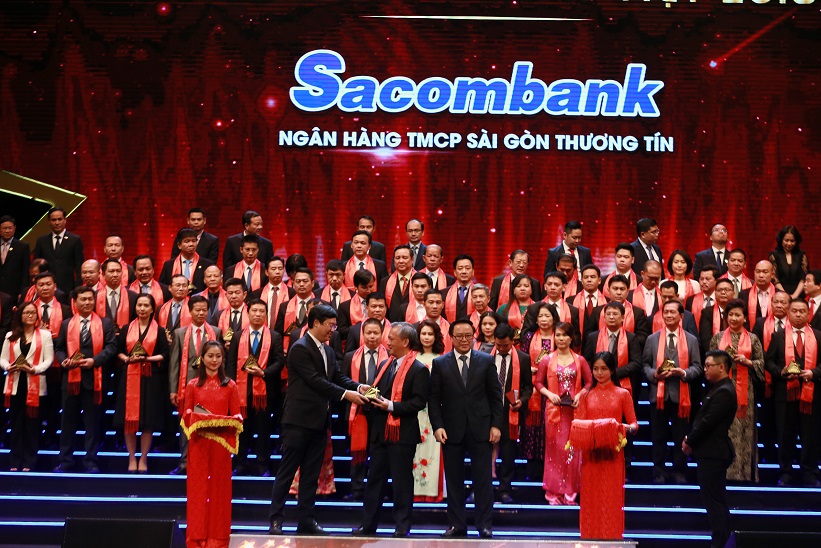 Vietnam Gold Star is an award honoring Vietnamese businesses and brands in the global economics integration. In 2018, Sacombank had a clear shift in market share in terms of selective growth and growing efficiency.
pecifically, the consolidated profit before tax of 2018 of Sacombank reached over VND 2,200 billion, exceeding 20% of the plan assigned by the Annual General Meeting of Shareholders; Sacombank's total assets are estimated at VND 407,000 billion (up by 11% compared to 2017); mobilization from economic organizations and residents is estimated at VND 364,000 billion (up 12% compared to the beginning of the year); credit growth is estimated at VND 258,000 billion (up by 14% over the previous year); bad debt ratio decreased to less than 3%; The total income is estimated at VND 10,500 billion (up by 21% compared to 2017), in which the growth of interest collection and services fee improved much compared to the previous year, notably the bancassurance service revenue achieved outstanding results. With more than 18,600 employees, human resources continue to be restructured, supported to be improved the professional qualifications, technical skills and professional ethics, improving productivity and labor efficiency. Moody's credit rating organization also changed the prospect of Sacombank to a stable level.
This is also a successful year for Sacombank when continuously receiving awards from prestigious local and international organizations such as: Top 10 most reputation among Vietnam commercial banks in 2018; Top 20 famous brands in Vietnam; Top 3 listed companies with the most favorable IR activities to investors in 2018; Top 500 best profitable businesses in Vietnam 2018; Typical e-banking 2018; The bank with effective network of card acceptance units 2018; 5 most honorable titles on card activities within the annual award ceremony of Visa International Card Organization and many other prestigious prizes.