Sacombank stopped issuing pin codes document and expanded channels for customers to actively manage their cards
19/11/2018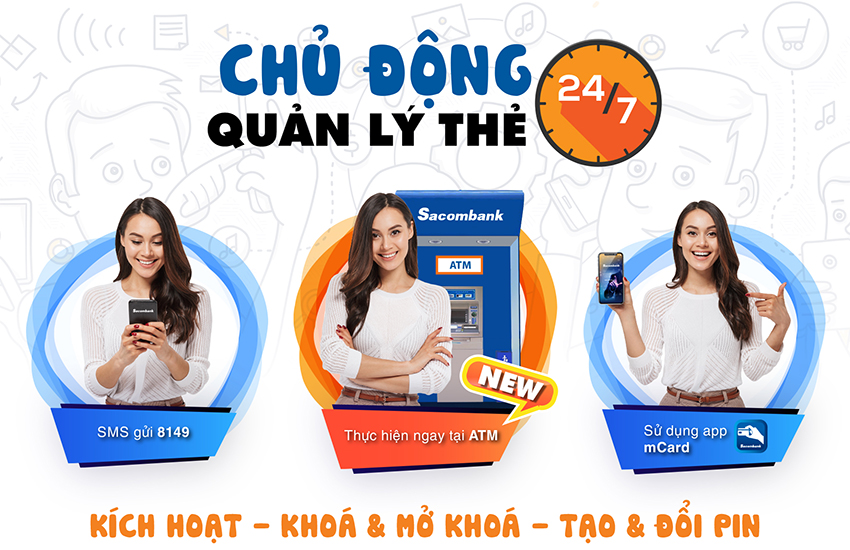 For customers who come directly to ATM, just put the card into the ATM and perform simple steps to activate and create a PIN code completely free.
For customers who choose to activate, receive PIN code on mobile phone message, they just need to compose a message and send to 8149 with the fee of VND1,500 / message; the content will be THE KICHHOAT <last 4 digits of the card number> to activate the card, THE CAPPIN <last 4 digits of card number> to create or change PIN, THE KHOA <last 4 digits of card number> to lock card and THE MOKHOA <last 4 digits of card number> to open locked card.
Besides coming directly to ATMs or use mobile phone messages, customers can choose mCard mobile application (free download from App Store or Google Play) and access the "Card management" section to activate, create or change PIN, lock or unlock the card. In addition to these features, mCard application can create new experience in terms of convenience, modernity and security for Sacombank customers in payment transactions. In particular, the two most prominent utilities are quick payment and fast withdrawal on Sacombank ATM system with QR code instead of physical card. MCard application also helps customers to comprehensively manage card information in the most modern way: Look up information (balance, statement, credit limit ...), mobile phone top up, making credit card payment for cards opened at Sacombank for yourself or for friends, buy non-physical prepaid cards without logging in... Besides, to increase security and enhance personalization, mCard allows users to log in with fingerprints or face detection (Face ID). Moreover, it is the integration of all types of cards (opened at Sacombank) into an application that allows customers to adapt their flexible uses depending on their needs.
With the simultaneous deployment of multi channels to help customers proactively manage their cards anytime and anywhere, Sacombank continues to affirm its position as a pioneer in providing modern card services and technologies, and at the same time to increasingly meet fast, convenient and confidential transaction needs of customers.
Instructions for activating and creating PIN code at Sacombank ATM:
To activate and create a PIN code at Sacombank ATM, customers put the card into the machine and perform the following steps:
Step 1: Select language (Vietnamese or English).
Step 2: Select the "Create new PIN" function.
Step 3: Enter mobile phone number registered with Sacombank when opening the card.
Step 4: ATM will check if the card is activated. In case the card is activated, the customer will enter the one-time authentication code (OTP) with 6 numbers sent via mobile phone message, or create via mSign authentication application or on Token device (depending on forms of transaction authentication that customers have registered with Sacombank). In case the card has not been activated, customer chooses "Confirm" to activate the card and then continues to enter the OTP code. ATM will lock the card if the customer enters the wrong code more than 3 times.
Step 5: After the card has been authenticated, the customer creates a new PIN code by entering twice on the ATM screen.
Particularly for domestic cards, after step 1, ATM will check whether the card is activated or not, and customers will follow the steps above to activate and create PIN code.
For more information, please contact Hotline 1900 5555 88 or 028 3526 6060; access website sacombank.com.vn and register online at website card.sacombank.com.vn.