Congratulations to 512 customers on winning the prizes in the first draw of the program "A thousand gifts for joy"
27/08/2019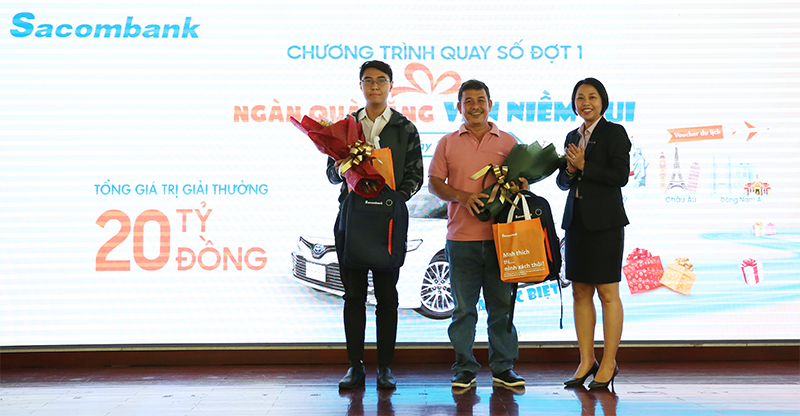 "A thousand gifts for joy" is a promotion program launched by Sacombank from July 22nd, 2019 to October 19th, 2019 for individual customers with the total prizes value up to VND20 billion. Customers opening savings books at Sacombank's transaction offices or through e-banking (i.e., iBanking and mBanking) at least VND5 million for a tenor of 2–36 months, or making transactions from VND5 million via E-banking successfully, or receiving remittances of US$1,400, or paying VND100,000 for services fees (excluding card services fees, credit service fees) will receive a reward code to participate in the lucky draw.
For the monthly prizes, Sacombank will continue to hold the second draw on September 25th, 2019 and the third draw on October 29th, 2019 to determine customers winning the remaining Honda SH Mode motorbikes and travel backpacks. On the same day of October 29th, 2019, Sacombank will organize the last draw applied for all customers to find out the winners of the prizes, including 01 Special Prize – a Toyota Camry 2.0 E car, 02 First Prizes – A travel to the US each, 03 Second Prizes – A travel to the Europe each and 15 Third Prizes – A travel to a Southeast Asian country each (Singapore/Malaysia/Thailand).
For further information, please kindly contact: