Lotusmiles members and other bank cardholders are priority to be issued credit cards by Sacombank
28/08/2019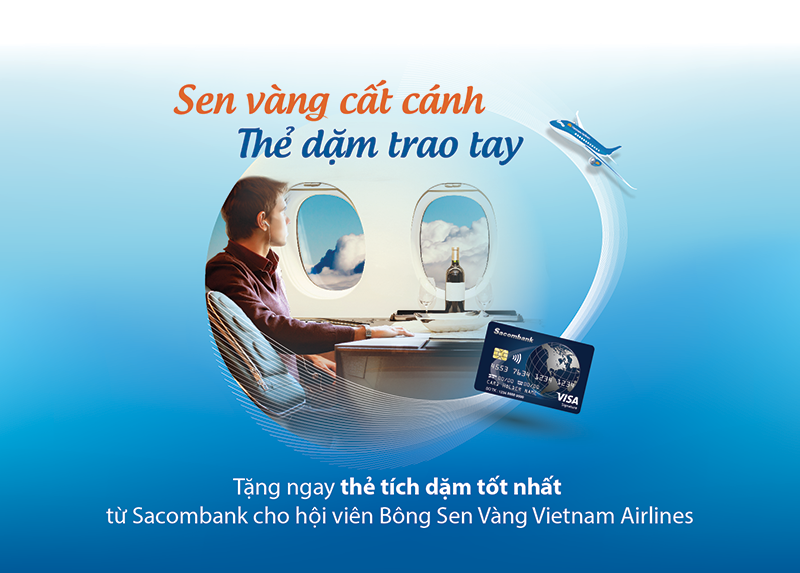 Sacombank credit card is an essential backup financial source for all spending needs with many utilities such as: unlimited maximum credit limit; pre-paid, post-paid purchases are entitled to interest free up to 55 days without collateral; making payment and withdrawing money around the world; shopping via Internet; accumulating reward points to exchange gifts when shopping; 0% interest installment purchase anywhere, anytime; enjoying up to 50% off when eating, drinking, shopping, traveling; actively making transaction via electronic banking channels, Sacombank Pay application...
With Sacombank Visa Signature international credit card, customers can also earn 1 Sacombank mile for every VND 20,000 of their spending and can convert Sacombank miles into Vietnam Airlines, Jetstar and Vietjet Air tickets; annual fee of Sacombank Visa Signature credit card; cash or reward miles / Vietnam Airlines qualifying miles (1 Sacombank mile = 1 Vietnam Airlines reward mile = 1/10 Vietnam Airlines qualifying miles). New cardholders will also receive an additional 500 Sacombank miles for their first spending transaction and an additional 4,500 Sacombank miles when the total spending within the first 3 months from the date of activation is at least VND 100 million. In addition, customers are given a global travel insurance package worth up to 11.4 billion and Priority Pass card to use the VIP lounge at more than 1,000 airports around the world.
The usual condition for opening a Sacombank credit card is to have income from VND5 million / month if the customer lives in Hanoi, Ho Chi Minh City and from VND3 million / month if customers live in other provinces. To open a Sacombank Visa Signature credit card, customers need to earn at least VND 60 million / month.
For more information, please contact Hotline Hotline 1900 5555 88 or 028 3526 6060; access to website khuyenmai.sacombank.com and register online at website card.sacombank.com.vn.