Privileges when opening Sacombank premium Visa credit cards
21/02/2019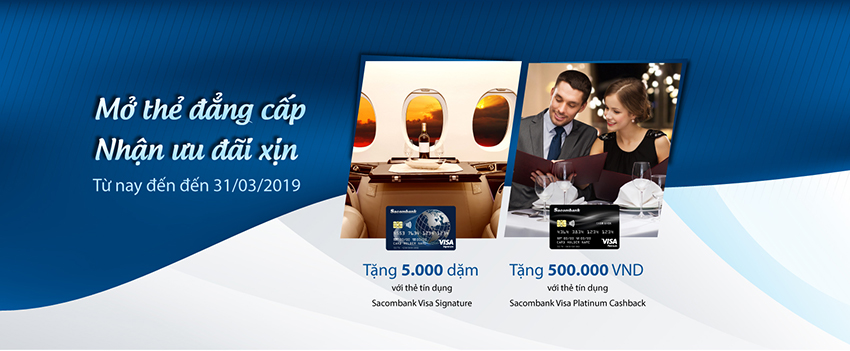 During the promotion period, customers open Sacombank Visa Platinum Cashback credit card and have spent for shopping transactions from VND 1 million within 15 days can enjoy the accumulation of VND 500,000 for refund. Customers only need to spend more to accumulate VND100,000, they can contact Sacombank to get a refund on the card. For customers who open Sacombank Visa Signature credit card, they only need to have shopping spending transactions from VND2 million within 15 days from activating day, they will receive 5,000 Sacombank miles. The promotion can be applied simultaneously with the other offers in the first 3 months after activating cards which are receiving 500 Sacombank miles for the first shopping spending transaction and an additional 4,500 Sacomabakn miles when total purchase spending reached VND 100 million. Each cardholder receives one offer during the program.
In addition to Sacombank flight mile accumulation and refund, Sacombank Visa Signature and Sacombank Visa Platinum Cashback cardholders also enjoy many privileges such as: global travel insurance of up to VND 11.4 billion; world-class incentives when shopping, eating, traveling...; pre-paid postpaid interest free up to 55 days and unlimited credit limit; 0% interest rate installment purchase at any time; Free Priority Pass card to use VIP lounge at more than 1,000 domestic and international airports (only applicable for Sacombank Visa Signature)... Requirements for opening card are having minimum income of VND 20 million / month for Sacombank Visa Platinum Cashback and 60 million VND / month for Sacombank Visa Signature card.
For detailed information, please contact Hotline 1900 5555 88 or 028 3526 6060; access website website khuyenmai.sacombank.com and register online at website card.sacombank.com.vn.