Receiving Color Me Run ticker when opening Sacombank Unionpay card
13/06/2019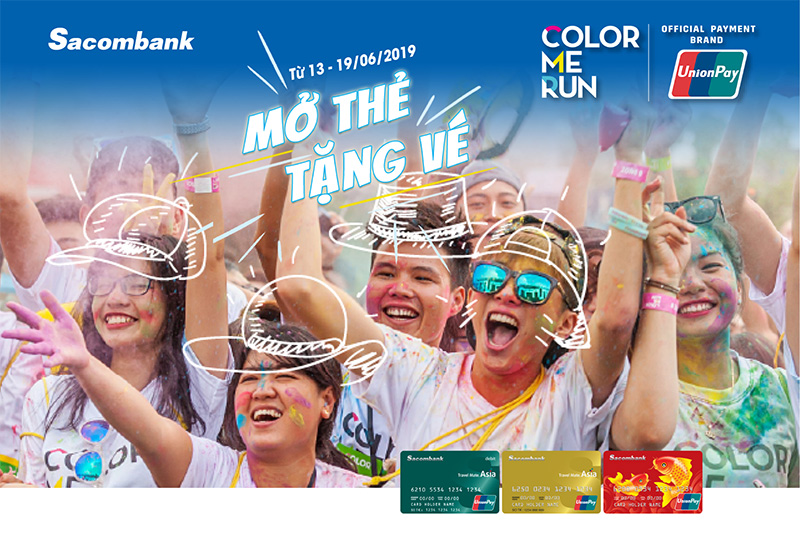 Color Me Run is a global famous entertainment event for the youth and has been organized in Vietnam since 2014 with many interesting activities such as experience running on 5 km long track and toss pigment in powder at each stage, join the fun and eat at stalls, enjoy outdoor art exhibition and imposing music stage which gather many famous Vietnam and international artists together. 
Furthermore, from May 13, 2019 to June 25, 2019, Sacombank UnionPay card owners will be participated in "Come to Singapore to watch ICC football cup" program to have a chance to receive 01 Singapore full package travel trip including 01 return plane ticket Vietnam – Singapore, 02 night at The Fullerton Hotel and 01 ICC Match 2019 ticket. This is the award for two customers who has the highest number of shopping spend transactions (at least from VND 300 thousand/transaction) and the highest total shopping spending in offer period. For registing, card owners just need to send a message with syntax THE ICC2019 <the last 4 numbers of card number> to 8149 (fee VND 1500) 
Sacombank UnionPay is the international card product which have many utilities such as transaction around the world, especially scan QR code to pay and withdraw money without plastic card; discount 50% when eating, shopping or traveling…; Sacombank Pay application helps to manage comprehensively cards and proactively transfer interbank, top-up money for mobile phone and pay all kind of bills.                                                                                                                                           
With Sacombank UnionPay credit card, customers can buying in advance – paying after interest for up to 55 days without collaterals; accumulate points when shopping and exchange for gifts; installment purchase with 0% interest rate every time and everywhere. The conditions to open card are income at least from VND 5 million per month for customers in Hanoi or HCMC and at least from VND 3 million per month for customers in the others. 
With Sacombank UnionPay payment card, customers can associate card with payment deposit account which opened at Sacombank. Throught the card, customers can use money in account to transact everywhere and every time via E-Banking services, Sacombank Pay appication and all Sacombank ATMs nationwide. In order to open the card, customers must to have identity card, citizen ID or passport.
With Sacombank UnionPay prepaid card, customers do not need to prove their income or open account but can buy card and top – up to use or giving it as a gift for friends and relatives. The maximum amount of money which is top -up in the card is VND 100 million and the times of top – up is unlimited
For futher informtion, please contact us via hotline 1900 5555 88 or 028 3526 6060; access to website khuyenmai.sacombank.com   or and register card online at website card.sacombank.com.vn.