Receiving lucky money at Sacombank
11/02/2019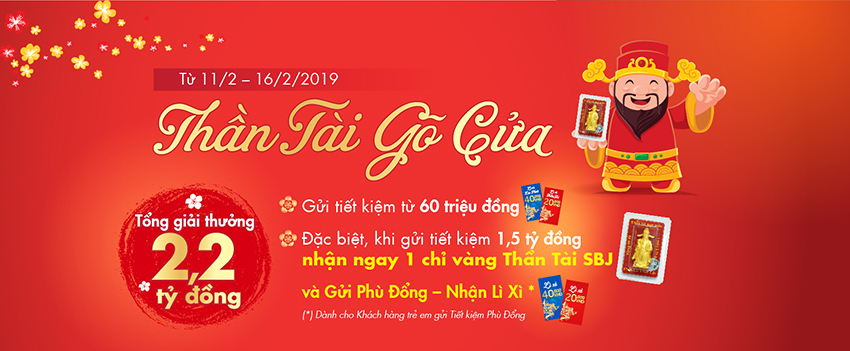 Specifically, from the 7th to 12th of January of the Lunar Year (11-16 February 2019), individual customers who deposit term savings or flexible term savings in VND with the minimum amount of VND60 million and tenure from 6 months will receive 1 draw named "Knocking door from the God of Wealth" with 100% winning probability and the lucky money prize is valued at VND39,000 or VND68,000. Particularly with the deposit of minimum VND 1.5 billion, customers will receive 3.75gr SBJ gold piece.
In addition, from Lunar January 7 to January 29, the Year of the Pig (February 11 - March 5, 2019), customers opened a new Phu Dong Savings book with a minimum amount of VND 500,000 or deposited into their current Phu Dong Savings which having current balance from VND 1 million to VND 10 million will receive VND 20,000 immediately; In case of depositing from VND 10 million or more, customers will get VND40,000 immediately. Phu Dong savings is an exclusive product for children from 0 to 15 year-old, designed based on the traditional behavior that kids are usually saving money by "feeding" money to their "Piggy Bank".
For detail information, please contact: 
- Website: https://khuyenmai.sacombank.com;
- Hotline 24/7: 1900 5555 88; 
- Email: ask@sacombank.com.