Sacombank's Annual General Meeting targets the 2019 profit of VND2,650 billion and boosts the restructuring progress
26/04/2019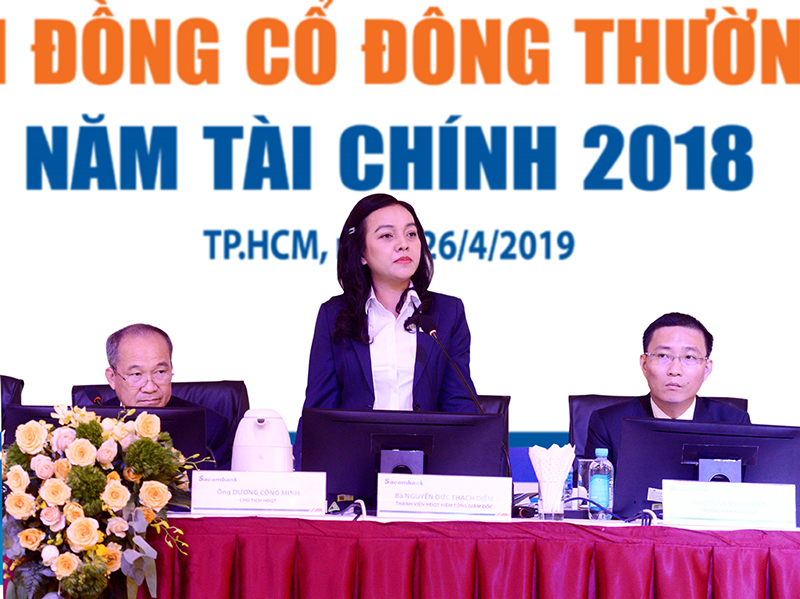 Saigon Thuong Tin Commercial Joint Stock Bank (Sacombank - STB) held its 2019 Annual General Meeting (AGM) in the morning on April 26.
Profit in 2018 was up 1.5-fold
At the AGM, Ms. Nguyen Duc Thach Diem, CEO of Sacombank said that the bank's 2018 consolidated pre-tax profit reached VND2,247 billion, an increase of 50.6%. Total assets reached VND406,041 billion, outstanding loans reached VND257,172 billion. NPL ratio was only 2.11%, declined by 2.48% year-on-year (yoy).
Profitability ratios were also improved significantly. In which, the return on average assets (ROAA) and the return on average equity (ROAE) reached 0.46% and 7.48% respectively; higher than that of 2017 of 0.34% and 5.2%, respectively. Basic earnings per share (EPS) gained VND780 per share, improved from VND555VND per share in 2017.
Consolidated capital adequacy ratio was 11.88%, an increase of 0.58% yoy, higher than the regulated minimum of 9%. The ratio of short-term capital used for medium and long-term loans was 37.41%, ensuring below 45% as regulated by the State Bank of Vietnam (SBV). The loan-to-deposit ratio was 70.12%, ensuring not exceeding the maximum of 80%.
A pre-tax profit target of VND2,650 billion in 2019
In 2019, Sacombank has set to achieve total assets of VND455,500 billion, a minimum increase of 12% yoy. Total deposits are expected to reach VND423,500 billion, increased by over 14%, in which deposits from business organizations and residents target of VND418,600 billion, up 17%.
Total outstanding loans are expected to reach VND298,100 billion, up approximately 16%, in which loans for customers target of VND297,600 billion, up 16%. Profit before tax is expected to reach VND2,650 billion, an increase of 18% yoy.
Given the consolidated pre-tax profit target in 2019 of VND2,650 billion, the leaders of Sacombank submitted the deduction of 20% of an excess of profit target to reward its employees to shareholders for approval. In 2018, Sacombank also deducted nearly VND82 billion from 20% of an excess of the target to reward its employees.
The restructuring progress has been beyond expectation; however, the bank cannot pay dividends
At the AGM, Sacombank's leaders said that, after nearly 2 years of implementing the restructuring project post the merger, Sacombank has exceeded the key targets of the project.
However, besides the progress boosted, there are some issues that still exist. For example, non-performing assets are still very large and the process of recovery and handling of collateral has taken a period of time and has depended on the real estate market movements. Low credit growth has affected income and the progress of collateral handled as well.
The bank's leaders agreed that not paying dividends to shareholders since the merger is to focus on restructuring and handling backlogs relating to finance, making many shareholders dissatisfied.
In addition to restructuring, the bank has been also faced pressure to raise capital when the application of Basel II is around the corner.
1Q2019 business results reached 40% of the year plan
Sacombank's 1Q2019 Consolidated Financial Statements reported that in the first quarter, the bank gained a pre-tax profit of VND1,061 billion, up 2-fold yoy. Hence, given a profit target of VND2,650 billion, the bank has completed 40% of the plan in the first quarter.
Ngoc Toan
Source: Tri Thuc Tre