Sacombank achieved the PCI DSS certification for the 6th consecutive year certified in card security
15/11/2019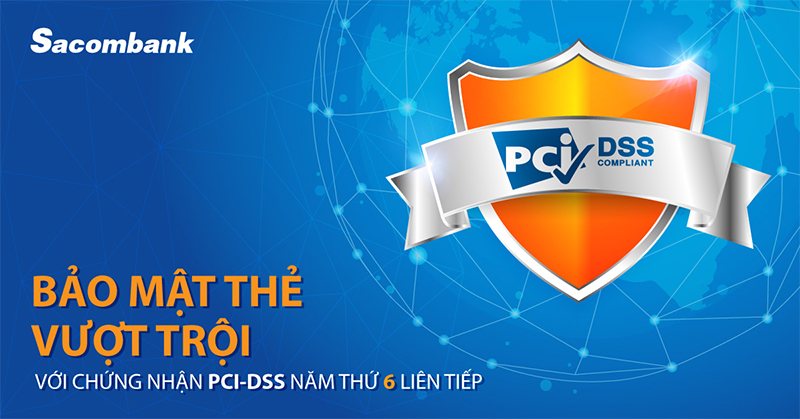 Sacombank has received the latest PCI DSS security certificate version 3.2.1 in 2019 by the ControlCase (USA) - a representative of the Security Standards Council for the most security standard alignment and the global most secured organization in issuing and accepting cards. This is the 6th consecutive year that Sacombank has achieved this security standard thanks to continuous efforts in improving and upgrading information technology infrastructure to ensure the compliance and strictly following card security principles. In particular, Sacombank also expanded the 2019 PCI DSS certification category for Sacombank Pay's financial management application to help customers feel secure when trading and storing payment information on the application.
Sacombank Pay is a financial management application, fully integrated with modern banking features and utilities to provide customers with many interesting experiences in digital banking such as: linking with domestic and international card of all banks; Easy to deposit / transfer money into the application; cash withdrawal without a plastic card; transfer money to any recipient via account, card, mobile phone number or personal QR code; proactively manage cards and accounts; hotel reservation; buy bus / train tickets; split eating and shopping bills with friends; buy mobile topup cards; pay multi-sector invoices and authorize automatic payment trust; register and manage 0% interest installment purchases; Find the nearest transaction points, ATM or the most update promotion information... Especially from now until January 31, 2020, customers will receive Got It gift voucher worth VND 100,000 when buying a bus or train ticket with the delivery value From VND 500,000 (not limited to the number of tickets / time) on Sacombank Pay. Customers can download Sacombank Pay from App Store or Google Play for free to mobile devices and register with phone number.
On November 8, 2019, at the Annual Bank Member Meeting 2019 organized by Vietnam National Payment Joint Stock Company (Napas) in Phu Quoc, Sacombank was honored to be the Leading Bank in promoting fast 24/7 money transfer (IBFT) service and be the leading bank in investing and developing ATM network.
As of October 2019, the total number of 24/7 quick money transfers from Sacombank cards to Napas member bank cards reached 24.4 million transactions, an increase of 5.4 times over the same period in 2018. Owner Sacombank's card can make quick money transfer 24/7 easily via E-banking service or on Sacombank Pay application. Particularly for The Leading in the Investment and Development of ATM network 2019 certificate is the 4th consecutive year that Sacombank receives the award with the network of more than 1,000 ATMs nationwide and the average number of transactions per ATM Sacombank is more than 21,000 transactions / year.
For further information, please kindly contact Hotline 1900 5555 88 or 028 3526 6060; access to website khuyenmai.sacombank.com and register for card online at card.sacombank.com.vn.