Sacombank aims for sustainable growth
26/04/2019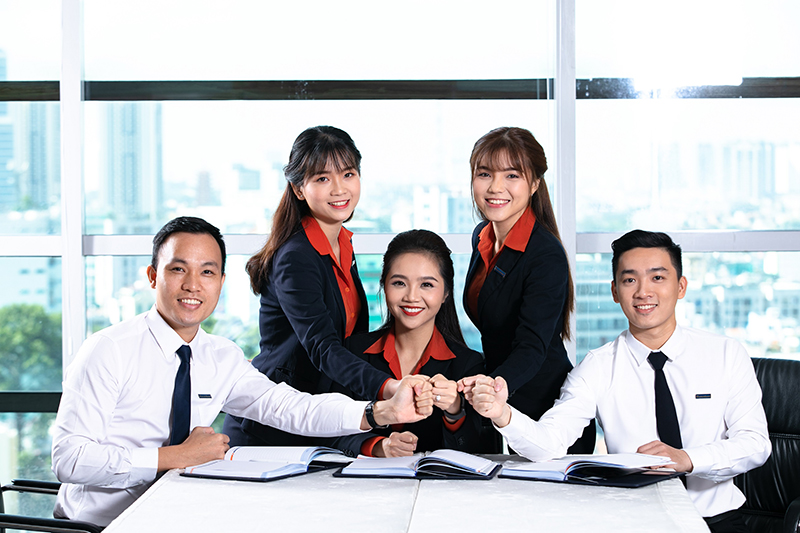 Sacombank aims for sustainable growth
Sacombank's General Shareholders Meeting held on April 26 set 2019 profit target at VND 2,650 billion, an increase of 18% compared to 2018. Along with that, in 2019, Sacombank set a target of total assets of VND 455,500 billion, which increasing at least by 12% compared to 2018. Total mobilized capital is expected to reach VND423,500 billion, an increase of over 14%, of which mobilizing from economic organizations and individuals will reach VND418,600 billion, an increase of 17%.
Total credit balance reached VND298,100 billion, up approximately 16%, of which customer loans reached VND297,600 billion, up 16%. Sacombank's leaders said that, on the basis of the credit growth limit allowed by the State Bank (SBV), the Board of Directors will adjust the plan for capital growth and fund using to suit the reality.
To complete the 2019 business plan, Sacombank said, the Bank will continue to affirm its retail advantage, effectively deploy digital banking operations, increase service revenues and profits.
Recent years, in addition to diversifying products and services at the counter and perfecting customer care service, Sacombank has also actively invested in building and digitizing the banking ecosystem to increase competitiveness with such projects: deploying the customer relationship management system CRM, starting the project of upgrading the T24 core banking system from version R11 to version R17, investing in payment technology and security of operating cards according to international standards, upgrading the electronic banking system in both versions of Internet Banking and Mobile Banking with a foundation of technology and high security requirements.
Especially, the launch of the Sacombank Pay financial management application which fully integrated with the most modern banking features and utilities brings customers many interesting experiences of non-cash payment. Sacombank Pay was deployed not only to catch up with the modern trend but also completely in line with the Government's orientation on non-cash payment policy, facilitating payment technology to get closer to people's lives.
In addition, in order to bring products and services to broaden customer base, within the two years from 2017 to 2018, Sacombank has upgraded all its savings institutions to the model of transaction offices, transferring the right to manage the transaction points with overlapping management locations and to move to more potential locations.
The network distribution that Sacombank targets is suburban and remote areas to contribute to the development of agriculture and rural areas. The special point is that the transaction offices of Sacombank are quickly stabilized with positive growth and significant market share in localities.
The bank is speeding up to open four new branches in Thai Binh, Ninh Binh, Nam Dinh and Lao Cai provinces in the North to quickly increase the number of transaction points in 2019 to 570, currently in 52/63 provinces and cities of Vietnam and Laos and Cambodia to create a foundation that promoting retail activities and increasing the proportion of revenue from services.
The above-mentioned priorities for the development of products, services, networks and technology ecosystems have helped Sacombank to increase service revenue in 2018 to VND 2,682 billion, up 47.1% compared to 2017, accounting for the proportion of 23% of total revenue. In particular, Sacombank's insurance services achieved impressive results after more than 1 year officially becoming the exclusive insurance agent of 20 years of Dai-ichi Life Vietnam.
Sales volume exceeded the plan with nearly 24,000 life insurance contracts, bringing in insurance service revenue of more than VND 550 billion, contributing 23.2% of service revenue for the Bank. The number of customers using Sacombank's cards in 2018 increased by 14.7%, reaching more than 4.5 million customers, with card payment revenue increasing 41.4% compared to 2017.
Regarding e-banking activities, the number of people using Sacombank's Internet Banking services has continuously increased over the years, reaching the milestone of 1.4 million customers (up 32.4%). In addition, the Bank actively develops the system of affiliated partners to diversify products and services in bill payment, purchase, and money transfer.
As a result, revenue from e-banking services reached VND 197 billion, an increase of nearly 71% compared to 2017. In addition, with the method of centralized transaction processing, enhanced operational risk control, enhanced the professionalism in operations has increased the revenue of domestic payment and international payment, contributing to 32% of the total service revenue.
Along with its scale development, Sacombank has always focused on building a strong asset structure, gradually approaching international practices and standards. The Bank has made breakthroughs in dealing with bad debts and outstanding assets, improving the proportion of profitable assets.
Gradually breaking out of its bad debt burden, Sacombank is close to Basel II
Settlement of bad debts is one of the most important concerns in the restructuring process of Sacombank. After the merger, Sacombank's NPL ratio increased sharply from 1.16% to 5.75% at the end of 2015 and continued to rise to 6.81% in 2016.
However, after only half a year of restructuring, Sacombank's NPL ratio by the end of 2017 was pulled down to 4.59%, through the handling and recovery of nearly VND 20,000 billion of bad debts and assets. In which, there are many secured assets with great value which were successfully liquidated by the Bank, typically a real estate project in Long An Industrial Park with a value of VND9,200 billion. In 2018, Sacombank continued to announce that it had dealt with nearly VND 12,500 billion of bad debts and outstanding assets, as well as debts sold to VAMC.
Sacombank not only endeavors to deal with bad debts, but also strictly controls credit quality in the direction of diversified lending product structure, strengthens risk alert, improves appraisal, management and strict supervision. As a result, the NPL ratio has reached its target of falling below 3% to only 2.11% and is considered a bright spot in the picture of bad debt handling of the banking sector in 2018. And as of March 31 2019, Sacombank's bad debt continued to be reduced to 2.08%.
The BOD of the Bank said that after 2 years of implementing the post-merger restructuring plan, Sacombank has exceeded the progress of the key objectives of the Project. It is worth mentioning that despite the restructuring process, Sacombank is still close to Basel II.
On March 11, 2019, Sacombank officially implemented the Loan Origination System (LOS) after more than a year of serious deployment. The implementation of LOS helps Sacombank centrally manage and standardize all records according to customers, standardize all data, and increase security and safety features. Previously, Sacombank started credit risk quantification projects, completed the risk management database framework and upgraded and completed the asset-liabilities management framework (ALM).
The effectiveness of bad debt handling to quickly bring capital into profitable business as well as the promotion of risk management projects mentioned above has helped Sacombank effectively prevent and limit credit risks which returning many benefits to the Bank; creating trust for customers and investors; creating a premise to expand the market, increase reputation, position, brand image, market share ...
In particular, the projects aim to build a management framework for credit activities of Sacombank according to the standards of Basel II, the State Bank of Vietnam and in accordance with international practices that already and will help Sacombank operations ensuring that it is in accordance with effective, safe and sustainable directions.
In the first quarter of 2019, Sacombank achieved impressive results
In the first quarter of 2019, Sacombank's pre-tax profit was almost reach VND1,100 billion, double that of the same period in 2018. Net interest income increased by 47% over the same period, this is the main growth driver for profit results. Besides, profit from other activities increased 5 times.
Total operating income of Sacombank reached VND3,542 billion, up 51.1% over the same period. Meanwhile, operating expenses increased by 16.6% to VND2,050 billion; The Bank's provisioning for credit losses was 5 times higher than the same period, to VND430 billion. As of the end of March 2019, Sacombank's total assets reached VND425,033 billion, up 4.7% compared to the beginning of the year.
Outstanding loans to customers increased by 5.6%, reaching VND 271,020 billion; mobilization from economic organizations and individuals reached VND 385,281 billion, up 7.8%. As of March 31, 2019, the NPL ratio of Sacombank continued to be reduced to 2.08%.