Sacombank and Alliex Viet Nam joint stock company signed cooperation agreement to develop shared pos network
20/09/2019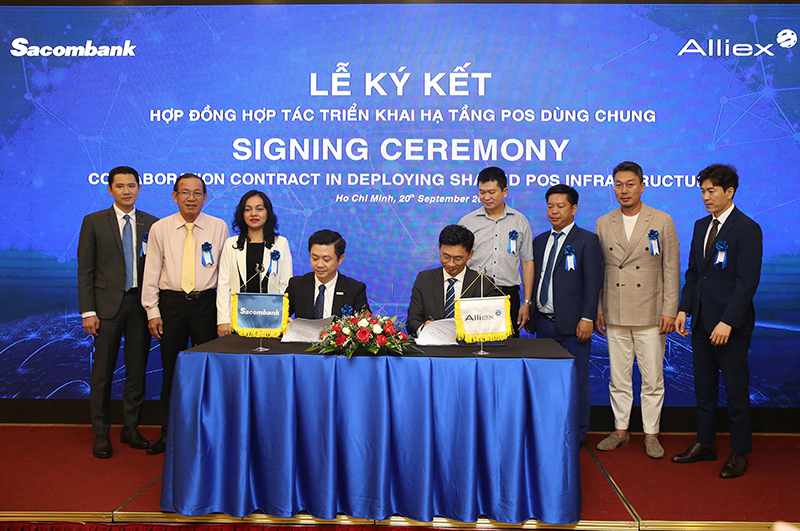 Accordingly, with the financial strength, technology solutions and experience in providing card transaction processing systems and other electronic payment services in the Korean and Japanese markets, Alliex will invest in developing shared POS infrastructure system including server systems, NAC / NCC, transmission lines and management software, purchase of POS equipment, consumables; network development, operating the POS merchant; developing and upgrading new features based on agreement with Sacombank. Sacombank will be the payment authority, handling operation tasks such as credit advice to the card accepting merchant, deduct fees, statements, VAT invoices, refund, collection...
Mr. Nguyen Hoang Minh - Deputy Director of The State Bank – HCM Brand - shared at the signing ceremony: "It can be affirmed that non-cash payment is a direction, goal and a key target in banking industry in the near future. The development of this activity will bring great benefits to the banking industry, economic sectors, businesses and the community. And up to now, Sacombank is one of the leading entity who efficiently apply technology in operational process and has many practical activities, effectively responding to cashless payment operations. On behalf of the SBV, I appreciate and believe that this signing ceremony for the cooperation to exploit shared POS infrastructure today will be a new step in Sacombank's operations in particular and subsequently the Sacombank's contributions to the banking industry in general ".
Sharing at the signing ceremony, Mr. Nguyen Minh Tam - Deputy General Director of Sacombank said: "This event will mark the beginning of a good cooperation between Sacombank and Alliex. Instead of each Bank and each payment method need to use an independent device as currently, the development of shared POS services will be more convenient, contributing to promoting electronic payment in the region according to the policy of The Government in accordance to the guidance of developing non-cash payment project in Vietnam in the period of 2016-2020 - that is the goal that Sacombank has been trying to implement. Sacombank highly appreciates the leading fintech solutions that Alliex has successfully implemented in Japan, South Korea and Vietnam, especially the technologies applied in money transfer as well as online and offline payment. We believe Alliex is competent to provide Sacombank with advanced technology solutions through proven experience and through the investment in non-cash payment infrastructure throughout Vietnam. At the same time, we expect the project will help Sacombank reduce equipment investment costs, increase access opportunities and expand new customer systems, including Korean corporations. "
Mr. Heo Jung Wooc - Deputy Director of Alliex said: "With strong investment in advanced infrastructure and technology for shared POS systems, we are committed to accompany Sacombank in promoting electronic payment services in Vietnam market in the coming time. A shared POS system is the foundation of a non-cash payment service and provides a solid infrastructure, effectively supporting banks, retail businesses and consumers in many commercial sectors. That is the responsibility and obligation that Alliex is moving towards. In the coming time, Alliex will invest and develop a shared POS network at Vietnamese stores, operate card accepting merchant system, upgrade new added features to be applied on advanced POS lines which is in accordance with the regulations and market tastes. "
Earlier, on September 19, Mr. Park Byounggun - Director of Alliex Vietnam Joint Stock Company and Mr. Nguyen Minh Tam - Deputy General Director of Sacombank attended the meeting with Deputy Prime Minister Vuong Dinh Hue at the Head Office. Welcoming Alliex to invest in Vietnam, Deputy Prime Minister Vuong Dinh Hue said that Korea is a typical model in developing non-cash payment system that Vietnam would like to learn on.
Currently, the Government of Vietnam is implementing a scheme to develop non-cash payments, in which the key solution to promote is standardization of payments via QR codes and shared POS infrastructure. Regarding business, the Government has issued policies and regulations on electronic invoices and card payments, etc. Not only that, the Government is also striving to reach level 4 in providing public service to perform procedures on the internet and online payment.
As a new segment with a lot of development opportunities in Vietnam, the Deputy Prime Minister said the Government is also directing the application of new technology testing mechanisms (Sandbox) for the enterprise to develop. The Deputy Prime Minister hoped that Alliex with extensive experience in this segment would work closely with the State Bank and commercial banks to contribute to the improvement of the non-cash ecosystem in Vietnam.
It is known that Alliex will invest more than USD700 million in the next 5 years to develop shared POS infrastructure in Vietnam, corresponding to a network of about 600,000 card payment devices for the whole market. Sacombank is one of the two leading banks to sign a cooperation agreement to deploy the shared POS infrastructure of Alliex to promote non-cash payment in Vietnam.