Sacombank celebrated grand opening of Ninh Binh Branch
26/07/2019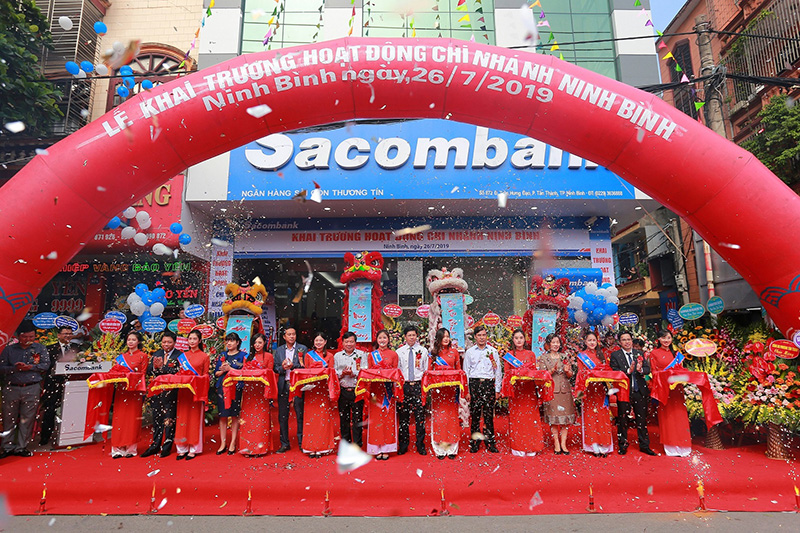 Ninh Binh is a province in the northern coastal region with a fairly comprehensive economic structure in terms of industrialization and modernization. The pillars of economic development in Ninh Binh are increasingly solid with a foundation resulted from the effectiveness of implementing monetary policy of credit institutions. With the potential development of the mining and tourism industry, Sacombank Ninh Binh Branch commits to provide the market with optimal financial solutions by taking advantages of a retail bank and to bring the best benefits to customers, to reduce pressure and to enhance competitiveness for businesses and enterprises, contributing to exploiting the potentials and strengths to improve economic development as well as to contribute to the previllege of Ninh Binh province in the economic integration period.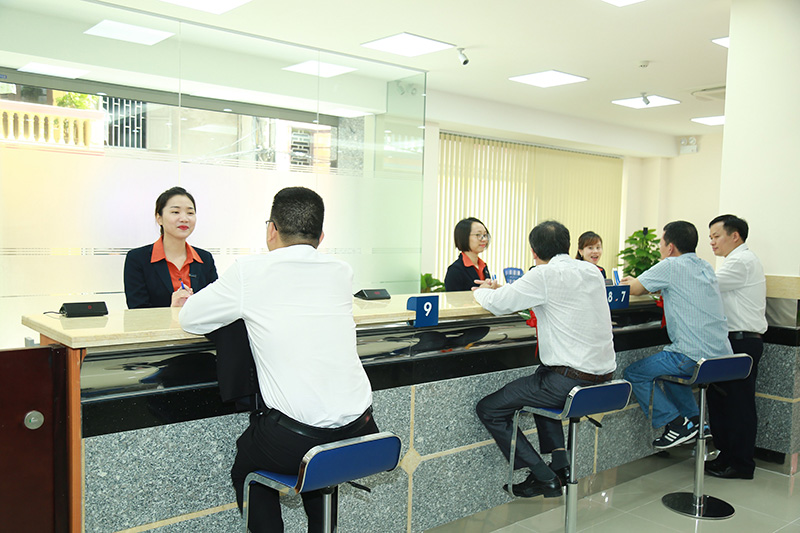 Sacombank Ninh Binh Branch's office 
To accomplish the above objectives, Sacombank assigned for Ninh Binh Branch some main specific tasks as follows:
Regarding captial mobilization: In the early years of establishment, the average growth rate of Sacombank in Ninh Binh must be fast and reach a high level in order to achieve the scale and gain a certain market share in the province with at least 3% of the total mobilized balance in the whole area. To achieve that goal, Sacombank was doing survey on the needs of each customers, based on survey's result, Sacombank will build special mobilized product packages suitable to the locality to attract the most of idle capital from enterprises, administrative and non-business units, maximizing support for key arterial projects of the locality... and quickly increasing the number of payment accounts and electronic banking services accounts.
Regarding lending: Sacombank aims to develop credit on a prudent basis to understand the market, analyze industries which are suitable to the local development orientation, developing lending strategy to the small and medium enterprises, individuals and individual business households. At the same time, strengthen the evaluation and post-lending inspection process in conjunction with regular customer care to prevent arising credit risks and focus on selecting specific lending products for the important industries; making the most of entrusted funds to deploy loans strategy to bring the highest operational efficiency.
Regarding service development: Sacombank will focus on developing the customer segment who have tendency to use electronic banking services, different forms of payment and collection, bankassurance packages partner with Dai- Ichi Life. Promote card activities by providing payment card, credit and prepaid products in parallel with expanding card POS, providing payment method by QR code at tourist resorts, big industrial parks with the goal towards a non-cash province - Ninh Binh.
At the same time, Sacombank commits to accompany the locality through community activities organized annually in the whole Sacombank system such as the program "Sacombank - Running for community health"; awarded scholarships to students, organized the program "Warm Spring" to help disadvantaged people to enjoy the Tet holidays...
Along with the grand opening, Sacombank also put into operation the headquarter of Ninh Binh Branch which was invested with a total cost of nearly VND20 billion, including a basement and 6 floors, total use area of more than 2,300msq; It is located in an area of a high concentration of residents and businesses, as well as many authorities of Ninh Binh city and province. It is such a convenience for customer contact and making transaction. The investment in building a spacious, modern and convenient branch office is Sacombank's long-term commitment to the development of economic sectors in the area.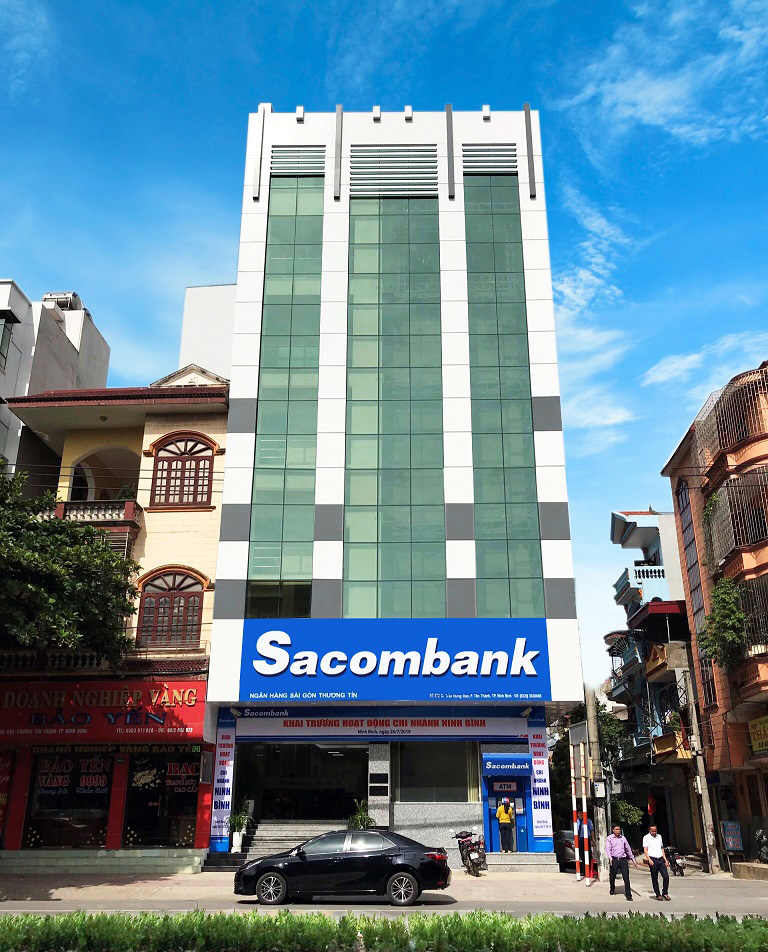 The very first customers who making the transactions on the grand opening day 
Since 2012, Sacombank has covered its network in all provinces in the Southeast, Southwest, North Central, South Central and Central Highlands regions. In addition to expanding in quantity, Sacombank also focuses on enhancing the performance of the network by re-arranging transaction points with overlapping areas, investing in buying and building branch offices with modern facilities, located in prime locations which is convenient for transactions. Therefore, Sacombank's transaction points are quickly settled down with positive growth and significant market share in the localities. To implement the plan to cover the network in the northern region, on July 18, 2019, Sacombank also opened the Lao Cai branch and from now until October 2019, Sacombank will continue to open a branch in Thai Binh and Nam Dinh provinces.
At the end of the first 6 months of 2019, Sacombank had a pre-tax profit of nearly VND1,500 billion, equivalent to 55% of the yearly plan. Total assets of Sacombank reached over VND 439,000 billion. Mobilization from economic and residential organizations reached nearly VND 398,000 billion. Loans reached over VND 279,000 billion; The loan portfolio is structurized by reducing loans for real estate investment, increasing loans disbursement for production and corporates, developing consumer lending, green credit, and "eliminating" black credit.
Besides, Sacombank also focused on implementing drastically and synchronously solutions to restructure the operational system which closely following objectives defined in the Scheme. Accordingly, Sacombank has increased the recovery of bad debts and outstanding assets to nearly VND 11,000 billion processed in the first 6 months. Thus, accumulated outstanding debts since the implementation of the Restructuring Scheme is almost VND 35,700 billion.
From July 22 to October 19, 2019, Sacombank launched the promotion program "Thousands of gifts - Thousand of joys" for individual customers to deposit, use  paid services, receive remittances, using e-banking services with the prize value up to VND 20 billion.
Accordingly, customers will receive a lucky draw code to attend the lucky draw session at the end of the program with manty attractive prizes including 01 Toyota Camry 2.0E, 02 tours to the US, 03 European tours and 15 Southeast Asia tour (Singapore / Malaysia / Thailand) when opening saving accounts at Sacombank's transaction points or online saving account via e-banking system (iBanking and mBanking) with the minimum deposit of VND 5 million, term of 2 - 36 months; or via electronic banking with transactions from VND 5 million; or have remittance received with accumulated transaction from USD 1,400; or generate VND 100,000 of service fee (excluding card service fee, credit service fee).
Besides, Sacombank will organize lucky draw session every month to find the winner of 36 motor bike Honda SH Mode and 1,500 tourist backpacks. In addition, for customers who have deposit account or use services at Sacombank transaction points will receive gifts, raincoats, supermarket shopping vouchers, travel jackets, thermal containers, travel suitcases ...
For futher information, please contact:
In addition to the above promotion program, individuals and businesses who come to make transactions at Sacombank Ninh Binh Branch on the occasion of the grand opening will also be entitled to receive preferential fees and interest rates for all products and services and also receive such gifts like helmets, umbrella, raincoats, suitcases, tea sets ....