Sacombank customers receive a 5% refund when making payment by credit card for dai-ichi life insurance
30/07/2019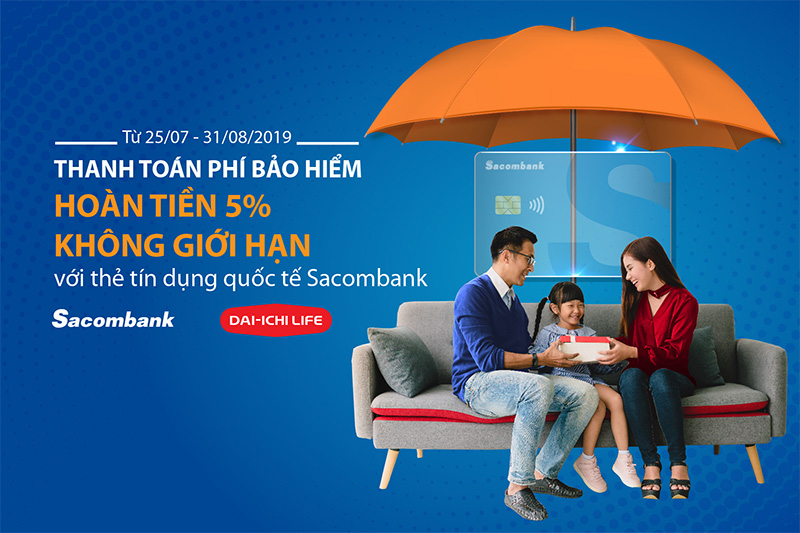 Since September 2017, Sacombank and Dai-ichi Life Vietnam have signed an exclusive insurance agency contract with a term of 20 years - considered the longest in the bancassurance market.  Accordingly, through a network of 568 transaction points nationwide with various consulting and sales channels (at counters, telesales, electronic banks, ATM ...) of Sacombank, customers will be introduced to the The best life insurance products and the best complementary benefits are distributed exclusively by Dai-ichi Life Vietnam to Sacombank such as universal life insurance, investment-linked insurance, death insurance for customer who have saving accounts or loans, human accident insurance and health insurance,... Especially, in 2018, Sacombank and Dai-ichi Life Vietnam coordinated to introduce Secure and Happy products to the market. This is an insurance product that integrates three solutions including effective accumulation, comprehensive and flexible protection options, helping customers proactively plan the future. The term of insurance contracts varies from 11 to 25 years.
Sacombank International credit card is an essential reserve financial resource for all spending needs with many utilities such as unlimited maximum credit limit; pre-purchase, post-pay is exempted from free interest for up to 55 days without collateral; payments and withdrawals worldwide; shopping via the Internet; accumulate bonus points to redeem for gifts, refund when shopping; 0% interest rate installment purchase at any time; up to 50% off when eating, shopping, traveling; actively transacting via E-banking, Sacombank Pay application… The conditions for opening a card are from VND 5 million VND / month if customers live in Hanoi, Ho Chi Minh City and other provinces is VND 3 million VND / month.
For further information, please contact Hotline 1900 5555 88 or 028 3526 6060; access to website khuyenmai.sacombank.com and register online at website card.sacombank.com.vn.