Sacombank entered the top 50 largest enterprises in Vietnam 2018 (VNR500)
18/01/2019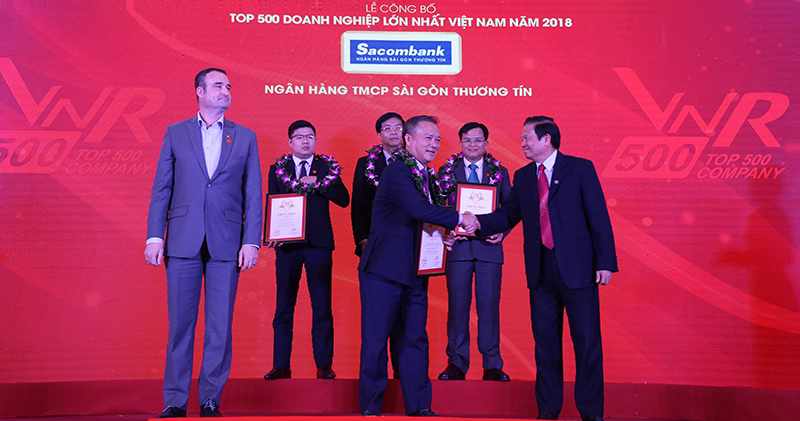 VNR500 is built by Vietnam Report based on international models, the ranking of Sacombank is based on the business results in 2018 with total income of over VND10,500 billion dong, which increased by 21%; total assets increased by 11% to over VND 407,000 billion; pre-tax profit was over VND 2,200 billion which is 20% higher than the plan; credit growth of 14% which is VND 258,000 billion, mobilization from economic organizations and residents increased by 12% to over VND 364,000 billion; total number of employees is more than 18,600 people; together with outstanding brand reputation as well as trust and appreciation from customers.
2018 is the active and effective year of Sacombank in terms of operation in all areas. The bank has had stable growth in market share, effectively exploited the network advantages, increased the experience for customers, promoted the strengths of the staff, and drastically dealt with debt settlement. In parallel, Sacombank has also invested heavily in modern technology platform. In particular, it has launched 5 projects related to information technology with a total investment of hundreds of billion dong.
At the end of 2018, within the framework of the annual award for outstanding Vietnamese Bank organized by International Data Group IDG and Vietnam Banking Association (Sacombank), Sacombank was also honored to earn titles of "Outstanding E-banking Service 2018" and "The bank with most effective network of card acceptance units 2018". Besides, Sacombank also got the certificate of "Top 500 best profitable enterprises in Vietnam 2018" (Profit 500) hosted by Vietnam Vietnam Assessment Report (VNR) and the business community which including domestic and foreign experts based on outstanding business performance, good profitability, future revenue prospects and profitability.