Sacombank gives US travel trips to customers using international cards
06/06/2019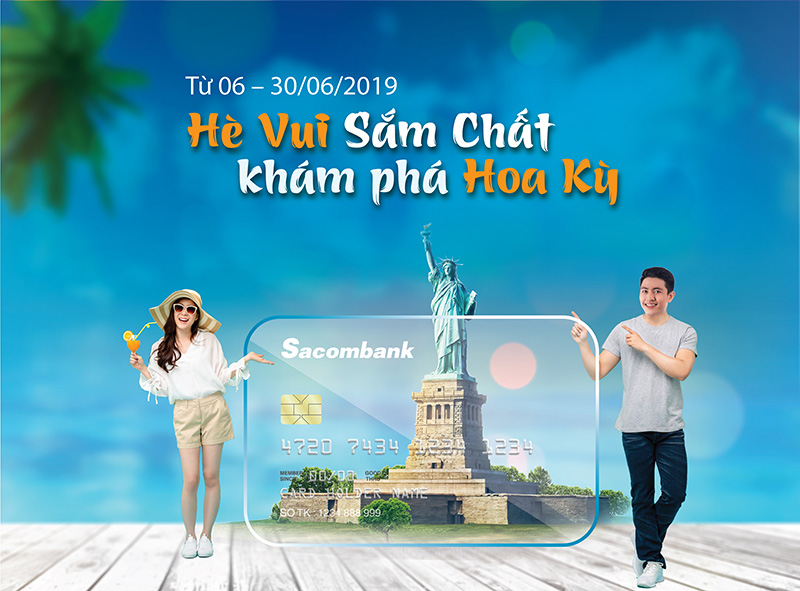 With Sacombank international cards, cardholders can make transactions around the world, especially scan QR code for payment and get cash without a plastic card, purchase online, get up to 50% discount for dining, shopping, travelling, etc. Sacombank cardholders can also download Sacombank Pay app from Google Play or App Store for free to manage accounts 24/7 effectively as well as proactively make external funds transfer, mobile top up, bills payment and more. 
With Sacombank international credit cards, cardholders can purchase and pay later with 0% interest up to 55 days without collaterals, accumulate reward points on purchases to redeem gifts, enjoy a 0% interest installment payment plan anywhere at any time. To qualify for a credit card, customers based in Ha Noi and Ho Chi Minh City need to have a monthly income from VND5 million and from VND3 million for customers based in other provinces. 
Sacombank international payment cards are linked to its cardholders' current accounts opening at Sacombank. Accordingly, cardholders can make transactions anywhere at any time with e-banking, use Sacombank Pay app and all Sacombank ATMs nationwide. To open this card, customers only need to have ID card, citizen identification card or passport. 
Customers owning Sacombank international prepaid cards do not need to prove financial ability or open an account, can buy cards and top up to make payments or give cards to friends, relatives as gifts. Customers can top up a maximum of VND100 million with unlimited times of top-up.  
For more information, please call our hotline at 1900 5555 88 or 028 3526 6060; visit the website khuyenmai.sacombank.com and apply for a card online at card.sacombank.com.vn.