Sacombank is recognized as Vietnam Outstanding Banking Service for Retail Banking and e-Banking Service in 2019
27/11/2019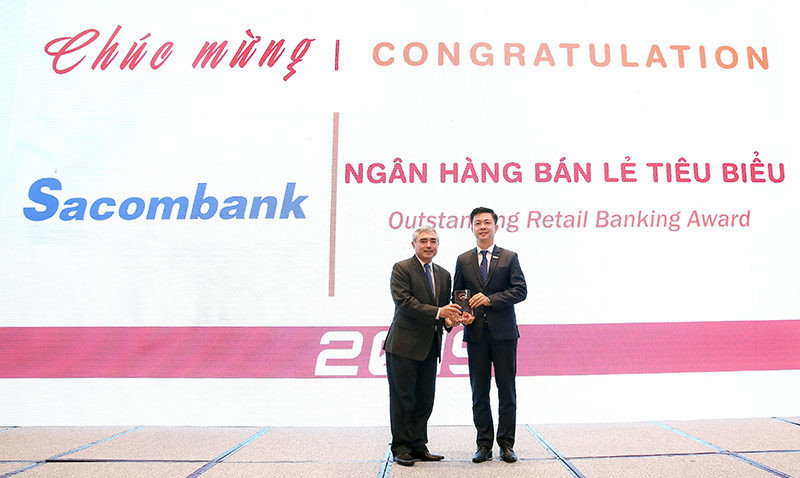 "Outstanding Retail Banking Service" is award demonstrates the capacity, prestige and service quality of the bank in the retail. Sacombank is considered to achieve this title based on its strong operational scale and extensive network of transaction points / ATM / POS; steady customer growth; modern and diversified products and services to best serve customers' needs.
As of September 30, 2019, the Bank's total assets reached VND 450,200 billion, mobilized from economic organizations and residents reached VND 408,882 billion; total loan amount reached VND 290,934 billion, the Bank currently has up to 570 transaction points in 50/63 provinces and cities of Vietnam and the two countries of Laos and Cambodia.
Sacombank's strategy is customer centric in which they can get consult and serve financial needs carefully... Sacombank currently has more than 250 products and services serving corporate and individual customers and nearly 60 card products. Sacombank's total number of customers has so far reached nearly 6 million.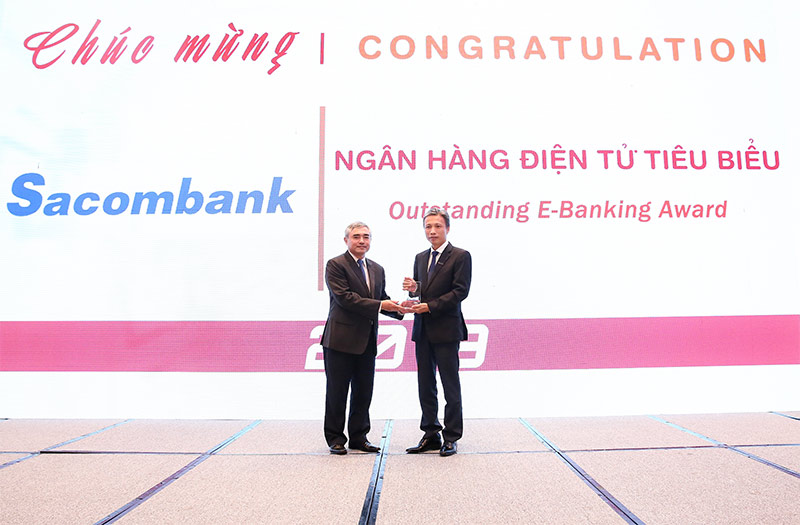 Mr. Nguyen Minh Hong - Former Deputy Minister of Information and Communications, Chairman of Vietnam Digital Media Association (left) awarded the "Outstanding E-banking Service" award to Sacombank's representative, Mr. Duong Hoang Phuong - Director of Electronics Banking.
Regarding the "Outstanding e-banking service", Sacombank is recognized for outstanding in the following criteria: investing in information technology infrastructure effectively, safely and securely for users; growth of customers registering to use electronic banking services including Internet Banking and Mobile Banking; quantity and turnover of transactions; service quality, customer service... 
Sacombank is one of the pioneer banks to deploy electronic banking system in 2005 and launch eBanking service according to international standards in 2013. Currently, two channels of Internet Banking and Mobile Banking of Sacombank have many features. Outstanding, modern, suitable for the transaction needs of both individual and corporate customers with high security technology platform. Up to now, Sacombank's electronic banking system has nearly 1.8 million users using Internet Banking and more than 1.6 million users using Mobile Banking.
On November 6, 2019, Sacombank was recognized in the Top 500 Best Profit Enterprises in Vietnam by Vietnam Assessment Report Joint Stock Company (Vietnam Report) in collaboration with VietnamNet Online Newspaper in 2019. This shows that Sacombank is assessed to have impressive business results, good profitability and potential to become a pillar for the future development of Vietnam's economy.
For detailed information, please contact: 
All transaction office nation wide;
 Hotline 1900 5555 88;
 Email: ask@sacombank.com