Sacombank opened Thai Binh Branch
01/11/2019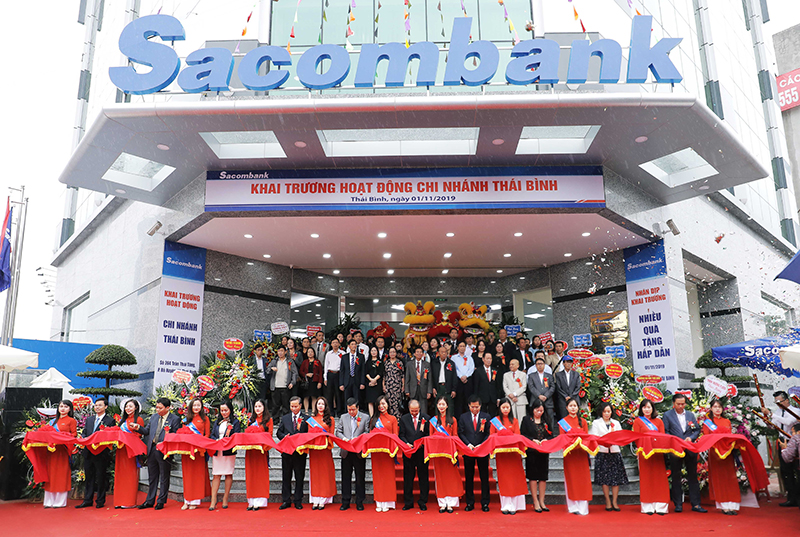 With the experience in customer service and the competitive advantage in terms of diversified and modern products and services, Sacombank Thai Binh will promote the advantages of a retail bank and endeavor to provide the market with optimal financial solutions in order to bring the best benefits to customers, reduce pressure and enhance competitiveness for businesses, contributing to exploit the potentials and strengths for local development in the economic integration period.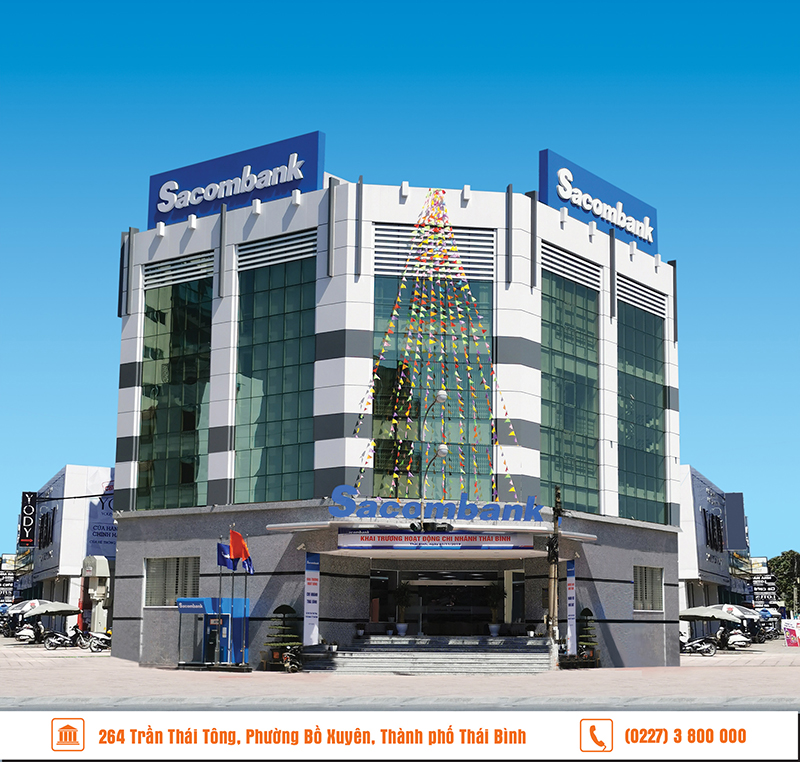 Sacombank Thai Binh Branch office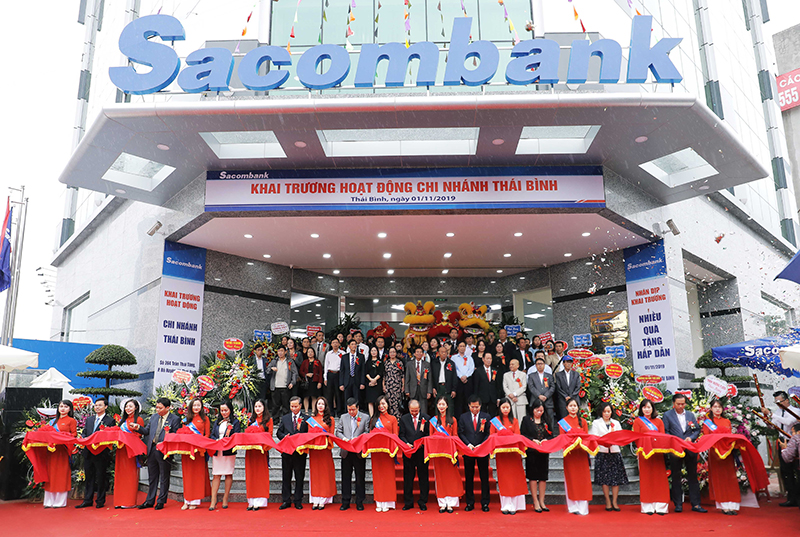 Representatives of local authorities, agencies, Representatives of Sacombank's Board of Directors, Supervisory Board, Board of Management, Thai Binh Branch Director cut the grand opening tape.
To accomplish the above objective, Sacombank assigned to Thai Binh Branch with the following specific key tasks:
Regarding deposit: In the early years, the average growth rate of Sacombank in Thai Binh must be fast and high to achieve the scale as well as gain a certain market share in the locality with at least 3% of the total deposit balance. the whole area. To achieve that goal, based on customers' survey, Sacombank will build specific deposit product packages suitable to the locality to make the most of the idle capital from businesses, government administrative units, maximum support for key projects of the local ... at the same time rapidly developing the number of payment accounts, electronic banking services.

Regarding lending: Sacombank aims to develop credit on a prudent basis to explore the market, analyze industries in line with local development orientations, and develop scattered loans to small and medium enterprises, individuals and individual households. At the same time, strengthening the appraisal and post-lending inspection combined with regular customer care to prevent credit risks arising and focusing on selecting specific loan products for important industries to make the most of trusted funds for lending which can bring the highest operational efficiency.

Regarding service development: Sacombank will focus on developing e-banking customer service system, various forms of collection and payment, bancassuance packages with Dai-Ichi Life. Promote card activities by providing payment, credit and prepaid card products in parallel with the expansion of POS and deploy QR payment method at tourist areas and large industrial park to achieve cashless transaction for Thai Binh province.

At the same time, Sacombank commits to always accompany with the locality through community activities held annually throughout the whole system such as the program "Sacombank - running for community"; awarding scholarships to pupils and students, organizing the program "Warm Spring" to help disadvantaged people to have a chance to celebrate a joyful Spring Festival ...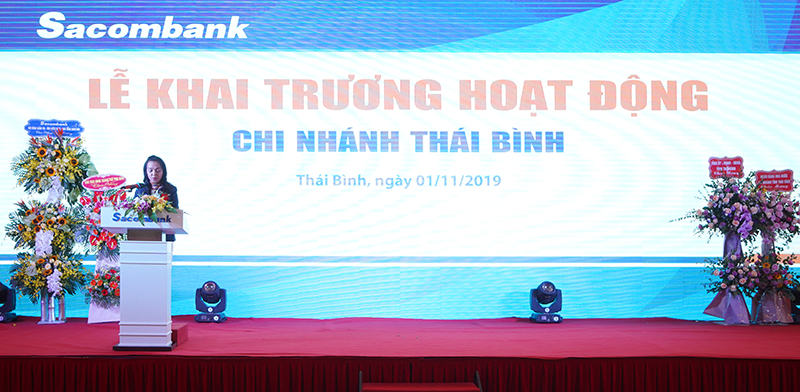 Sacombank's representative - Ms. Nguyen Duc Thach Diem, BOD Member cum CEO given speech at the opening ceremony
Along with the opening, Sacombank also put into operation the headquarters office of Thai Binh branch with total budget of nearly VND 30 billion, including 01 semi-basement and 4 floors, 1 attic, total used area is more than 2,300 m2. Thai Binh branch office is located in residential area and businesses as well as is the location of many government authorities and agencies that are convenient for transactions. The investment in building a headquarters with modern facilities shows Sacombank's long-term commitment to the development of all economic sectors in the area.
On the occasion of opening, individual customers and businesses coming to Sacombank Thai Binh branch will receive preferential fees and interest rates and receive attractive gifts such as helmets, umbrellas, raincoats, suitcases, tea sets ....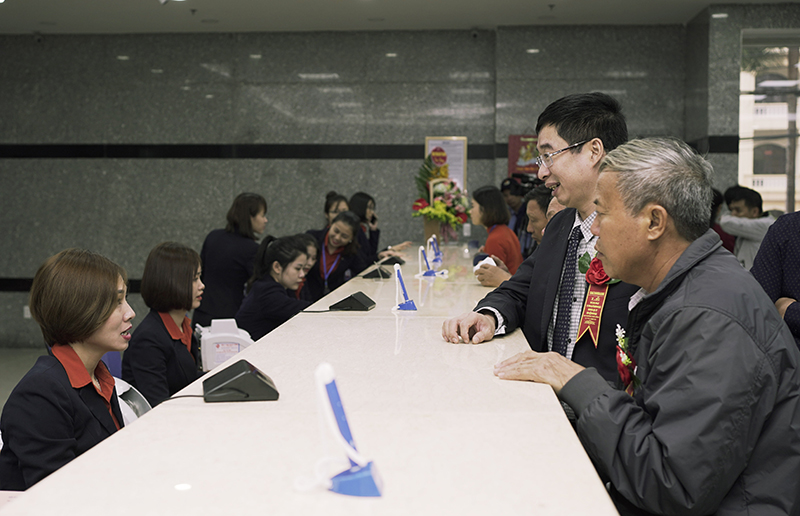 Customers come to trade during the opening session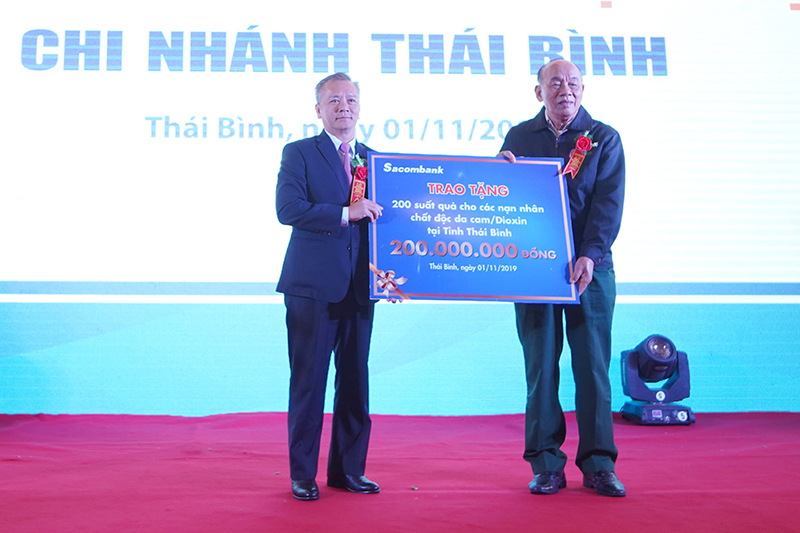 On the occasion of the opening event, Sacombank also donated 200 gifts to victims of Agent Orange / dioxin in Thai Binh province with a total value of VND200 million.
Representative of Sacombank, Mr. Phan Dinh Tue - Secretary of the Party Committee, Deputy General Director and Chairman of the Labor Union presented the gift to the Thai Binh Agent Orange Victims Protection Association

Since 2012, Sacombank has covered the network in all provinces and cities of the Southeast, Southwest, North Central, South Central and Central Highlands. In addition to expanding in quantity, Sacombank also focuses on rearranging transaction points at prime locations and investing in building modern and spacious branch offices and transaction offices to facilitate customers' arrival. deal. Up to now, Sacombank's transaction points have grown positively and occupied a significant market share in localities. In 2019, Sacombank opened 4 branches in the North: Lao Cai, Ninh Binh, Nam Dinh and Thai Binh.
At the end of the first 9 months of 2019, Sacombank had a profit before tax of VND 2,491 billion, an increase of 89.5% compared to the same period last year. Total assets reached VND 450,200 billion, up 10.9% compared to the beginning of the year; mobilizing deposit from economic organizations and resident reached VND 408,882 billion, up 14.4%; total loans amound reached VND 290,934 billion, up 13.1%.
Sacombank's sources of income continued to grow steadily, total net income reached VND 10,861 billion, up 36.5% over the same period in 2018. Of which, net interest income reached VND 7,405 billion, up 34.1%. %. Other business activities also had impressive growth, service revenue reached VND 2,131 billion, up 21.1%; in which insurance service revenue reached more than VND 280 billion, accounting for 13.3% of total service revenue; revenue from forex trading was VND 422 billion, up by 35%. Revenue from other activities reached VND 845 billion, up 176.2%. Sacombank's bad debt ratio continued to decrease from 2.11% to 1.96% which thanks to the restructuring of the loan portfolio, strictly control and restriction of credit extension for potential risk areas, and at the same time strengthen credit risk control measures.