Sacombank promotes the digitization of the banking ecosystem
23/04/2019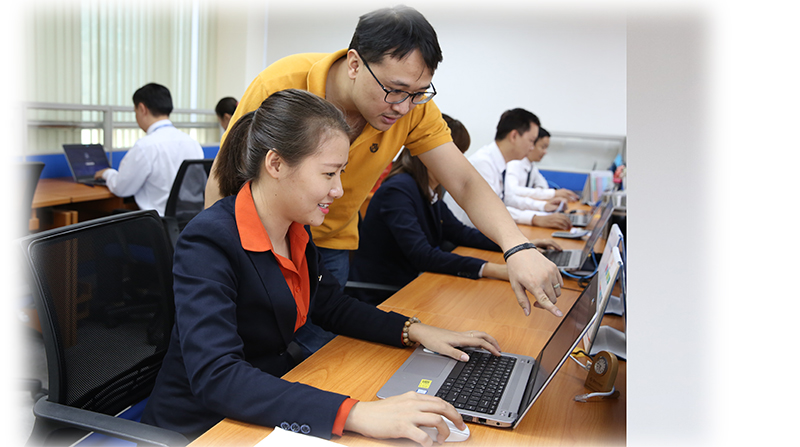 1. From the digitization of internal operations
Recently, Sacombank officially implemented the Loans Origination System (LOS). LOS allows Sacombank to centrally manage and standardize all records according to customer information, increase security, safety, and improve the risk management capacity of Sacombank according to Basel II standards. In addition, the submissions and forms will be automatically exported by the system and passed through each level for approval according to their competence, helping to reduce risks and reduce paper documents.
In addition, LOS links to other Sacombank's systems, allowing banks to easily and quickly check customers' transaction history. The information input is carefully taking care from the beginning which can be reused many times, thereby helping the processing of documenting at the decision implementation stage and the approval steps become faster. LOS is also used as a tool to support remote monitoring and risk management for credit records for timely guidance and adjustment.
Previously, Sacombank also upgraded the T24 core banking system from version R11 to R17, adding new features to enhance transaction processing capabilities and risk control. The bank has also launched a customer relationship management (CRM) software project that includes the functions of Sales, Services, Multichannel Marketing Management and Integrated Data Analysis Solutions for customer information management on the network of 566 transaction points, enhanced the understanding of customer needs, thereby proposing corresponding products and services.
2. To digitize sales funnels and increase customer experience 
Not stopping at face to face transactions, Sacombank is a pioneer in launching online and mobile transactions such as electronic banking services (iBanking), banking mobile applications (mBanking) and most recently - the Sacombank Pay application. Sacombank Pay fully integrates modern banking features and facilities, providing customers with many interesting and convenient experiences. Specifically:
Allows tracking balances, looking up transactions, transferring, paying or withdrawing cash with QR codes without plastic cards, paying bills anytime, anywhere.
Not only customers with accounts at Sacombank but also customers who are transacting at other banks or have never used Sacombank's services can install and experience Sacombank Pay.
Customers can top up / transfer money to Sacombank Pay to spend with Sacombank's account / card or other banks.
Sacombank Pay integrates EMV international standard QR payment - a secure, global interactive payment standard, so customers can feel secure to use Sacombank Pay for shopping and making payments worldwide.
Actively manage cards, accounts. Customers can look up all information about their existing card or account, activate, create or change PIN, lock or unlock their Sacombank card at any time.
In addition, Sacombank is implementing online appointment services, customers will receive an appointment code (QR code) after making a successful appointment on Sacombank's website and Sacombank Pay. At the appointment time, customers who are present at the registered transaction points, scan / enter the Appointment Code at the Electronic Transaction Counter, will receive the priority transaction number immediately.
In the near future, the bank will launch the project "Upgrading and completing the management framework of Assets - Liabilities Management (ALM) to increase risk management capacity, control revenue sources as well as customer profiles. For Sacombank, promoting "digitalization" is one of the top goals, because it not only meets the needs of sustainable development but also serves as a basis for upgrading Sacombank's position in comparison to other banks or in generally, the position of Vietnam's financial market in the international market.