Sacombank provides customers with many special offers
10/10/2019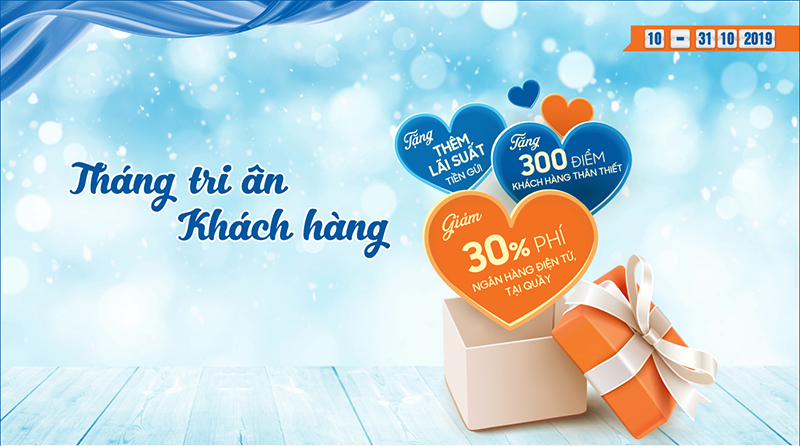 Week 1 (from 10/10 to 13/10): All individual customers will be rewarded with 300 loyalty points which can be converted into many attractive gifts such as electronic gift vouchers, supermarkets, mobile phone top up, credit card annual fee, rewarded miles - Vietnam Airlines... To check loyalty points and redeem gifts, customers only need to log in or register information at khachhangthanthiet.sacombank.com. Loyalty program built to recognize customers' contributions when using products and services at Sacombank, the loyalty program will automatically record all transactions (savings, loans, money transfers, payments by credit card, buying and selling foreign currencies ...) to earn corresponding points and can be redeemed for gifts in three ways: redeem online gifts on the website, exchange gifts via hotline 1900 5555 88, exchange gifts directly at any Sacombank's transaction office. Gift redemption points cannot be accumulated over years but the points will last until 31 March of the following year.
Also during this time, VIP business customers will be given many valuable gifts by Sacombank on the occasion of the 15th anniversary of Vietnam Entrepreneurs Day (October 13).
Week 2 (from October 14 to October 20): Corporate customers are entitled to a 30% discount on service fees when making transactions at the counter or via electronic banking ... Besides, Sacombank also sends to female VIP customers valuable gifts such as high-end health care packages or jewelry from SBJ to celebrate Vietnamese Women's Day (October 20).
Week 3 (from October 21 to October 27): All individual customers receive an immediate discount of 30% on service fees when making transactions at the counters or via electronic banks such as money transfer, deposit, making bill payment ...
Week 4 (from October 28 to October 31): Individual customers using traditional savings, Multi-Savings and Phuc Loc Middle-aged Savings services open at counters with a term from 6 months will receive an additional 0.05% per annum interest rate.
In particular, on October 12, 2019, Sacombank will host the Tennis Tournament to welcome Vietnam Entrepreneur's Day at Ky Hoa 2 Tennis Court, District 10, Ho Chi Minh City to enhance communication with corporate customers. The tournament gathered more than 120 athletes who are leaders of corporates / banks in Ho Chi Minh City, the Southwest, the Southeast Area... and Sacombank management leaders. The tournament consists of 3 contents: mixed doubles - men doubles under 45 years old, men doubles over 45 years old with a total value of prizes including cash and trophies up to VND350 million. The final round of all 3 categories will be live streamed on Sacombank fan page on the afternoon of October 12, 2019.
For further information, please contact:
- All transaction points nationwide 
- Hotline: 1900 5555 88
- Email: ask@sacombank.com
- Website: www.sacombank.com.vn or khuyenmai.sacombank.com