Sacombank started construction of Thai Binh branch office and promoting the efficiency of operational network.
20/02/2019
Thai Binh Branch has a total investment of more than VND 30 billion, the scales of construction includes 1 basement, 4 floors and 1 tum floor with a total construction area of more than 2,200 squared meters; Located in a densely populated area and crowded business activities and together with many Government authorities locations of Thai Binh city and Thai Binh province, it is convenient for contacting and making transaction activities. Thai Binh branch office is expected to be put into operation in October 2019 with the expectation that together with other banks in the area will provide a sufficiency financial source for individuals and enterprise's needs in the locality through financial package solutions at the most reasonable price, contributing to the economic development of Thai Binh city in particular and Thai Binh province in general during the economy integration period.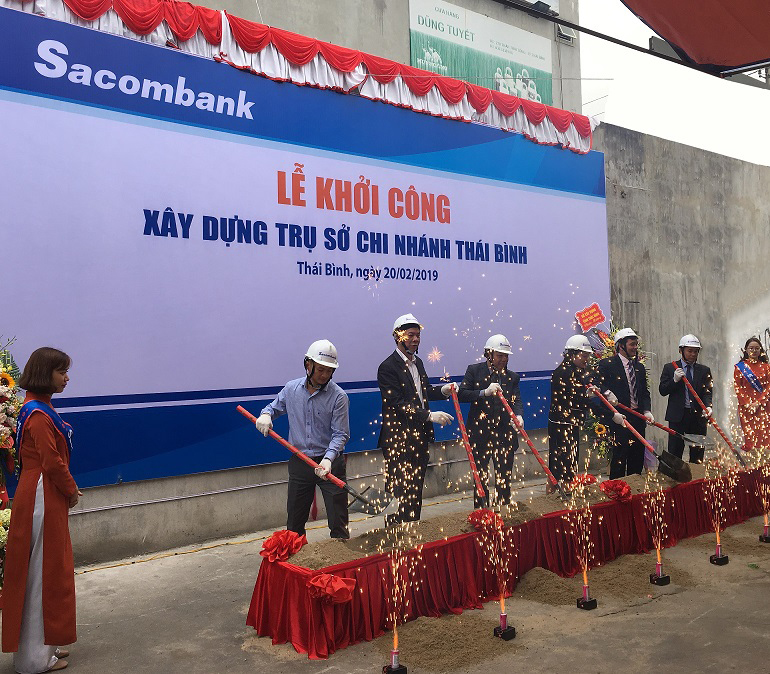 Representative of the State Bank Vietnam in Thai Binh Province, Department of Construction of Thai Binh Province
and Leaders of Sacombank implemented the groundbreaking ceremony to start construction of Thai Binh Branch.
At of 2012, Sacombank network was covered in all provinces in the Southeast, Southwest, North Central, South Central and Central Highlands regions. Sacombank brand has also reached out to conquer residential communities and businesses in Laos and Cambodia. Especially Sacombank has upgraded and expanded its overseas branch to become a subsidiary in Cambodia in 2011 and in Laos in 2015. Previously, in the period from 2002 to 2008, Sacombank also put into operation 4 subsidiaries companies in such the areas of: Debt Management and Asset Exploitation, Financial Leasing, Remittance and Gemstone Gold Production and Trading.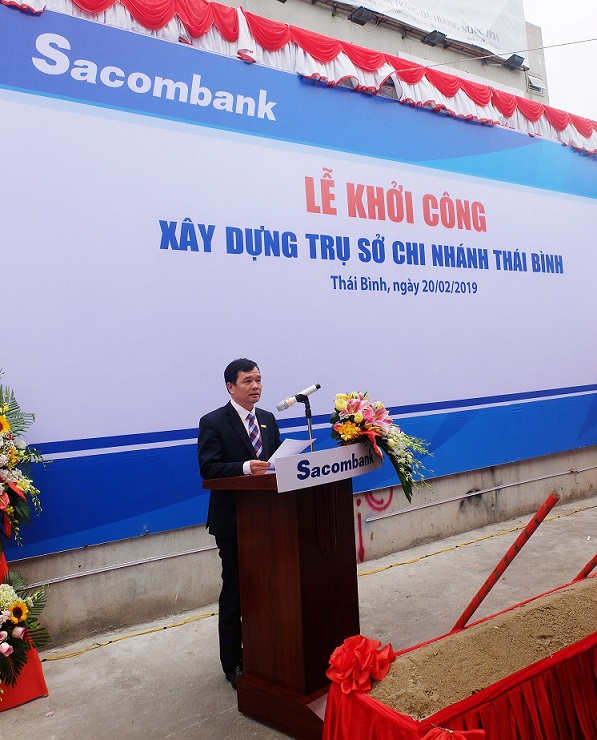 Sacombank's representative, Mr. Ha Van Trung - Deputy CEO cum CFO spoke at the groundbreaking event of Thai Binh Branch

At the end of 2018, Sacombank was approved by the State Bank to establish 4 branches in the Thai Binh, Ninh Binh, Nam Dinh and Lao Cai Provinces based on converting the operating licenses of the four existing branches were Tri Ton branch (in An Giang), Nam Can Tho branch (in Can Tho), Thanh Binh branch (in Dong Thap) and Thoi Binh branch (in Ca Mau). At the same time, Sacombank is also allowed to establish 4 transaction offices which have already transferred their licenses to continue serving customers in these locations. At the present time, Sacombank network consists of 566 transaction points in 48/63 provinces in Vietnam and 2 countries in Laos and Cambodia, continuing to maintain the leading position in the private joint stock commercial banks.
In addition to expanding in quantity, Sacombank also focuses on enhancing the network's performance by re-arranging transaction points which were located in overlapping areas to target toward more potential locations. Therefore, the transaction points have quickly been stabilized and been growing positively and taking a significant market share in these locations. Not stopping there, Sacombank also invested in buying and building branch offices and transaction offices with modern facilities, located in favorable locations which are convenient for transactions. That is to show the Bank's commitment to the development of economic sectors in the local areas.
On February 20, 2019, Sacombank celebrated grand opening of the new Cau Giay transaction office at 16 Khuc Thua Du, Dich Vong Ward, Cau Giay District, Ha Noi City and earlier on February 15, 2019, Sacombank also celebrated grand opening of Lane Xang branch at No. 044, Haengboun Road, Ban Haisok, Chanthabouly District, Vientiane Capital.