Sacombank starts the project on upgrading its internal audit framework
10/05/2019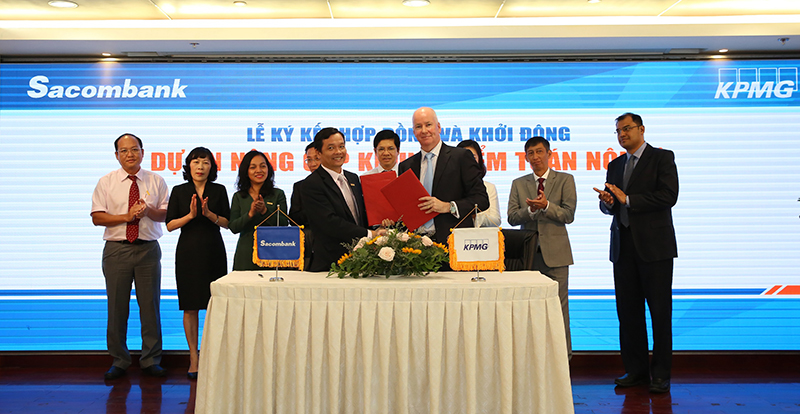 Accordingly, given the process of improving internal audit operations from focusing on compliance to monitoring, assessing and enhancing risk management effectively, Sacombank Internal Audit will be able to increase the efficiency of consultations in order to build and maintain a strong internal control system, attain operational efficiency, contribute to an increase of brand value, confirm the position as well as enhance the reputation of the Bank.

Mr. Ha Ton Trung Hanh, Member of the Supervisory Board of Sacombank, Project Director, gives a speech at the event
At the event, Mr. Ha Ton Trung Hanh, Member of the Supervisory Board of Sacombank, Project Director said: "At present, the internal audit operations of Sacombank have worked quite well compared to that of other banks on the market. The Bank has built internal audit regulations, policies and audit handbook in accordance with the State Bank of Vietnam's current regulations to guide, standardize as well as assess and control the quality of internal audit operations. In particular, the internal audit unit has built a profile of rating level of risk of audit subjects, which serves as the basis of the optimal annual internal audit plan. As the Project Director, I trust the partner - KPMG and Sacombank's internal audit unit, and believe that the two sides will cooperate well to successfully implement the project. I hope that with the experience and reputation, KPMG will provide knowledge, experience and products for Sacombank's internal audit team and ensure to meet the deadline of the project implementation of 8 months, as well as enthusiastically support to address related concerns of Sacombank after the project is finished."

Mr. Ross Macallister, Deputy CEO of KPMG Advisory Services gives a speech at the event
At the event, Mr. Ross Macallister, Deputy CEO - KPMG Advisory Services said "KPMG is aware of the importance and the great value that this project brings to Sacombank to enhance its position on the market. Possessing the global standards-based internal audit framework is an important factor, laying the foundation for Sacombank's success. Given the scale of this project, KPMG is committed to not only the project team members, but also a global team of KPMG will join to carry out required work. KPMG's project team and I will try our best for the success of the project".

Ms. Truong Hanh Linh, Director of KPMG Risk Advisory services gives details of the project

Ms. Le Thi Hoa, Independent Board Member of Sacombank gives a speech at the event
As part of the roadmap to step-by-step meet Basel II standards, helping Sacombank's operations ensure in line with its orientation of efficiency, safety and sustainability, the Bank has previously carried out some projects such as the Loan Origination System (LOS) implementation in March 2019, the "Upgrading and completing the Asset - Liabilities management framework (ALM)" project in February 2019, the "Credit risk quantification model" and the "Risk management database framework" projects in 2018".