Sacombank Visa card continues to lead the Vietnam market in 2019
27/11/2019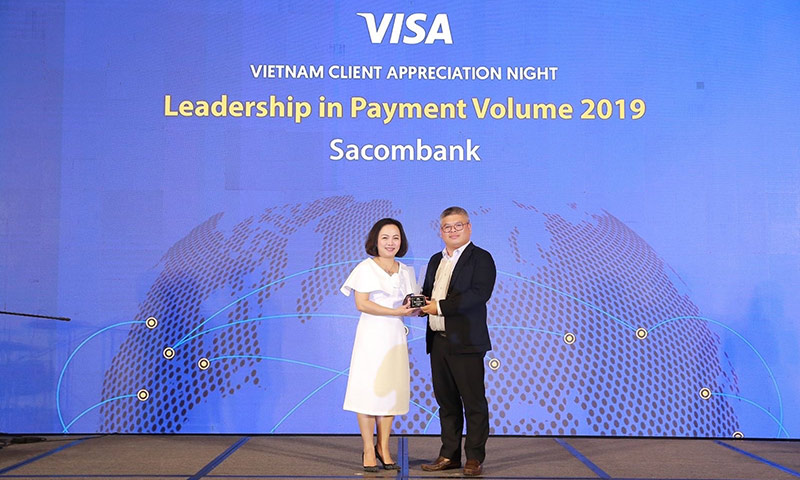 Since 2017, Sacombank has pioneered the implementation of contactless payment technology and QR payment in accordance with international standards in order to optimize utilities, increase security and shorten payment time for cardholders. With contactless payment method, customers only need to touch contactless card on POS with NFC technology for a few seconds to complete the transaction and do not need to sign receipts with the bill from VND 1 million or below. This is a payment method pioneered by Sacombank for international cards since 2017, with the implementation of installing NFC POS device nationwide and developing EMV chip technology on Sacombank cards to meet international standards for contactless transactions around the world. Sacombank currently equipped POS device at thousands of points of sale in all 63 provinces and cities across the country, of which 60% of Sacombank's POS machines have applied this touch technology. In 2019, Sacombank is also one of the first few banks in Vietnam to be eligible for issuing domestic cards equipped with EMV chips to enable contactless payment transactions. With QR payment method, customers can download Sacombank Pay's application which integrating many financial solutions from Google Play or App Store to mobile devices, integrate card information and use mobile devices to scan QR codes at POS instead of using plastic cards. Sacombank is the first bank in Vietnam that meets all the requirements to apply a QR payment method in accordance with international EMV standards from 2017. Sacombank cardholders can not only scan QR codes for payment in Vietnam market but also work on a global scale. In addition, the Bank has actively implemented many incentives and attractive promotions for customers to scan QR codes for payment via Sacombank Pay and continue to effectively apply QR technology for withdrawals, transfer money... Special Particularly, Sacombank has just been granted the latest PCI DSS security certificate version 3.2.1 by the ControlCase company (USA) - representative of the Security Standards Council in 2019 which is the highest standards of security in term of secure, issuance and acceptance of globally cards - with the expansion of PCI DSS certification for Sacombank Pay financial management application to help customers feel secure when making transaction and storing payment information on application.
At present, Sacombank is issuing to the market the Visa branded cards including credit cards, payment cards, prepaid cards with classes from ordinary to premium: Standard Visa, Visa Gold, Visa Platinum, Visa Signature and Visa Infinite aims to meet the diverse needs of customers. Sacombank Visa cardholders enjoy many benefits and privileges such as transactions around the world, especially scanning QR codes to pay and withdraw without plastic cards; enjoying discount up to 50% when dining, shopping, traveling...; getting free global travel insurance package; Free Priority Pass card to use more than 1,000 VIP lounges at domestic and foreign airports; Sacombank Pay application helps to manage card comprehensively 24/7 and proactively perform inter-bank transfers, recharge phones, pay bills ... With Sacombank Visa credit cards, customers can also spend first, pay later with interest free period up to 55 days without collaterals; achieving accumulate reward points to exchange gifts when shopping; 0% interest installment purchase anytime, anywhere; Participate in many attractive promotions such as the program "Green living – Receiving Gifts" from now until December 31, 2019 in which customers can have the opportunity to receive many environmentally friendly and healthy gifts such as Vinfast electric motorbike Klara, Xiaomi vacuum cleaner, Sharp air cleaner, Philips oil fryer, Philips juicer...
For many consecutive years, Sacombank has been honored by the international Visa card organization and awarded major awards for its pioneering and contributions to build cardholders' value in particular and value for the market in general. These awards reflect Sacombank's level of investment and efforts in providing customers with a utility, wide range of products, services, diverse and different value added.
For further information, please contact Hotline 1900 5555 88 or 028 3526 6060; access to website khuyenmai.sacombank.com and register card online at website card.sacombank.com.vn.