Sacombank's CEO was honored to receive the Red Star Award in 2019
18/12/2019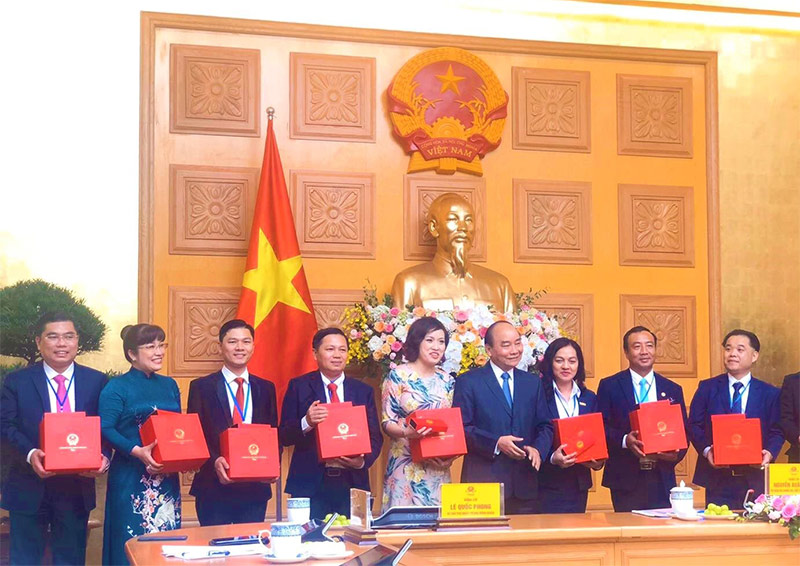 With over 20 years of experience in banking and finance, maturing through many positions, Ms. Nguyen Duc Thach Diem has made important contributions to Sacombank's operations during the past 17 years and participated in leading The Bank restructured in the right direction of the Government and the State Bank through synchronous, drastic and effective solutions in management, administration and business activities. Ms. Nguyen Duc Thach Diem is also an inspiration to the staff and a leader who is always pioneering, innovating and daring to face challenges. Under her management, Sacombank has gradually strengthened, accelerated to re-establish its position in the marketplace and made many contributions to the community.
Ms. Nguyen Duc Thach Diem started working at Sacombank since 2002, was appointed to the CEO position from July 3, 2017, when Sacombank started to enter the restructuring process with many difficulties. Her mission is on the one hand to continue to maintain effective business operations of the bank, gradually bringing the bank back to positive growth path; On the one hand, it must handle quickly the backlog after the merger, of which the most important is the handling of bad debts. After the first 3 years of restructuring from 2017-2019, Sacombank has basically completed its key objectives according to the progress of the project, gradually changing its business activities towards stability.
By the end of 2019, Sacombank's main operating indicators exceeded the plan. Specifically, the expected profit is VND 3,180 billion, exceeding 20% compared to the plan committed at the Annual General Meeting of Shareholders, the total assets reached VND 457 trillion, deposits reached VND 413 trillion, loans reached more than VND 296 trillion and NPL ratio has now dropped to below 2%. Sacombank also preserved and promoted a stable customer system of nearly 6 million individuals and businesses; The network was expanded in 52 provinces and cities of Vietnam and Laos and Cambodia and at the same time which maintained a stable growth in revenue and market share. The operational safety and risk management indicators are ensured to comply with the schedule of Circular 41 on the application of Basel II standards by January 1, 2020. In addition, Sacombank has also implemented synchronously advanced projects of Basel II such as: "Credit risk quantification model" and "Improving the risk management database framework"; "Loan Origination System)"; "Upgrading the internal audit framework"; "Upgrading and completing the framework of Assets and Liabilities Management (ALM) and" Upgrading the valuation model and building a model to calculate the required capital for market risk ".
Considering technology as the key to success in the new era, Ms. Diem is the one who directly directs and enhances the application of scientific and technical advances to Sacombank's operation and business activities through a series of key information technology projects, aimed at solving three major issues: enhancing customer experience, focusing on digital channels; optimize, automate and digitize processes to increase productivity; standardize data, enrich and focus on data analysis to understand customers, towards building an business intelligent organizations with intelligent data.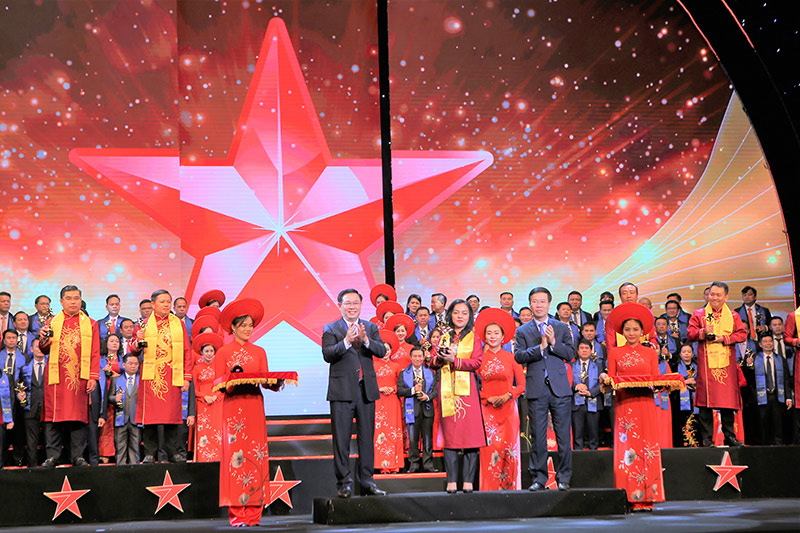 Mr. Vuong Dinh Hue - Member of the Politburo, Deputy Prime Minister and Mr. Vo Van Thuong - Member of the Politburo,
Secretary of the Central Party Committee, Head of the Central Propaganda Department awarded
the Red Star Award 2019 to Ms. Nguyen Duc Thach Diem - BOD member and CEO of Sacombank.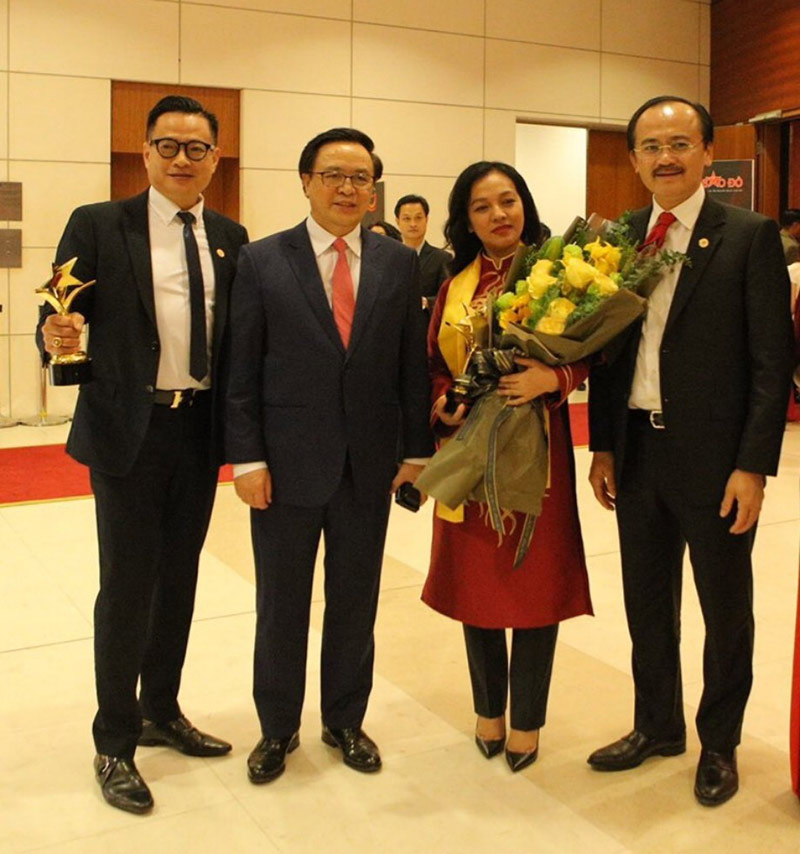 Mr. Hoang Binh Quan - Member of the Central Committee, Head of the Central Foreign Relations Department and
Mr. Vo Quoc Thang - Former Chairman of Vietnam Young Entrepreneurs Association congratulated CEO Nguyen Duc Thach Diem.
At the same time, to developing corporate culture, Ms. Diem always focused on activities to enhance the physical as well as solidarity within Sacombank. In 2018, Sacombank issued the corporate culture standards to help new recruits imbue with the Sacombank's ideology, core values and conduct principles. On March 26, 2019, Ms. Diem launched the "Sacombank Youth" program aimed at raising employees' awareness by enhancing physical training, promoting determination and creativity to create good achievements in work and in life, in accordance with the criteria: Sacombank people are physically and mentally strong. The program is continued through a network of fine arts, including yoga, running, dancing and tennis. She also directly directed many training and networking programs to improve the executive management capacity of the middle management team such as the "Connecting Young Spirit – Creating Success" program for Head of Transaction Offices; seminars for chief accountants; promoting the effectiveness of the "mobile director" program, promoting the creation of human resources by linking with universities nationwide and the programs "Sacombank Semester", "Potential trainees" "... Recognizing "human resource is the core value", she is particularly keen in taking care of employees' lives. In 2018, Sacombank issued a new salary policy in which income is calculated based on business performance associated with the profits that each employee contributed. Timely and right human resource decisions to create a democratic, creative and happy working environment have contributed significantly in retaining, attracting and developing human resources.
In addition, under her guidance, Sacombank has carried out more strongly and synchronously activities towards social community such as organizing a the programs "Warm Spring" consecutively over many times nationwide to bring in Tet holiday joy to thousands of abandoned children, lonely elderly people and people in difficult circumstances; giving out thousands of "Nurturing dreams" scholarships to pupils and students all over the country; organizing "running for community health" marathon program in all provinces that having Sacombank's present to encourage the spirit of physical training for young people in Vietnam, encouraging employees and customers to donate blood and participating in many volunteer activities to contribute in building a better life.