"Top up in a blink – Receive shocking refund" with Sacombank
28/10/2019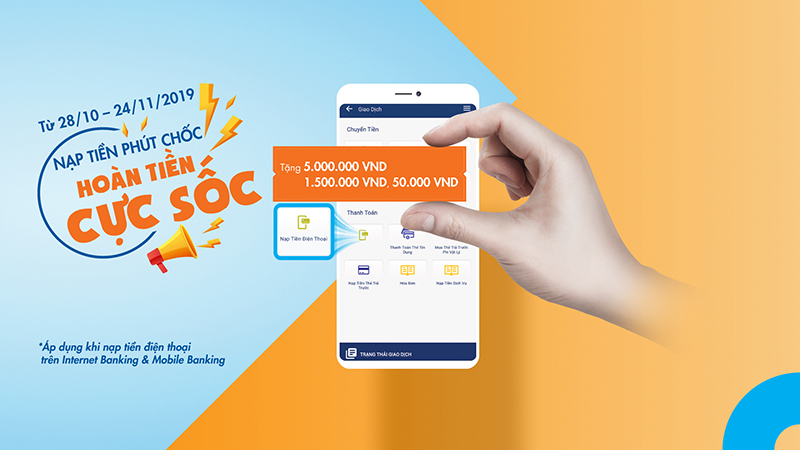 Particularly, the daily refund of 50,000 VND / customer for the first 400 customers to top up mobile phone successfully with a top up value of VND 100,000; refund weekly with the value of VND 1,500,000 / customer per week for 15 customers with the highest and earliest total mobile phone top up (at least VND 5 million); At the end of the program, Sacombank will refund VND 5 million / customer to 10 customers who have the highest and earliest mobile phone top up value (at least VND 20 million). Each customer is entitled to all offers and a one-time refund for each item. The refunded money will be transferred to the account or card that the customer used to make the transaction.
Sacombank is one of the pioneer banks in building an electronic banking system (eBanking) according to international standards with many outstanding and modern utilities, suitable to the transaction needs of both individual and corporate customers. In 2018, Sacombank continued to upgrade the new version of eBanking system for both Internet Banking and Mobile Banking channels with many advanced features on the basis of high security technology. With the effort of investing and upgrading technology aiming to optimize the customer experience, Sacombank e-banking system has nearly 1.8 million Internet Banking users and more than 1,5 million Mobile Banking users.
For further information, please access: 
•
Website:
www.sacombank.com.vn
; 
•
Sacombank 24/7 Customer Service Center at Hotline 1900 5555 88; 
•
Email:
ask@sacombank.com
.