When people are strong enough to overcome their ego
30/01/2019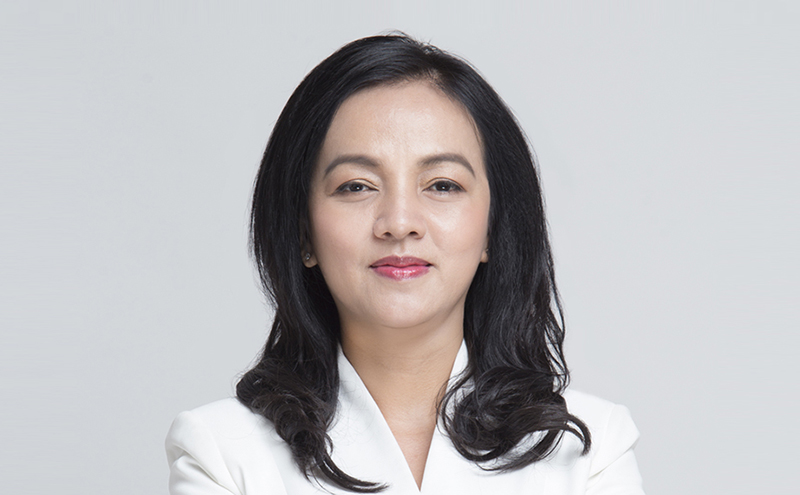 "When people are strong enough to overcome their ego, self-interest and limitations, having the same vision, eventually everything will come as expectation", stated by Ms. Nguyen Duc Thach Diem -  Member of the Board of Directors cum Sacombank CEO when sharing about the individuals and system pressure recently. This is the pressure for the CEO of a large bank, in a specific period when executing two main tasks at the same time which are ensuring the roadmap to restructure the bank in the right direction, handling bad debts, high provision, and also required to achieve profits as committed with shareholders.
Although admitting that she has a "deep understanding" about Sacombank because of her 17-year working in this bank, going through many positions and used to handle debt settlement, Ms. Diem also said that: For over a year and a half, restructuring has given her great experiences. Many times "just run and line up", but this is also a time to create a more cohesive system, the staff understand more about the value of the Bank to overcome difficulties.
"This is a valuable asset that Sacombank has acquired after a long time of restructuring and will be the foundation for Sacombank to strong;y surpass in the coming time", Ms. Diem shared with Investment newspaper when having a little "relaxed" time at the early days of 2019.
What was the critical tasks that you received when sitting in the hot seat of Sacombank more than 1 year ago?
 Very shortly, the BOD asked me to ensure that Sacombank's restructuring process is on the right track, simultaneously I also required to commit for the business growth of the 
"Being safe and fast" is always a challenge for any business. How did you "resolve" the above request?
Actually, there is no special secret. The most valuable asset of every bank is always human, so is Sacombank. The requirement is to ensure that the system reaches more than 18,000 people to fit into a unified, creative block in action, towards the common goal.
In my opinion, when people are strong enough to overcome their ego, self-interest and limitations, having the same vision, eventually everything will come as expectation. And of course, if an individual knows how to put collective benefits above his/her own interests, that individual will be recognized and honored by the group.
I often give messages to encourage and inspire employees to keep this in mind and I myself always believe in them. And when trusted, people will have enough strength and courage to overcome all temptations.
It is time for our team to have a big and different mindset, but the final goal is always a sustainable and strong restructured bank and the name of Sacombank will be better known to all customers. It can be said that the initial achievements of the post-merger restructuring process confirmed that we are on the right track in promoting Sacombank's spirit with a bright mind, enthusiasm, strong adaptation and a quick response to all changes but still maintaining our core values.
The biggest challenges of the Sacombank in restructuring phase seem to have passed over, but there still some issues deem to be pending?
 As you know, we openly and transparently disclose all information about Sacombank's restructuring process. Many problems have been raised and dealt with, but I admit that the question on how bad debts are going is still existed.
For the banks, bad debt is a crucial financial indicator that always catch a significant attention from the shareholders and investors. Regarding this issue, I can share with you that our roadmap for dealing with bad debts is happening faster than the restructuring process scheme approved by the SBV. Sacombank continuously distributes collaterals with real estate to speed up the handling and recovery of bad debts. There are numbers and evidences to prove this.
However, I also understand the concern of investors that Sacombank's bad debt has decreased rapidly and sustainably, but not yet to the desired level. Therefore, the Board of Directors of Sacombank determined that, handling collateral and debt recovery are a regularly and continuously requirement that need to be disclosed to ensure publicity and transparency. There are assets that cannot be sold right away for the first time but must come for the second and third time. If the next public auctions are successful, Sacombank may recover trillions of bad debts.
In a little more details about the process of debt handling, thanks to the Government's aggressive solutions and especially since the National Assembly's Resolution No. 42/2017 / QH14 has been ratified, many banks have very quickly acquired the number of bad debts at a safe level, sufficiency in terms of financially capability to receiving back debts that sold to VMC before... Is this the reason why shareholders and investors have not really put their trust in debt settlement process of Sacombank.
Regarding other banks, I do not dare to comment because each bank has a different characteristic. But regarding to shareholders and investors, I have a different perspective, most of individual investors or representatives of the investment organizations I met have confidence in what Sacombank is doing.
I have been directing the debt processing department for many years, I understand very well that in order to effectively recover bad debt, it is not only take into the accounts of responsibility, experience and professional qualifications of the staff, but it also depends on the fluctuation of the real estate market and this requires us to be both aggressive and resilient. Shareholders and investors who accompany Sacombank should also be persistent because the right way will lead to good results. Our Chairman have committed at the 2018 Annual General Meeting of Shareholders that the latest in upcoming years we will pay dividends. We will endeavor to not disappoint long-term investors of Sacombank.
On the occasion of Tet Holidays, please share a little bit about your personal matters. Many people are talking about gender equality, but in banking sector, female employees are the majority, but the majority leaders are male, this may raise a question. Someone explained that, as the bank's leader is more pressure and suitable for man, women are very difficult to balance work pressure and personal life. In your experience, do you agree with the above statement?
Although Sacombank has returned to the track, it cannot be said that there are no difficulties and challenges ahead. It is a reality, but I think that, for any business, whether the business is running well or having difficulties, at any stage, the leaders themselves have their own concerns. If you say it's hard for women to be a CEO of a bank, the answer is wrong, I am an example (laugh).
To balance, I always give clear principles in work and life. Regarding these two factors, I always determine how much I need to reach and how far I need to go. I am always aware of boundaries and never let myself go beyond those boundaries.
There is a character who inspired me so much, that is Russian President Vladimir Putin, he has an interesting personality in the politics world. His strength is portrayed by the image of a person who is neat and disciplined, often acting more than saying. I also love Russia very much, this is a peaceful, ancient country but also a very strong and resilient country. Russian souls are very romantic and optimistic to any challenge. Those are the precious qualities that I have come to appreciate.
Keeping the motto of "building customer centric and taking employee to the core of the Bank", Sacombank will continue its pioneer journey with the spirit of consolidation and acceleration, innovation and creativity to become a leading modern retail bank in Vietnam and expanding to regional market. Sacombank will focus on increasing business efficiency, increasing scale and market share in order to improve financial indicators, and at the same time promote Digital Banking operations.
By the way, I would like to send to all customers, shareholders and partners of Sacombank a deep gratitude for the trust and commitment during the past periods, and wish you a happy and successful New Year ahead!