Big promotion at Sacombank during March
03/03/2020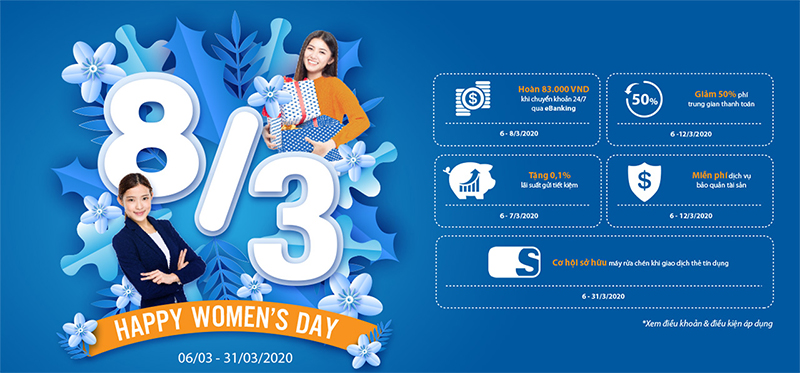 From 06 - 31/3/2020, all Sacombank's international credit cardholders having transactions will be awarded accumulative points to participate in giving 3 dishwashers worth VND 20 million / machine; for every transaction from VND 300,000, customer will receive a accumulated point, especially, female customers will receive doubled accumulated point when making any transaction on the 8th of March, and if they have the birthday on March 8, they will get triple points. At the end of the program, the three customers with the highest accumulated points will receive a dishwasher.
On 06 and 07/3/2020, female customers who opened deposit accounts at Sacombank's will be given a discount rate of 0.05% / year for 6 - 12 months deposit, 0.10% / year with over 12 months deposit. In addition, female customers also receive a 50% discount on intermediary payment, free property preservation services up to VND 1 million from 06 - 12/3/2020.
Within 3 days of 06, 07 and 8/3/2020, individual customers who have successfully made a 24/7 interbank transfer transaction on iBanking or mBanking with the amount from VND 5 million will get refund of VND 83,000 to their Sacombank account. The number of transactions to be refunded on three days is 06, 07, 08/3/2020 respectively: 300, 300, 400. Each customer is only entitled to a refund once.
Especially, from 02 - 08/3/2020, Sacombank will send flowers to congratulate businesswomen in VIP Diamond and Gold class.
For further information, please kindly contact: 
- Website: www.khuyenmai.sacombank.com;
- Hotline 24/7 at 1900 5555 88; 
- Email: ask@sacombank.com.