Digital transformation accelerates Sacombank's strong growth
09/12/2020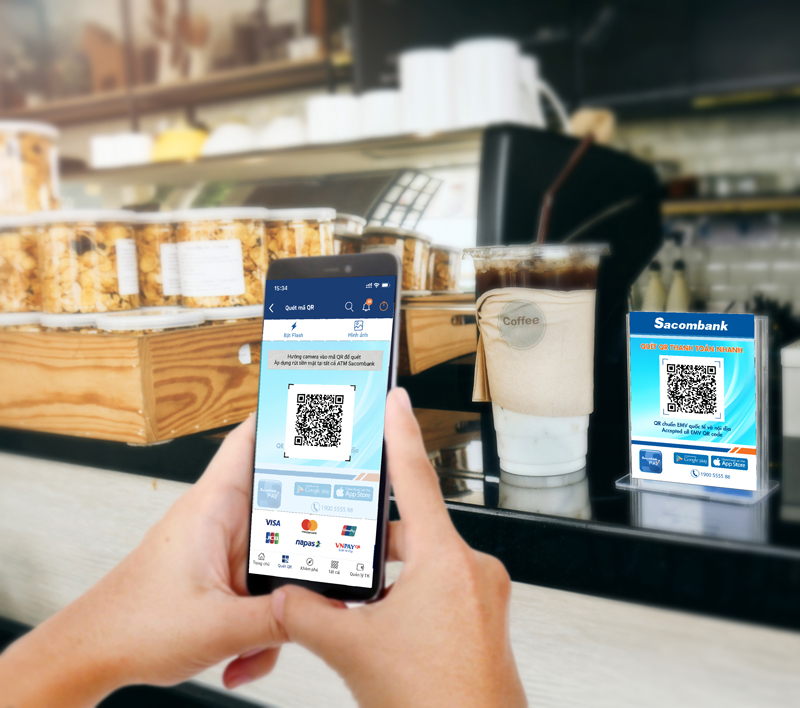 Sacombank is a bank that has early identified technology as the key factor in its development strategy, focusing on investing in digital transformation, creating a solid foundation for the bank's comprehensive development in line with Industry 4.0.
Comprehensive digital transformation
The two main goals that Sacombank aims towards digital transformation are to optimize customer experience and operational efficiency and to improve management capacity and labor productivity as well.
Ms. Nguyen Duc Thach Diem, Member of the BOD, cum CEO of Sacombank, said that digital transformation is a journey that requires a business to have respective digital capabilities.
"Digital transformation is not just new technology projects, but it is necessary to change thinking, changing business models and processes, improving digital skills and capabilities in an organization to succeed," emphasized Ms. Diem.
Since 2010, Sacombank has applied digital technology to create modern transaction channels such as a customer service center, combining online transaction channels Internet Banking and Mobile Banking. In 2015, it was the first bank to issue and accept standard EMV cards on all POS machines and ATMs. In 2017, the bank issued the first contactless payment card in the market and deployed the global standard EMV QR code payment method. In 2018, the bank launched the Sacombank Pay financial management app on smartphones.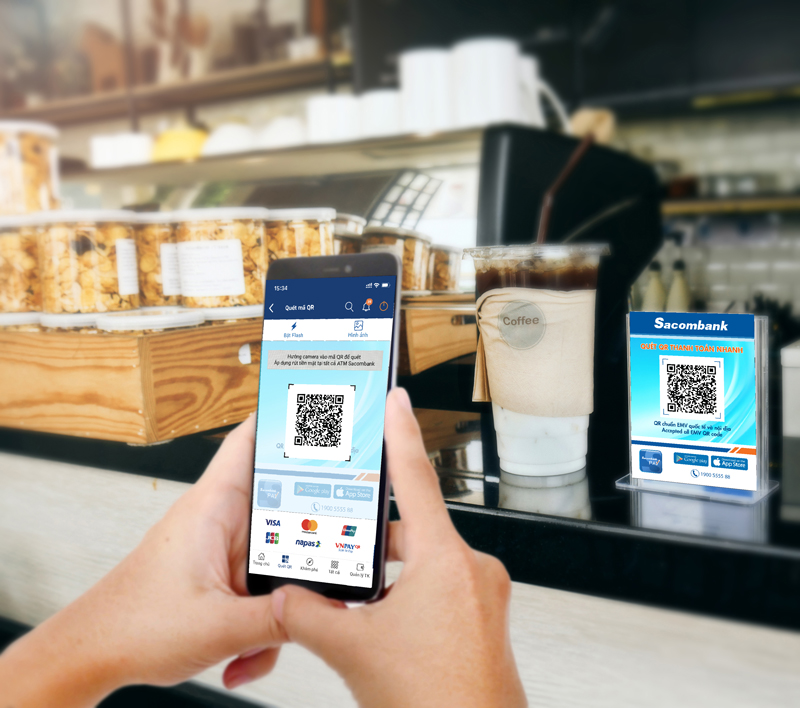 Sacombank has developed the Sacombank Pay app into a smart financial management tool.
In 2020, Sacombank has applied the most advanced technologies to launch the online authentication feature (eKYC) to minimize procedures when using Sacombank Pay app, the NFC feature has turned smartphones into non-physical cards for payment. Tap to Phone and Tap to Phone service for merchants has turned smartphones into NFC POS machines to make touch payments for customers.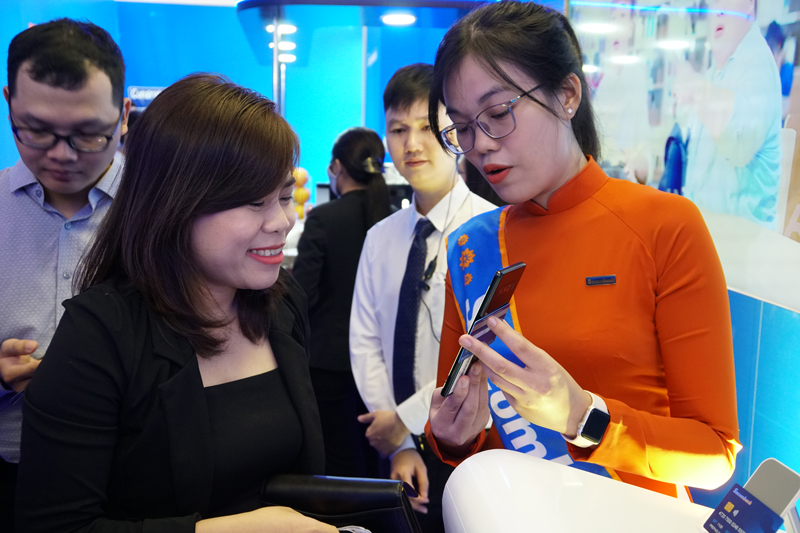 Sacombank is the first bank in Vietnam to implement Tap to phone technology, an optimal payment solution for businesses and merchants.
Sacombank has accordingly deployed many non-cash payment services such as electronic tax payment, electronic invoices payment, international and domestic money transfer services, payment of public services (electricity, water, telecommunications, cable television, tuition fee...) on e-banking. In addition, the collection/payment, cash flow management and COD payment services help businesses easily accept payment methods such as QR code, card, mobile app or cash without managing staff to collect cash, save costs and limit risks.
Simultaneously, Sacombank has also focused on its internal digital transformation. In 2018 the bank has digitized sales processes, customer service and marketing (CRM), applied digital work environments (Microsoft Team), digitized business processes and online approvals towards paperless offices, applied cloud computing as well. In 2019, it digitized the credit approval process (LOS), implementing online training, upgrading the core bank T24-R17, applying artificial intelligence (chatbot), Robot technology (RPA), etc. In 2020, Sacombank was the first bank to successfully organize its Annual General Meeting online and electronic voting, as well as put into operation a Cybersecurity Operations Centre that meets international standards.
Ensuring information security
Sacombank has not only invested in payment platforms and technologies but also focused on information security. It is the only bank that has achieved the Payment Card Industry Data Security Standard (PCI DSS) certificate for 7 consecutive years since 2013 and will strive to maintain it in years to come. Given this certificate, Sacombank is always chosen by card businesses to deploy new technologies.
For online payment transactions on e-commerce sites, Sacombank has applied security technology to encrypt card data (tokenization) and 3D Secure authentication to protect cardholders. The bank has also implemented anti-tamper mechanism on e-banking, and equipped IBM Trusteer security technology for devices and terminal access points to add an extra layer of protection on payment apps.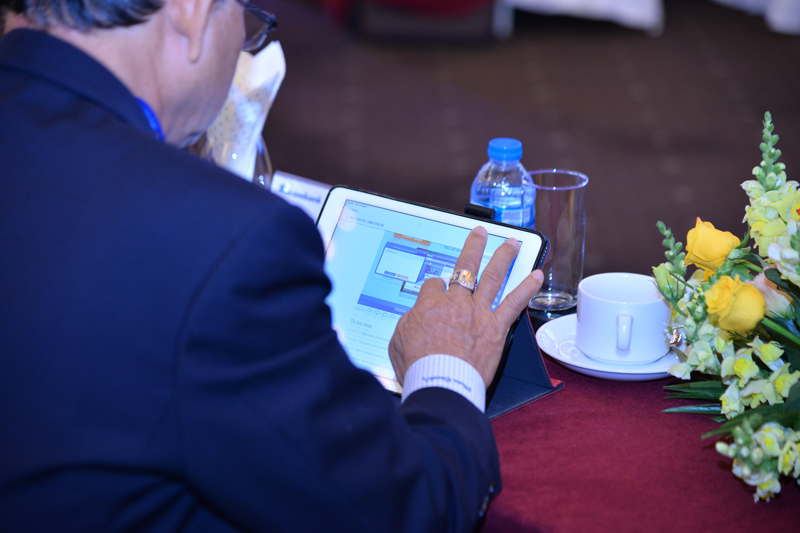 In 2020, Sacombank was the first bank to successfully hold the Annual General Meeting of Shareholders online and electronic voting.
Ms. Nguyen Duc Thach Diem said that digital transformation has really made strong changes and brought great efficiency to Sacombank. In addition to increasing labor productivity and quality of work significantly, the bank has also saved a large amount of operating expenses and human resources costs when applying electronic operational processes, online meetings; handling time has been much improved. Moreover, meeting the electronic payment needs has made the bank's competitiveness enhanced, increasing its sales, profits and brand reputation.