Enjoy cashback and gold gifts with Sacombank Visa international credit cards
04/08/2020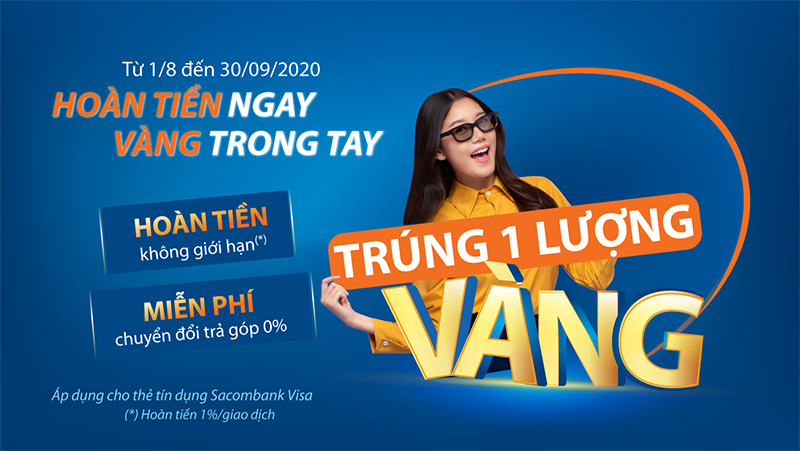 Accordingly, cardholders enjoy 1% cashback for every spend from 5 million dongs with unlimited times of cashback during the program period. For every round (round 1 takes place from August 01 to August 31, 2020 and round 2 is from September 01 to September 30, 2020), with highest total payment amount (a minimum of 500 million dongs), cardholders will especially receive a gift which is a tael of SBJ gold. To enjoy cashback and participate in the program, customers text THE<space>VISA<space>4 last digits of a card and send to 8149 before making transactions. 
Besides, Sacombank offers a 0% interest installment payment plan for 6-month tenure applied for Sacombank Visa international credit cardholders with an installment amount from 10 million dongs. Customers register for the installment payment program by texting THE<space>KMTG<space>6 digits, aka APP CODE<space>6T and sending to 8149. 
Sacombank Visa cards give cardholders the convenience and security to make purchases worldwide. Cardholders especially pay by scanning QR code, get cash without a plastic card, shop online, enjoy discounts of up to 50% on dining, shopping, travelling, and more. In addition, Sacombank Pay app helps to manage cards 24/7 effectively on external funds transfer, mobile top-up, bills payment, consumer loans, installment payment plan registration, etc. With Sacombank Visa credit cards, cardholders purchase and pay later with 0% interest up to 55 days without collaterals; accumulate reward points on purchases to redeem gifts or get cashback; enjoy a 0% interest installment payment plan anywhere at any time and get cash from Sacombank ATMs. For credit cards opening, customers based in Hanoi and Ho Chi Minh City is required to have a monthly income from VND5 million and that of customers based in other provinces is from VND3 million. 
For more information, please call our hotline at 1900 5555 88 or 028 3526 6060; visit the website khuyenmai.sacombank.com and apply for a card online at dangkythe.sacombank.com.